Juniper Looks to Weave Multicloud Network
Juniper says they're just the guys to meet enterprise needs to break down networking silos between branch, campus, data center and cloud.
That's necessary to make the transition to multicloud, Juniper says. To that end, the company launched end-to-end networking equipment and management software Thursday. (See Juniper Expands Multicloud Line-Up.)
Juniper meets enterprise needs for a unified networking platform by providing "a small number of building blocks we're betting on," Michael Bushong, Juniper Networks Inc. (NYSE: JNPR)'s vice president of enterprise and cloud, tells Enterprise Cloud News. These blocks are its Junos switch and router OS for the network underlay, Contrail controller software for overlay, AppFormix network analytics, and Contrail Security, running on hardware ranging in power from Intel Atom processors to merchant silicon to Juniper's own high-end custom networking processors. Juniper's equipment can reach speeds of 100 megabits on the low end, to multiple terabits on the high end.
Juniper introduced switches and line cards for the data center and branch. Additionally, on the campus, Juniper introduced Sky Enterprise, a cloud management service for switching and security devices, as well as integration into wireless access point management. Juniper rolled out campus network services hardware providing security and hybrid WAN functionality with wireless 4G and LTE connectivity, with the ability to run third-party virtual network functions (VNFs). And Contrail SD-WAN hardware, with subscription pricing, bundles the SRX Series Services Gateway and NFX Series with software.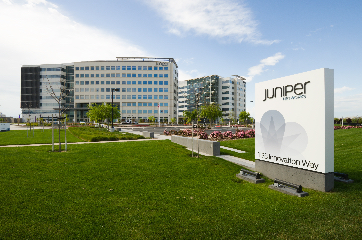 ---
You're invited to attend Light Reading's Big Communications Event  – the one event that delivers fresh perspective on the rapid transformation of the telecom industry and the road ahead. We'll see you May 14-16 in Austin – communications service providers get in free!
---
And for cloud connectivity, Juniper provides onboarding services with the vSRX Virtual Firewall or vMX Virtual Router on Amazon Web Services Inc. and Microsoft Azure .
"If I take all these announcements in total, it means we have a common operating system running across the Intel Atom processor, Broadcom merchant silicon, and custom Juniper silicon -- really small to really big," Bushong says. "That's what makes you ready for multicloud -- it means the orchestration layer can integrate across all the places in the network."
The product line meets four needs that enterprises face for multicloud deployments, Bushong says: They need to connect, of course; they need to orchestrate, managing workloads and policy end-to-end; they need visibility into network activity to achieve orchestration; and they need security.
The product launch follows a tough quarterly report for Juniper, with revenue declining a big 10.5% to $1.24 billion. CEO Rami Rahm said the decline was driven by a shift to "scale out" from "scale up" architecture, particularly at several of Juniper's largest cloud customers. They're buying a lot of small switches and routers to meet networking demand, rather than the big, powerful hardware that is Juniper's specialty. (See Is the Cloud Drowning Juniper?.)
Multicloud is a big part of enterprise networking vendor strategies, including Cisco, VMware, and Hewlett Packard Enterprise. Like Juniper, they're all looking to provide the equipment and management software for applications spanning the private cloud and multiple public clouds. (See Intent-Based Networking: What Does It Mean for Your Cloud?, VMware Debuts Multi-Cloud Management Services and HPE OneSphere Looks to Manage Multiple Clouds Through SaaS.)
Related posts:
— Mitch Wagner




Editor, Enterprise Cloud News