Juniper blames changing buying patterns by cloud providers for its precipitous drop in quarterly revenues. But the problem with that theory is that these patterns have been going on for a while, and at least one competitor has been weathering these pressures a whole lot better, as one analyst notes.
Juniper Networks Inc. (NYSE: JNPR) revenue declined 10.5% to $1.24 billion, and lowered expectations drastically for Q1 2018, in quarterly results reported Wednesday. Juniper is now predicting only $1.05 billion revenue for the first quarter and earnings per share of $0.25, compared with analyst expectations of $1.15 billion and $0.42 EPS.
Ouch.
My colleague Mari Silbey writes up the earnings report on Light Reading: Investors Jumpy Over Juniper Q1 Outlook
The reason for the slump: "This weakness is primarily being driven by a shift to a 'scale out' from a 'scale up' architecture, most notably at several of our largest cloud customers, which appear likely to persist through at least the coming quarter," CEO Rami Rahim said on an earnings call Wednesday afternoon.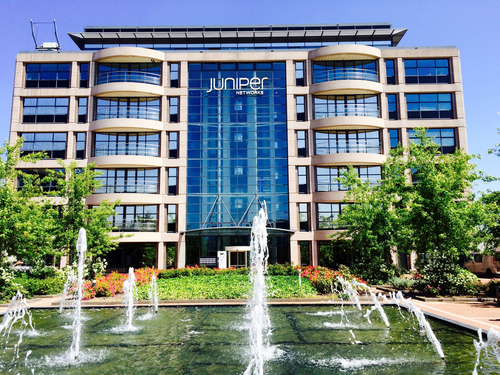 ---
Keep up with the latest enterprise cloud news and insights. Sign up for the weekly Enterprise Cloud News newsletter.
---
In other words, the biggest cloud providers are buying lots of small switches and routers to "scale out" capacity as needed, rather than the big workhorses Juniper specializes in that "scale up" to meet demand.
Despite problems, Juniper is "confident" of its future, Rahim said. Indeed, he uses the words "confident" and "confidence" 18 times in the transcript of the earnings call.
Fortunately, Juniper has a new PTX architecture that meets the new demands, as an alternative to its traditional big MX switches. While the PTX architecture has lower margins than the MX switches, Rahim is confident that Juniper can make up the difference in volume -- though that will take time.
The news wasn't all bad. While routing revenues were down, switching and security are up, and Rahim cited increasing traction with other lines of business too, including Contrail, SD-WAN and services.
Jefferies & Company Inc. analyst George Notter is skeptical. "While the company is confident that the architectural changes impacting their cloud customers are temporary, we suspect this a more fundamental (and lasting) issue," he said in an email.
Juniper only started to experience these problems in the last two quarters, even though the PTX platform has been shipping since 2012, Notter notes. MPLS switching has been available longer and cloud operators have been running "scale out" data center for years.
Jefferies believes Juniper's routing business is "getting re-priced by lower-cost MPLS switching technologies," such as Juniper's own PTX platform.
Meanwhile, Arista Networks Inc. 's R-series products are gaining traction, Notter notes.
"Contrary to the Juniper view, we suspect these trends won't get resolved in the near term. More likely, these impacts seep into other customer verticals as well," Notter says.
If true, that's bad news for Juniper. That's the kind of slump that leads to CEO head-chopping, drastic restructuring and acquisitions. And indeed Juniper was rumored to be target of a takeover bid by Nokia in December. (See Juniper Networks: For Sale or Not?)
Related posts:
— Mitch Wagner




Editor, Enterprise Cloud News