VMware Debuts Multi-Cloud Management Services
LAS VEGAS -- VMworld 2017 -- For enterprise vendors like VMware, the transition to cloud is both a crisis and an opportunity. It's a crisis in that enterprises transitioning to cloud slash their needs for on-premises infrastructure. But those enterprises still depend on their IT infrastructure -- both on-prem and in the cloud -- to get business done. That presents opportunity for old-line IT vendors that can follow customers into the cloud.
VMware is throwing its weight on the opportunity side of the scale at its annual conference this week, launching services to help enterprises secure, manage and simplify IT infrastructure on multiple clouds, without getting in the way of developers and users.
VMware on Monday introduced VMware Cloud Services, bundling existing and new services to help enterprises merge the silos of enterprise infrastructure and public clouds, such as Amazon Web Services and Microsoft Azure.
VMware also launched support for its native cloud infrastructure running on AWS. (See VMware Launches Amazon Cloud Support.)
"What's the lifeblood of your organization? It's applications," Erik Frieberg, senior vice president of product and portfolio marketing, said at a press conference here. Enterprises are looking at each of their applications and deciding what to do with them, seeking cloud agility in the on-premises data center, blending public and private clouds for a hybrid approach, or rewriting applications to cloud-native formats using containers and other development tools. And some applications are moving entirely to software-as-a-service (SaaS).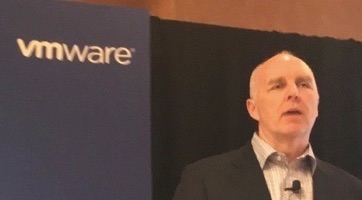 Enterprises are looking to achieve faster time to market, reduced cost and consistent application infrastructure and operations across public and private clouds, Frieberg said.
VMware is looking to help enterprises achieve those goals with VMware Cloud Services, launched Monday. These include Discovery, to provide visibility into apps and resources consumed across clouds; NSX Cloud to secure networks with microsegmentation, creating private networks within and across clouds; Cost Insight, for accounting and cost optimization across multiple clouds; and AppDefense, to provide security across clouds and management for enterprise endpoints.
These add to existing services -- Wavefront for monitoring and realtime analytics; Network Insight for operational visibility, control and compliance across clouds; and Workspace One for app delivery on any device -- to create a unified suite.
AppDefense is a cornerstone of the new VMware Cloud Services suite. It's designed to turn typical security upside down, Chris Wolf, VMware chief technology officer, Global Field and Industry, tells Enterprise Cloud News.
"The focus on network security is to find the bad," Wolf says. "It's moderately effective." Existing network security looks for patterns indicating attacks, and focus on those patterns. AppDefense instead takes a fingerprint of how the applications and networks are supposed to behave, and focuses on deviations from that norm.
Additionally, VMware is launching VMWare HCI Acceleration Kit, priced at $7,852, to extend virtual storage area networks (vSAN) to the network edge for distributed processing of realtime data, in partnership with Dell EMC, Fujitsu, Lenovo and Supermicro.
And VMware is also introducing VMware Integrated OpenStack 4, bringing VMware's OpenStack version in line with the Ocata OpenStack release.
VMware has previously sent mixed messages on OpenStack. Guido Appenzeller, VMware CTO for cloud and networking, told Enterprise Cloud news in April that OpenStack is losing momentum in US enterprises, though it is gaining traction in carriers. (See VMware Damns OpenStack With Faint Praise.)
VMware is in pretty good shape financially amid the transition from on-prem to cloud, even as enterprise competitors and counterparts struggle.
Last week, VMware reported revenue up more than 12% year-over-year, to $1.90 billion, in its second quarter of 2018. (See VMware's Cloud Momentum Continues Through Q2.)
IBM, on the other hand, has seen 21 consecutive quarters of revenue decline, as increasing cloud revenue can't offset declines in IBM's traditional, on-premises business. (See IBM's Cloud Strategy Helps, but Can't Stop Revenue Decline.)
And Cisco has seen seven straight quarters of revenue decline. (See Cisco Revenue Decline Continues Into Q4.)
VMware, as well as Cisco, Microsoft and other traditional enterprise vendors, are following strategies of bridging on-premises and cloud technologies, putting public cloud technologies on-prem and vice versa. (See 'Hey! You Got Public Cloud on My Premises!')
Cisco last week announced it is extending its on-premises software-defined networking architecture, Application Centric Infrastructure, to Amazon Web Services, Microsoft Azure and Google Cloud Platform, to allow enterprises to manage their virtual clod networks with the same tools they use to manage their hardware networks in their own data centers. (See Cisco Takes Networking Fight to Amazon, Microsoft & Google.)
— Mitch Wagner
Editor, Enterprise Cloud News
---
CALLING ALL CLOUD, NFV AND SDN COMPANIES: Make sure your company and services are listed free of charge at Virtuapedia, the comprehensive set of searchable databases covering the companies, products, industry organizations and people that are directly involved in defining and shaping the virtualization industry.
---