ORLANDO, Fla. -- Microsoft Ignite -- Enterprise IT has a long memory, and Microsoft is still living down the reputation it earned in the 1990s and 2000s: predatory, a security dumpster fire and proprietary.
Microsoft is working hard to change its reputation, to be perceived as a highly secure platform that partners with its customers, other vendors and society as a whole, and also embraces open source.
Microsoft's old, bad reputation wasn't just talk. The company was prosecuted for antitrust violations 20 years ago, for abusing its then-monopoly position (although even then, while Microsoft would destroy you if you tried to go against them, you could prosper if you worked with Microsoft as a partner).
As for security -- more than a decade ago, pretty much every virus and worm exploited a vulnerability in Windows.
And as for openness: Microsoft pushed users to its proprietary Windows/Office/server stack, used an "embrace and extend" strategy to extinguish open standards, and Microsoft famously compared open source to Communism and cancer.
But those were the old days. Microsoft has changed. Or at least that's the case Microsoft is trying to make.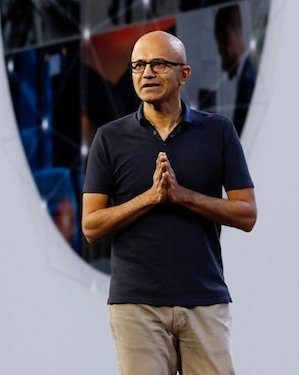 ---
Now entering its fifth year, the 2020 Vision Executive Summit is an exclusive meeting of global CSP executives focused on navigating the disruptive forces at work in telecom today. Join us in Lisbon on December 4-6 to meet with fellow experts as we define the future of next-gen communications and how to make it profitable.
---
Kicking off the Ignite conference Monday, Microsoft CEO Satya Nadella pointed the finger of predatory behavior at competitor Amazon Web Services Inc. Oh, he didn't name them or identify them specifically. But Nadella was clearly giving AWS the side-eye when he said it was a "strategic mistake" to depend on a provider "who is providing you a commodity on one end only to compete with you on the other end."
Amazon of course got its start disrupting the retail business, with book sales, more than 20 years ago. More recently, AWS acquired Whole Foods, disrupting brick-and-mortar retail, and has been contracting its own delivery services, disrupting logistics. The retail sector is scared of Amazon, and both Walmart and Target are leery of using AWS for cloud services. (See Amazon Steals Big Microsoft Customer With Whole Foods Purchase, Walmart Teams With Microsoft Against Common Amazon Enemy and Is Target Looking to Cut Ties With AWS?)
Microsoft is different, says Nadella. "Our success is fundamentally dependent on your success. That is the core of our business model. That engenders the trust long-term," he said.
As part of winning customer trust, Microsoft partnered with SAP and Adobe on Monday to launch the Open Data Initiative, an alliance to ensure that enterprises keep control of their own data, with open and extensible products and services and AI-driven outcomes.
As for security: That's a big focus of the Ignite conference. Microsoft is phasing out password authentication for Azure enterprise apps; users will now just be able to log in using the Authenticator app. That's not just a convenience; nearly all data loss starts with compromised passwords, Microsoft notes. Microsoft is also launching Security Score, an enterprise self-guided security audit, as well as Azure confidential computing, to protect data in the public cloud; and Azure Sphere, to protect IoT. (See Unknown Document 46293 and Microsoft Flexes Muscles on AI, IoT & Security.)
So far, open source hasn't come up much at Ignite, but it's been a strategic focus for Microsoft recently. The company simply recognizes that open source is now mainstream and required, John Gossman, distinguished engineer, Microsoft Azure, said in an interview early this year. The company partners with Red Hat, runs Linux on Azure, and is a top contributor to open source collaboration tool GitHub. Indeed, Microsoft decided it likes GitHub so much, it bought the company. (See How Microsoft Became an Unlikely Open Source Champion, Microsoft Is a 'Deeply Open Source Company,' Says Azure CTO Russinovich and Microsoft Swears GitHub Independence After $7.5B Acquisition.)
As part of its reputation rehabilitation, Microsoft is devoting resources to social causes. This week the company launched projects to protect elections and campaign integrity, as well as devoting $40 million to AI for humanitarian purposes. (See Microsoft Goes Captain America, Launches 'Defending Democracy' Program .)
The humanitarian project is part of Microsoft's $115 million AI for Good initiative, launched last year. AI for Earth promotes environmentalism, and AI for Accessibility helps disabled people.
Related posts:
— Mitch Wagner




Executive Editor, Light Reading