Microsoft pledges that it won't force its technologies down GitHub users' throats, following an announcement Monday that it's acquiring the open source code repository for $7.5 billion.
"Microsoft is a developer-first company, and by joining forces with GitHub we strengthen our commitment to developer freedom, openness and innovation," Microsoft Corp. (Nasdaq: MSFT) CEO Satya Nadella said in a statement Monday announcing the deal. "We recognize the community responsibility we take on with this agreement and will do our best work to empower every developer to build, innovate and solve the world's most pressing challenges." (See Microsoft to Acquire GitHub for $7.5B.)
Microsoft will acquire GitHub in a stock swap, in a deal expected to close by the end of the calendar year, Microsoft says.
Microsoft has a history of hating open source like Captain Kirk hated Klingons; past CEO Steve Ballmer called open source a "cancer" in 2001 and compared it to Communism a year earlier. But more recently Microsoft claims to have done a complete reversal. The company now swears it loves open source, and has put actions behind words. (See How Microsoft Became an Unlikely Open Source Champion.)
Microsoft runs Red Hat Inc. (NYSE: RHT) Linux on Azure in a partnership with that company. Microsoft also has its own version of FreeBSD for Azure. It partners with Canonical Ltd. to run Ubuntu on Windows, runs .NET Core on Linux, has its own Linux certification and contributes to the Linux kernel.
But wait, there's more. Microsoft joined the Linux Foundation at its top-tier Platinum membership level in 2016. And Microsoft has launched several open source projects of its own.
Also, Microsoft is a top contributor to GitHub; as of October it had 1,300 employees pushing code to 825 top repositories, although Microsoft competitor Google is a rival there. (And indeed the Microsoft acquisition raises the question that Google and other Microsoft competitors, including Amazon.com Inc. (Nasdaq: AMZN) and Facebook , might flee GitHub for alternatives.)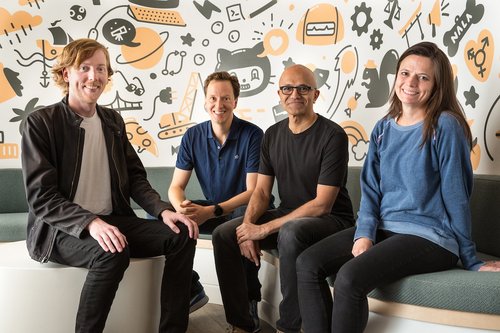 ---
Now entering its fifth year, the 2020 Vision Executive Summit is an exclusive meeting of global CSP executives focused on navigating the disruptive forces at work in telecom today. Join us in Lisbon on December 4-6 to meet with fellow experts as we define the future of next-gen communications and how to make it profitable.
---
The GitHub acquisition will be a big test of Microsoft's open source attitude. Will Microsoft ownership scare off developers who use GitHub as a code repository and collaboration platform?
Migrating all my repos from @github to @gitlab. Clients don't trust Microsoft, I don't trust Microsoft, and one way or another they are gonna find a way to ruin things. Rip github.

— kevin (@kvngil) June 3, 2018
Woke up to 300 replies from grumpy devs about GitHub.

Guys this is 2018. Microsoft has one of the kindest, most inclusive CEO's out there.

You demanded they changed. They have.

You demanded they embrace open source. They have.

Now it's your turn to change and forgive.

— Kelly Sommers (@kellabyte) June 4, 2018
This is correct. MSFT isn't going to pull an Oracle and insist all Code run on Azure. It would...not end well.

— Mark Dalton (@mdalton323) June 4, 2018
Quote of the day: "When it comes to our commitment to open source, judge us by the actions we have taken in the recent past". "Recent" being the key word. https://t.co/yU1sSyW2Gw

— Laurie Voss (@seldo) June 4, 2018
If you don't want to host your code on Github now that it's owned by Microsoft, did u know @glitch exists and is MUCH cuter

— Paul Starr (@pts) June 4, 2018
Next Page: Remain calm! Don't panic!