Making Money With Network Slicing




Date:

1/22/2019 10:00 a.m New York / 3:00 p.m London
Sponsors: Cloudstreet
More information and registration

Network Slicing is not a technology, but rather a model for a new kind of business for mobile operators. Inherently disruptive, it is also essential to the tectonic digital shift now underway across all industries. Operators will be at the very centre of this shift, but to reap the rewards and be competitive, they need to embrace the change, lead the way and begin the process of transforming their businesses today.

In this much anticipated webinar, Heavy Reading Principal Analyst for Cloud and Infrastructure Rosalyn Roseboro moderates a deep dive into the business mechanics of Network Slicing with industry luminaries, Cloudstreet, led by company Founder & CEO Mika Skarp, and Marketing Head Brendan Tully Walsh. Solving the slicing conundrum at the point of user demand, the webinar presents a clear path to delivering intelligent, application-aware, predictive QoS prioritized slices as the basis for revenue-generating end-user SLAs.

In this Webinar you will learn:
About the mechanics of mobile traffic differentiation as the pivot point away from Best Effort
How application, user and context aware Network Slicing provides the building blocks for SLA-based business models of the future
How to build and validate low barrier network slicing business models one use case at a time
How to leverage the power of predictive analytics to drive dynamic Quality of Service improvement and user demand with real world examples including Public Safety, Broadcasting, Online Gaming and Advanced Fixed Wireless
Crossing The R-PHY Finish Line – RPU Installation, Cutover and Ongoing Maintenance 




Date:

1/23/2019 11:00 a.m. New York / 4:00 p.m London
Sponsors: VIAVI Solutions
More information and registration

In the first two installments of this series, we covered R-PHY basics and details about the largely headend-focused Ethernet, Fiber and Transport test processes. Now, in this edition, we will focus on the actual field install/cutover and maintenance aspects that follow. We will discuss Fiber, Ethernet, RF and service test considerations for flawless turn-ups, as well as strategies for retaining critical test and measurement capabilities and standardized processes.
Beachfront Property: How Edge Clouds Will Drive 5G Era Revenue




Date:

1/24/2019 11:00 a.m. New York / 4:00 p.m London
Sponsors: Juniper Networks
More information and registration

The edge has been a speculative topic for far too long. Service providers have exclusive "beachfront property" in their networks that can be leveraged to drive revenue through innovative service delivery. While edge cloud deployments must align with constrained capital resources by making the most of existing space, compute, power and bandwidth, they have the untapped potential for generating revenue from differentiated capabilities like multicloud connectivity, IoT, video caching, etc. This webinar will explore the specifics of the edge cloud architecture and production-ready deployment strategies that are an imperative part of service provider business models in the 5G era.
5G State-of-the-Industry Webinar Series: Where We are Today & A Look-Ahead to 2019




Date:

1/29/2019 11:00 am New York / 4:00 pm London
More information and registration

With the first 5G services now live in North America, and many more scheduled worldwide for 2019, anticipation for 5G is at its height. In this webinar we will take stock of 5G progress to date – in terms of standards, spectrum and services – and look ahead to "at scale" launches in the coming year. Joined by independent guest speakers from network operators, standards groups and industry forums, Heavy Reading Principal Analyst Gabriel Brown will lead a discussion that will bring the audience up to speed on 5G progress and provide a view of what to expect in 2019. Our operator guest speaker for this event is Abhi Ingle, SVP, Digital, Distribution & Channel Marketing, AT&T Business who will discuss how 5G can help transform processes and operations across diverse enterprise sectors.
Cut through the hype: Real-world strategies for deploying 5G




Date:

1/30/2019 12:00 pm New York / 5:00 pm London
More information and registration

While the business realizations of 5G are still on the horizon, readiness strategies for deployment are already underway. Deploying your 5G infrastructure will likely be the most challenging "next-gen" network rollout ever in terms of scale and scope. Compounding these challenges are simultaneous demands to:
Rapidly transition to virtualized/cloud-based edge, core and data networks.
Develop new, compelling services while preventing revenue and/or time-to-market slowdowns caused by potential network complexities.
Protect your network at massive scale, at every layer, and for multiple threats.
F5 has been in the trenches with service providers all over the globe as they prepare their transition to 5G services. Join this webinar to learn about the strategies that the industry's leading service providers are implementing to ensure a successful 5G transformation, including:
Optimized virtualization for predictable, linear scaling and effective fault isolation.
Multi-Edge Access Computing (MEC) solutions that can enable deployment of differentiated services.
Subscriber-aware technologies for security policy implementations.
F5 can help you evolve to 5G at your own pace as you seek to optimize, monetize and secure your network. Register for the webinar today.
A New Level of Visibility Across Multicloud Environments and Service Chains




Date:

2/7/2019 10:00 a.m New York / 3:00 p.m London
Sponsors: Netrounds
More information and registration

Improved operational efficiency, through automation and cost optimization, is one of the key business drivers for organizations when embracing multicloud environments. This requires the capability to select a cloud that provides optimal cost and still delivers the expected performance. Therefore, successful multi-cloud deployments require capabilities for on-demand and continuous active validation of network and service performance, prior to making optimization decisions. Having the right solution that provides automatable, active testing and monitoring capabilities is crucial.

In this webinar, Heavy Reading's Principal Analyst for Cloud and Infrastructure, Roz Roseboro, moderates a deep dive into the business mechanics of multicloud environments and service chains together with software company Netrounds, led by company Founder & CEO Mats Nordlund and Technical Product Manager Jonas Krogell.

In this webinar you will learn:
What differentiates active testing solutions from classical passive assurance
About the challenges when virtualization makes the network a black box
Why existing assurance solutions have limited use in multicloud environments
How virtualization enables fully automated and programmable large-scale active testing and monitoring
Through a live demonstration of:

Achievable network performance in a real multicloud environment
Fault sectionalization in a complex service chain
Comprehensive end-to-end visibility across network domains and layers
Automate Your Mobile Network Monitoring With Machine Learning




Date:

2/12/2019 12:00 p.m London / 7:00 a.m New York
Sponsors: BWTech
More information and registration

In modern mobile networks, engineers are overwhelmed by a data tsunami that will only get worse as we move into a 5G world. New solutions are required that can enhance operators' ability to analyze network data through the use of machine learning techniques that are capable of automatically identifying network performance issues and suggesting possible remedies. By effectively and automatically analyzing the performance data, configuration parameters and alarm data, engineers will be able to detect network anomalies that current tools cannot. Engineers will gain a much deeper insight into the intrinsic problems that may cause network service issues, enabling them to take proactive measures to prevent these problems from impacting quality of service.

Join this webinar to ask BWTech experts about your own issues and to learn how machine learning can:
Generate actionable insights for mobile network optimization.
Identify complex network issues that cannot be detected with traditional, rule-based approaches.
Enable automatic anomaly detection and early warning on abnormal clusters.
Derive smart correlations between parameter settings and network performance, pinpointing patterns and issues that were previously unknown.
Automate impact detection, based on changes in network performance, thereby providing instant feedback on optimization activities.
Building the Edge - Understanding Distributed Cloud Infrastructure




Date:

2/13/2019 11:00 am New York / 4:00 pm London
More information and registration

A number of emerging applications like IoT, VR/AR and AI/ML along with catalyzing technologies like 5G are driving compute and storage resources to move out of centralized locations closer to the end user. One term for this phenomenon is edge compute, but many are, more appropriately, calling this Distributed Cloud, which fuses the attributes of edge compute with an on-demand cloud native consumption model. As software and hardware infrastructure underlying Distributed Cloud becomes geographically dispersed it becomes more costly to deploy and challenging to manage and troubleshoot. Technologies, tools, techniques are required to automate this infrastructure and simplify operations so it does not bury the data center operator.

Join Roz Roseboro, Heavy Reading's Principal Analyst for Cloud Infrastructure & Management and Mike Capuano, CMO and Alessandro Barberie VP Product Management of Pluribus Networks for a review of the key requirements needed to successfully deploy Distributed Cloud. This webinar will cover the following topics for telco service providers, cable operators, cloud service providers, colocation service providers and enterprises:
Is Distributed Cloud the same thing as edge compute?
What is the reality and timeline for various Distributed Cloud locations?
What does the Ecosystem look like for Distributed Cloud?
What are the best networking approaches for Distributed Cloud?
How do I navigate the plethora of organizations creating reference designs for edge and Distributed Cloud?
Rolling out the Fiber, Fiber Deep




Date:

2/21/2019 11:00 a.m. New York / 4:00 p.m London
Sponsors: SCTE, ADTRAN, Corning, Ciena, VIAVI Solutions
More information and registration

Although top cable technologists stress that the industry's HFC pipes still have plenty of juice left, most cable operators are scrambling to install more fiber in their networks. Whether they're going all-fiber like Altice, embracing Fiber Deep like Comcast and Cox or just splitting more optical nodes, cablecos are deploying more fiber to offer more bandwidth, deliver new services, improve performance and cut operating costs. In this session, we'll look at cable's growing fiber diet, the opportunities that more fiber presents and the challenges involved in upgrading the HFC plant.
Delivering Services over a Distributed Access Architecture




Date:

3/21/2019 11:00 a.m. New York / 4:00 p.m London
Sponsors: SCTE
More information and registration

Following years of tech trials and pilot deployments, cable operators are starting to deploy distributed access architecture (DAA) techniques for moving legacy headend functions to the access network and expanding the capacity of that network for new, more advanced services. In this session, cable technologists will discuss their latest Remote PHY, Remote MAC/PHY and related moves; the new services they plan to deliver with DAA; and the challenges they must overcome to make DAA a reality.
Maintaining HFC Network




Date:

4/18/2019 11:00 a.m. New York / 4:00 p.m London
Sponsors: SCTE
More information and registration

While industry technologists love to expound on their plans to upgrade and expand the cable HFC network to deliver new services, it's at least as critical to monitor, manage and maintain the network to deliver existing services. And such maintenance work will only become more important as the HFC network becomes more complex and sophisticated. In this session, we'll look at the key maintenance functions of network testing, measurement, fiber connectorization and cleaning.
The Impact of Full Duplex DOCSIS on Cable Networks




Date:

5/16/2019 11:00 a.m. New York / 4:00 p.m London
Sponsors: SCTE
More information and registration

Now that most larger North American MSOs are wrapping up their rollouts of DOCSIS 3.1, it's time to prepare for rolling out the next DOCSIS spec – Full Duplex DOCSIS. But that's easier said than done because Full Duplex requires operators to extend fiber much deeper into their access networks and eliminate all amplifiers. What kind of impact will Full Duplex have on the HFC network? How can operators cope? Our experts will tackle these issues and more.
Adopting Cloud Computing




Date:

6/20/2019 11:00 a.m. New York / 4:00 p.m London
Sponsors: SCTE
More information and registration

Like other network providers, cable operators are looking to leverage cloud computing to offer various hardware-based products as software-based services, including both residential and business services. Operators are taking this route to improve the customer experience, bring new services to market quicker, scale them easier and reduce costs, among other things. But getting started can seem daunting. In this session, we'll explore how operators can begin putting cloud computing to work.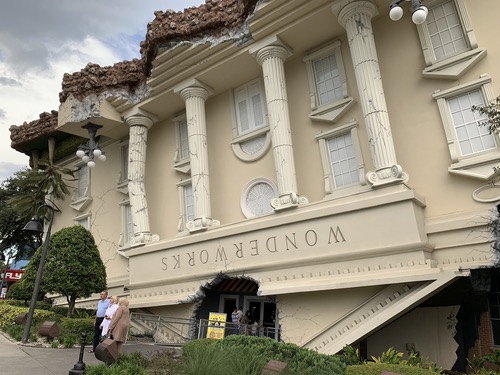 Microsoft Ignite Slideshow: Stay Away From the Agony Booth

More Slideshows