Tuning the Customer Experiences in 5G




Date:

5/30/2019 11:00 am New York / 4:00 pm London
Sponsors: Accenture, VIAVI
More information and registration

It's said that 5G will transform the role telecom technology plays in society and will fuel new uses cases and economic growth. But operators still need to focus on monetizing their network and that means assuring the experiences their investments are behind. Customer experience management control systems are how operators will tune the experiences they want to deliver and are critical to their ability to compete on factors other than product and price.

Learn where to invest in testing, assurance and optimization to have the largest impact on the quality of experience that 5G's enhanced services can deliver by joining Heavy Reading Analyst Kevin Burden, VIAVI Solutions' wireless strategy director, Paul Gowans and Accenture's managing director of its 5G network practice, Tejas Rao on May 30th at 11am ET.

The session will cover:
The 5G deployment strategies of CSPs and their monetization expectations
5G experiences operators will invest in out of the gate
How automating service assurance with real-time analytics can ensure SLA compliance
Tools, techniques and strategies for ensuring the customer experience performs as expected in each individual use case
5G: Why Cloud-Natives Will Thrive and Cloud-Tourists Will Struggle




Date:

6/5/2019 11:00 am EST / 4:00 pm UK
Sponsors: Matrixx Software
More information and registration

With 5G, service providers can reach customers in new ways, quickly and efficiently experimenting with new business models. Cloud-native solutions are essential to deliver the scalability, dynamic configurability and unprecedented resilience that 5G demands. With the right design principles, cloud-native solutions are essential for 5G success. Legacy architectures deployed in the cloud may fail to achieve the performance required.

Join this webinar and you will learn:
What cloud-native really means
What design patterns are emerging with cloud-native applications for 5G services
How are stateless vs. stateful microservices handled differently in a cloud-native architecture
How will service providers ultimately benefit from embracing cloud-native web-scale technologies
Survival of the Fastest: How Should Telcos Use Network Analytics to Improve Agility and Experience




Date:

6/6/2019 11.00 a.m. New York / 4.00 p.m. London
Sponsors: Nokia with Ovum
More information and registration

The hyperconnected digital world is expected to generate about $2 trillion of revenues for telcos by 2022. Telcos, however, cannot address this opportunity due to complexity within their networks and service offerings, which will increase exponentially in the 5G era. They must adapt and respond to customer needs in digital time or lose out on these opportunities.

Interest in network analytics solutions is ramping up as telcos see the value these tools can bring to increase agility, reduce costs and improve customer experience. Analytics can provide a deeper understanding of the services and network performance, allowing telcos to make smarter and faster decisions. However, there are barriers that telcos must overcome if they are going to get a return on their investment. Network analytics vendors, on the other hand, must have a clear understanding of telcos' requirements and align their solutions accordingly.

Join Ovum and Nokia to learn more about:
Telco market trends and challenges driving the need for network analytics
Use cases to be addressed using network analytics; Looking at customer deployments and outcomes achieved
Challenges that telcos face when deploying network analytics solutions
Criteria for evaluating network analytics solutions to address these challenges
Learn how different network analytics solutions were assessed in Ovum Decision Matrix: Selecting Network Analytics Solutions for Telcos
Ponemon Research: The State of DDoS Attacks Against Service Providers




Date:

6/11/2019 12:00 pm New York / 5:00 pm London
Sponsors: A10
More information and registration

According to a new research by Ponemon Institute, 85% of Communications Service Providers (CSPs) who took a survey reported that DDoS attacks against them and their subscribers are either increasing or continuing at the same relentless pace. However, 71% did not feel capable of effectively mitigating those attacks.

While CSPs work to improve their defenses, the survey showed that many also deliver DDoS scrubbing services to their subscribers, enhancing their client's security posture, while creating profitable revenue streams.

Join this webinar with Jim Hodges, Principal Analyst from Heavy Reading, Dr. Larry Ponemon, the Founder of the Ponemon Institute and Paul Nicholson from A10 Networks, to gain deeper insight into the key findings of this report.

Join this webinar and you will learn:
Critical weaknesses in today's CSP DDoS defenses
Tackling the challenges of scalability costs, automation and analytics
The role of DDoS threat intelligence in effective defense strategies
Growing demand for delivering managed DDoS scrubbing services to subscribers
Adopting Cloud Computing




Date:

6/20/2019 11:00 a.m. New York / 4:00 p.m London
Sponsors: SCTE, RedHat
More information and registration

Like other network providers, cable operators are looking to leverage cloud computing to offer various hardware-based products as software-based services, including both residential and business services. Operators are taking this route to improve the customer experience, bring new services to market quicker, scale them easier and reduce costs, among other things. But getting started can seem daunting. In this session, we'll explore how operators can begin putting cloud computing to work.
Bracing for the 5G Era




Date:

7/18/2019 11:00 a.m. New York / 4:00 p.m London
Sponsors: SCTE, Red Hat
More information and registration

Seeking to stay ahead of aggressive rivals like AT&T, Verizon and T-Mobile, cable operators are busily upgrading their networks for multi-gigabit speeds, cloud-based IP video services and next-gen wireless services. But now, with the emergence of 5G technology, the big question is whether cablecos will be able to harness 5G to their advantage or find themselves fighting a rearguard action against it. In this session, we will tackle the opportunities and challenges that 5G presents for cable in an increasingly converged world and discuss how operators can make the most of it.
Deploying Next Generation Passive Optical Networks




Date:

8/15/2019 11:00 a.m. New York / 4:00 p.m London
Sponsors: SCTE, Corning, VIAVI Solutions
More information and registration

After getting off to a late start, the cable industry is now advancing in the software-defined networking (SDN) and network functions virtualization (NFV) space, even leading the way in virtualizing its access networks. But, while cablecos are beginning to virtualize such key network functions and hardware as firewalls, routers, set-top boxes and even CMTS chasses, they still have some way to go. In this session, we'll look at where cable stands in its cloud journey, what it should virtualize next and which challenges must still be overcome.
Bringing HDR video to Life




Date:

9/19/2019 11:00 a.m. New York / 4:00 p.m London
Sponsors: SCTE
More information and registration

In their drive to sell more 4K TVs, consumer electronics makers are embracing HDR, or High Dynamic Range, a technique that expands the range of both color and contrast significantly on a TV set. This technology makes images appear to have more depth and richness. But it puts even more bandwidth and compression demands on pay-TV providers. How can cable operators meet those demands? In this session, we'll look at what's possible.
Automating the Cable Network




Date:

10/17/2019 11:00 a.m. New York / 4:00 p.m London
Sponsors: SCTE, Red Hat
More information and registration

Like other network operators, cable providers are seeking to automate their networks for a variety of reasons, including simplifying network provisioning, scaling services more efficiently, gaining more insights into their customers and cutting operational costs. They are also looking to boost bandwidth utilization and service quality. But putting AI and automation to work is no easy task. In this session, we'll focus on where the industry stands with automation now and how operators can make strides.
Securing the Cable Network




Date:

11/14/2019 11:00 a.m. New York / 4:00 p.m London
Sponsors: SCTE, Red Hat
More information and registration

Wary of the increasing number of hacks into enterprise and consumer data networks, cable technologists are pursuing ways to protect their increasingly complex networks and their customers from cyber attacks. CableLabs, for instance, is developing a "Micronets" framework to safeguard the home network. In this session, experts from CableLabs and elsewhere will discuss what cable operators can do to keep the bad guys out.
Virtualizing the Cable Architecture




Date:

12/12/2019 11:00 a.m. New York / 4:00 p.m London
Sponsors: SCTE, Red Hat
More information and registration

While DOCSIS may never die, it's not the only transmission technology in cable's arsenal anymore. With the industry's growing emphasis on Fiber Deep and FTTH rollouts, cable operators are increasingly turning to EPON, 10G EPON and other PON flavors to move bits over their fiber-rich networks. Where does the industry stand with PON now? What kinds of trials, pilots and rollouts are happening? How will NG-PON get deployed? In this session, our experts will assess PON's prospects in the DOCSIS world.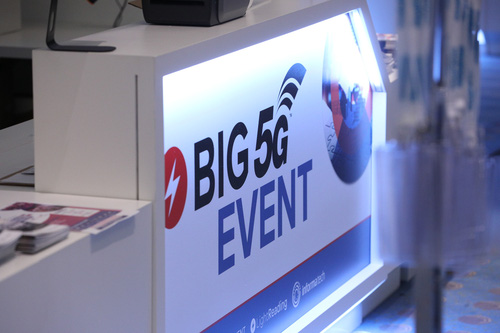 The Big 5G Event: Photos

More Slideshows