Dell CTO Expounds 'Insane' Theory About Enterprise Complexity
Dell CTO Expounds 'Insane' Theory About Enterprise Complexity
Hyperscale providers are bigger, but enterprises have years of legacy systems they need to wrangle, says John Roese, Dell EMC chief technology officer. Though hyperscale providers like Google and Microsoft have vast cloud infrastructures, traditional enterprises beat those guys for complexity, according to John Roese, Dell EMC's chief technology officer.
"Enterprises are more complex than hyperscale. Which sounds insane, because hyperscales are big and have more scaling problems," Roese tells Light Reading. "But they don't have the legacy."
Most of the useful data in an enterprise is running in legacy systems, including mainframes, client/server, Java and .Net applications that aren't going anywhere. It's unreasonable to suggest that enterprises should immediately scrap those applications and replace them with modern, containerized software, Roese says.
Instead, enterprise should keep that old infrastructure running as long as is practical, and use APIs to access the applications and data from a modern cloud infrastructure, Roese says.
"It's ok to have a mainframe for 20 years, as long as you can access it through a modern interface," Roese says.
Figure 1: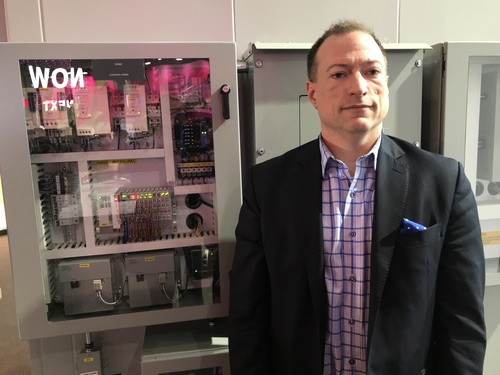 Dell EMC's John Roese.
Want to learn more about network automation? Register today for Light Reading's Automation Everywhere on April 4 in Dallas. We will be tackling the business and technology challenges behind driving network automation. The event is free for communications service providers – don't miss out!
We met with Roese for a wide-ranging discussion at Mobile World Congress last month. He likes to drop verbal bombshells that run counter to popular wisdom; he also -- counter to common belief -- said modern, on-premises applications are less expensive to run than public cloud applications. (See Dell CTO: Public Cloud Is 'Way More Expensive Than Buying From Us'.)
Preserving legacy infrastructure is key to Dell EMC 's vision for the cloud -- and not surprisingly also central to the company's strategy. Dell sells standardized servers and networking to run modern, private cloud software. Its EMC business sells one third of the storage for mainframes, Roese says -- although that business is shrinking, according to the company's most recent earnings report.
VMware Inc. (NYSE: VMW), which is 80% owned by Dell, provides virtualization software for private and hybrid cloud applications, along with extensive deals with public cloud providers, most prominently Amazon Web Services Inc. , to migrate those virtualized workloads from private to public cloud and back again.
And Dell's Pivotal business provides open source Cloud Foundry software to make containerized applications portable across multiple cloud architectures. Roese is chairman of the Cloud Foundry Foundation (it's prominently featured on his business cards, alongside his role at Dell).
For its fourth quarter of fiscal 2018 (ending February 2), Dell reported revenues of $21.9 billion, up 9% compared with a year earlier, and a non-GAAP operating income of $2.1 billion, up 15%. Server revenue was up 27% to $4.6 billion, while storage revenue was down 11% to $4.2 billion. Nonetheless, Dell is optimistic about storage, seeing demand grow for the first time since Dell closed its EMC acquisition in 2015. VMware revenue for the fourth quarter was $2.3 billion, up 20%. Other business, including Pivotal, RSA, Secureworks and Virtustream, recorded combined revenues of $492 million, up 3%. (See Dell's earnings press release and call transcript.)
Dell CEO and founder Michael Dell is considering a possible reverse-merger with VMware to return his eponymous company to the pubic market. (See Dell Confirms Possible IPO or VMware Merger.)
The cloud is fundamental to Dell's strategy, as it is to other legacy enterprise infrastructure vendors of Dell's scale, namely Cisco Systems Inc. (Nasdaq: CSCO), Hewlett Packard Enterprise and IBM Corp. (NYSE: IBM). (See Cisco, HPE, Dell EMC Fighting for Cloud Infrastructure Dominance, Cisco: We'll Put IT Back in Charge , HPE OneSphere Looks to Manage Multiple Clouds Through SaaS, IBM Launches 'Continuous' Security & Kubernetes on Bare Metal and IBM Cloud Private Extends Big Blue's Hybrid Reach.)
All of these vendors emphasize helping enterprises build a hybrid, multicloud infrastructure, spanning on-premises data centers as well as multiple public cloud providers. But each of these companies puts their own special twist on multicloud.
For Dell, cloud describes how software and data works, not where it runs. "We use the term to describe an operating model, not a place," Roese says. Cloud software and data can run on a public cloud, such as AWS or Microsoft Azure . Or it can run on infrastructure inside the enterprise data center. What makes a cloud is that the entire infrastructure acts as a single system. "Infrastructure shouldn't be random products; it's a system that delivers pooled resource," Roese says. That system can scale up and down flexibly as needed to meet demand.
That model is only three to five years old in the enterprise; previous to that, applications ran on individual servers: With cloud applications, the application just runs in the cloud, Roese says.
And the cloud has become universal. "I would argue that today there isn't an enterprise customer in the world that isn't moving to this abstracted infrastructure cloud model," Roese says.
Enterprises have three generations of infrastructure, the CTO says: The first, oldest generation is legacy applications tightly bound to hardware and not virtualized, including mainframe and old database applications. The second generation are virtualized apps built in Java and .Net that run easily on VMware. And the third, modern generation are cloud-native, not bound by individual virtual machines, containerized and written in microservices for maximum elasticity, Roese says.
To get maximum value from the older generation of apps, developers need to wrap those in modern, RESTful APIs. "There is an enormous business in the industry of taking that legacy footprint and making it talk to modern APIs," Roese says, noting that is the specialty of Apigee, acquired by Google in September 2016. (See $625M Apigee Buy Bolsters Google's Cloud.)
"This is way more complex than building Facebook," Roese says. "There are no mainframes to my knowledge in Facebook and Google. But there are mainframes in every bank in the world. To make it work in a modern way, with modern code, is a complex technical problem."
Related posts:
— Mitch Wagner




Editor, Enterprise Cloud & West Coast Bureau Chief, Light Reading
Subscribe and receive the latest news from the industry.
Join 62,000+ members. Yes it's completely free.
You May Also Like
---