How Dell Absorbed EMC Into the Cloud
LAS VEGAS -- Dell EMC World 2017 -- Company executives on Monday laid out how the new, combined Dell EMC will address the enterprise cloud, eight months after Dell closed its EMC acquisition.
The company also introduced a half-dozen new products and services for the enterprise.
David Goulden, president of the Dell Technologies infrastructure solutions group, laid out the company's vision of the enterprise cloud architecture. That vision integrates traditional Dell components with pieces Dell picked up when it acquired EMC and EMC's affiliated companies. (See Dell-EMC deal closes next week.)
Enterprises have different needs for general-purpose applications, cloud-native applications, and mission-critical applications such as Oracle, SAP, Epic and custom applications, Goulden said.
Dell sees VMware Inc., as the virtualization platform for running applications across clouds. Dell picked up majority ownership of VMware as part of the EMC acquisition.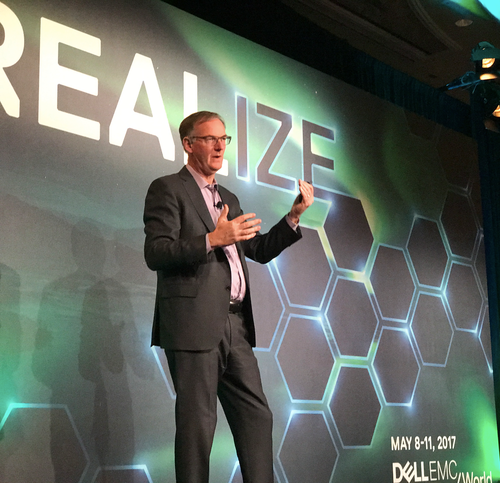 Dell affiliate Pivotal lets enterprises run workloads in either the public cloud or on-premises. Some 80% of workloads developed using Pivotal run on-premises, Michael Dell, the company's chairman and CEO, said at Monday's keynote. Customers often test and develop in the public cloud and then deploy locally. (See Michael Dell: We're Seeing Public Cloud 'Boomerang Effect'.)
Dell provides Enterprise Hybrid Cloud, a turnkey infrastructure-as-a-service (IaaS) product build on VMware software and Dell hardware, Goulden said. For running enterprise apps in the public cloud, VMware is allied with IBM Cloud and Dell EMC is allied with Microsoft Azure.
Enterprises' more mission-critical apps run in Dell's public Virtustream public cloud, purpose-built for mission-critical enterprise apps. "When was the last time you heard about a customer running production SAP or Epic workload on a public cloud?" Goulden asked.
Virtustream is launching launched Healthcare Cloud this week, and will launch a private cloud service later this year, Goulden said.
Developers writing cloud-native applications can use software from Dell's affiliated Cloud Foundry business, running on VMware and Dell EMC hardware.
For hardware infrastructure, Dell provides blocks, hyperconverged appliances and racks, Goulden said. It launched new hyperconverged products on Monday. (See Dell EMC Places Big Bets on Hyperconverged in Vegas.)
Dell also introduced Cloud Flex pay-as-you-go pricing, which Goulden described as cloud pricing for hardware -- no money up front, and "if you don't like it after 12 months you can return it," Goulden said.
Cloud Flex is more than just a way for enterprises to save a few nickels. It slashes capex as an obstacle to cloud migration, Jim Ganthier, Dell senior vice president of customer solutions, strategy, and advocacy, told Enterprise Cloud News.
---
M&A activity is turning the cloud upside down. Find out what you need to know in our special report: Mergers, Acquisitions & IPOs Are Rocking the Cloud.
---
"It's a way to allow people get into cloud with low risk and low cost, and try it out," Ganthier says. "If they try it they like it."
In other announcements Monday, Dell introduced:
Related posts:
— Mitch Wagner
Editor, Enterprise Cloud News
PARTNER PERSPECTIVES
- content from our sponsors