Enterprises of all sizes continue to invest more in public and private cloud platforms, with three specific vendors -- Cisco, Hewlett Packard Enterprise and Dell EMC -- all locked in a three-way tie in the infrastructure market, according to a new industry survey.
Over the last two years, spending on public cloud infrastructure has grown 35%, while private cloud spending has increased by about 18%. At the same time, as more companies put their data into the cloud, traditional hardware and software spending has dropped by about 18%, according to new data from Synergy Research Group.
Overall, this market has grown by about 5% over the last 24 months, with cloud spending helping to offset losses in traditional hardware and software.
"With cloud service revenues continuing to grow by over 40% per year, enterprise SaaS revenue growing by over 30%, and search/social networking revenues growing by over 20%, it is little wonder that this is all pulling through continued strong growth in spending on public cloud infrastructure," John Dinsdale, Synergy Research Group Inc. 's chief analyst and research director, wrote in the September 18 report.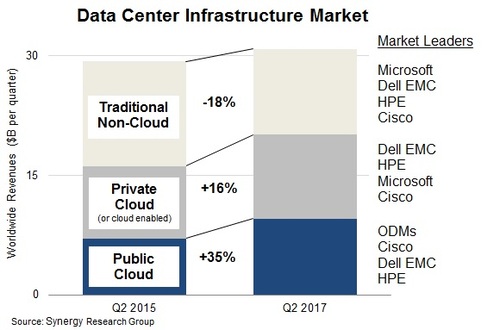 The healthy growth in cloud spending -- public and private -- means that Dell, HPE and Cisco continue to fight for market share as the main supplier of infrastructure.
In the public cloud market, Cisco is the dominant vendor, followed by Dell EMC and HPE.
In private cloud, Dell EMC is the dominant vendor, followed by HPE and Microsoft, which supplies much of the operating system and virtualization software. Cisco ranks fourth in this market.
Each of the companies has its own traditional specialties. Cisco is the leader in networking, while HPE leads in servers. Dell EMC is tops when it comes to storage.
In the second quarter of 2017, worldwide spending on data center hardware and software, for both cloud and non-cloud, totaled about $30 billion, with the vast majority of that money spent on servers, OS, storage, networking and virtualization. Enterprises also invested in network security and management software.
Public cloud accounted for about 30% of all spending, while private cloud accounted for about a third.
---
Keep up with the latest enterprise cloud news and insights. Sign up for the weekly Enterprise Cloud News newsletter.
---
The Synergy report also notes that original design manufacturers (ODMs) are also major players in the public cloud market. When taken in the aggregate, these ODMs outrank the big-name vendors for market share.
One reason for this is that many enterprises are willing to bet on white box makers when building out these large, cloud infrastructures.
"While some of this is essentially spend resulting from new services and applications, a lot of the increase also comes at the expense of enterprises investing in their own data centers," Dinsdale noted. "One outcome is that public cloud build is enabling strong growth in ODMs and white-box solutions, so the data center infrastructure market is becoming ever more competitive."
Other significant players in this market include IBM, VMware, Huawei, Lenovo, Oracle and NetApp.
Related posts:
— Scott Ferguson, Editor, Enterprise Cloud News. Follow him on Twitter @sferguson_LR.