Dell EMC is looking to expanding its portfolio of hyperconverged infrastructure products by adding support for its VxRail and XC series appliances to the company's PowerEdge 14th generation servers, which were released in July.
Hyperconverged infrastructure (HCI) is a fast-growing market for enterprises that want to build out their own private cloud for specific workloads or application, or for business looking to create a hybrid environment that combines public and private cloud resources.
To help build public and private clouds, enterprises are turning toward HCI, which combines storage, compute and virtualization in a single fabric of servers.
Dell EMC , along with Hewlett Packard Enterprise and Cisco Systems Inc. (Nasdaq: CSCO), are among the top maker of hyperconverged products and services. In the second quarter of this year, converged systems increased over 6% year-over-year and totaled $3.15 billion in revenue, according to IDC. (See Dell, HPE, Cisco Top Cloud Infrastructure Market – Analysts .)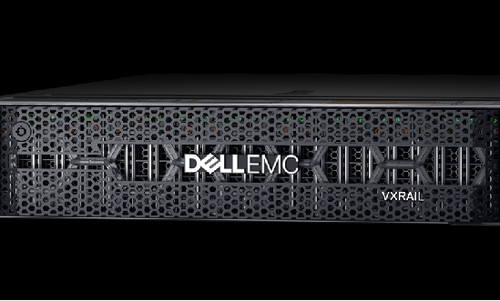 Bob Wambach, vice president of marketing for Dell EMC's Converged Platforms and Solutions Division, told Enterprise Cloud News prior to Thursday's announcement that HCI products are now able to accommodate more and more complex workloads, such as SAP, Oracle, Splunk and data analytics, and that's one reason the market is growing. (See Dell EMC Places Big Bets on Hyperconverged in Vegas.)
This is allowing IT departments to pursue other goals, such as digital transformation, where IT is more central to each part of the business.
"People are increasingly of the mindset that rather than have my head down and focusing on IT infrastructure and how to buy the individual parts and put them together, I want my head up to focus more on the business and how to drive more business productivity by consuming my IT that is already pre-engineered, pre-built and more easily supported," Wambach said.
In addition, Wambach said the company is also taking advantage of VMware's place in the enterprise, and the VxRail appliance is co-engineered between Dell, EMC and VMware, which are now all part of the overall Dell Technologies company. (See Dell Posts Q2 Loss, Signs Massive Deal With GE.)
In the case of the November 30 announcement, Dell is offering PowerEdge support around two HCI appliances. The first is VxRail, which uses VMware's vSAN, and the second is the company's XC series, which supports a number of different hypervisors, including VMware and Microsoft Hyper-V and others.
---
Keep up with the latest enterprise cloud news and insights. Sign up for the weekly Enterprise Cloud News newsletter.
---
For customers, the upgrade from the older generation of PowerEdge servers to the newly released 14th generation should provide a significant performance boost for applications running on either VxRail or the XC series. Specifically, Dell is promising a 2x IOPS (input/output operations per second) improvement with VxRail on the new PowerEdge.
With VxRail, Dell is also adding software-defined NAS support, which can allow for branch office deployments.
The VxRail appliance is proving to be one of Dell's more popular offerings in the HCI portfolio. Earlier this year, the company claimed to have sold 8,000 VxRail nodes. Now, that number has increased to 17,000 nodes, and Dell is claiming 2,500 customers. (See Dell Eyes Mid-Market With Hybrid Cloud Offering.)
In the interview, Wambach noted that Dell is seeing customers across different enterprise verticals, along with the public sectors, continuing to show interest in these types of HCI offerings. This includes the US, as well as overseas.
"We really think that these types of HCI products are critical to building infrastructure-as-a-service, platform-as-a-service and container-as-a-service," Wambach added.
The XC series models that are supported on the new PowerEdge servers are shipping as of Thursday, but the VxRail appliances won't be available until December 12.
Related posts:
— Scott Ferguson, Editor, Enterprise Cloud News. Follow him on Twitter @sferguson_LR.