Huawei's GigaHome Solution: Supporting Operators to Succeed in a Blue Ocean Strategy

11/2/2016

Comment (0)

In the "Internet+" era, technologies such as Internet of Things (IoT), cloud computing, big data, and ultra-broadband are quickly becoming the norm. As a result, services such as 4K, VR, and smart home are growing rapidly, and the home network market is predicted to be worth 100 billion US dollars in next 5-10 years. More and more operators, IT companies, OTT vendors, manufacturers, and hardware vendors are entering this market, accelerating its maturity. Over the next two years, the home network market will continue to grow and operators who pursue service transitions will be in fact be engaging in a blue ocean strategy for this market, thus creating a more favorable commercial environment to succeed in.
To meet the demands of home users for full Wi-Fi coverage and the needs of operators for providing integrated home services, Huawei unveiled the GigaHome solution at Broadband World Forum 2016. This solution is designed for building smart, easy-to-use/maintain, and open home networks with premium experience. The GigaHome solution better supports digital home applications, and meets home user requirements for telecommunication, entertainment, accommodation, and security.
1. Multi-Media Smart Network, Supports Gigabit Home Coverage
Despite operators accelerating bandwidth, high bandwidth access by the end users is not guaranteed: a 100 Mbit/s bandwidth does not always equate to a 100 Mbit/s experience. The bottlenecks lie in the uneven home network specifications on the user side. Currently, in the large-capacity home network market, only a few commercial solutions are available. Operators, by taking full advantage of their unique strengths, can excel in this blue ocean market where they are creating the demand for their own products
At the same time, users often complain about the lack of high-quality and high-speed Wi-Fi access, which is the cornerstone for HD video services and increasing number of mobile terminals. The poor user experience that results from this unmet expectation is often directed to the operators, affecting their brand image, decreasing the validity of guarantees, and restricting the development of high-value services.
With Huawei's GigaHome solution, Wi-Fi coverage at homes can be extended regardless of the medium. In addition, operators can build "1+N" home networks with high-performance home gateways. Operators can also easily achieve full gigabit network coverage by using technologies that support smart synchronization of network configurations and seamless roaming switching of terminals.
Consequently, users are able to enjoy 100 Mbit/s or higher bandwidth and operators can expand new services through Wi-Fi networks. High-rate Wi-Fi will soon become an important route for operators to upgrade services. Huawei's GigaHome products support IEEE 802.11ac and deliver access rates of up to 1 Gbit/s. Huawei has also developed directional antennas to improve Wi-Fi coverage by 25%, and they support both 2.4 GHz and 5 GHz in its GigaHome solution; now when watching a 4K videos (high-rate services), data can be transmitted at 5 GHz with little signal interference, greatly improving the user experience.
With improved bandwidth, operators can focus on smart home technologies to achieve differentiated transitions. Statistics show that over 20 operators around the globe have deployed smart home services and other relevant services. Huawei, as an active player for key technologies and standards, has adopted open architectures in its home network solution: as a result, various smart home devices can easily be connected to networks and operators are able to extend business processes to home networks and improve the average revenue per user (ARPU).
2. Visible Management, Realizes Efficient O&M
Another barrier for operators entering the home network area is the complexity and variability of internal home networking: to achieve full potential of a home network, both user demands and a variety of scenarios must be considered and understood. However, operators typically don't apply the traditional network management system to home networks. In addition, there are currently no efficient management and O&M methods for installation and maintenance personnel. Despite this large and growing market opportunity, operators have struggled to make inroads due to the complexities in implementing smart home solutions.
By drawing experience from global O&M, Huawei has innovated smart home O&M in its GigaHome solution to drive smart home services forward. With this solution, Wi-Fi APs support plug-and-play, and configurations can be automatically and simultaneously issued. Therefore, full Wi-Fi coverage can be realized at distributed homes without complex configurations. Huawei also provides APPs (applications) for O&M. These APPs provide support for installation and maintenance personnel and can even realize service deployment automatically. Thanks to the APPs, Huawei enables users to rapidly master home network O&M and deploy services without waiting. In addition, Huawei enables operators to improve installation and maintenance efficiency, reducing OPEX.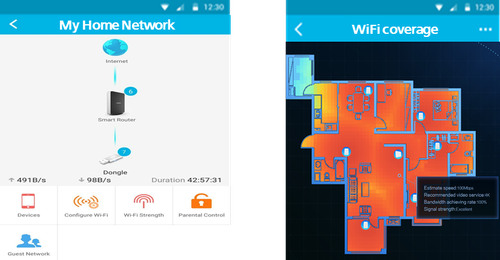 The indoor high-speed Wi-Fi network has developed into a new growing sales opportunity for operators' professional services. A large number of operators have already taken advantage this this and are reaping the benefits by providing excellent professional services. The Wi-Fi coverage simulation test tool provided in Huawei home network solutions can be used for remote Wi-Fi coverage check to determine the best hotspot installation positions. Furthermore, it serves as a convenient tool to recommend Wi-Fi AP products and deployment during solution design, establishing the image of operators, reaching new customers, extending Wi-Fi services, and increasing the ARPU.
3. Builds an Open Industrial Ecology
With the IoT trend, the demands for new services are exploding, including home security, home entertainment, HD video, household appliance control… Mainstream operators, communication vendors, Internet enterprises, and household appliance vendors are all stepping into the smart home market, bringing with them new and previously unforeseen opportunities. However, the enhancement of smart home services depends on continuous technical innovations, especially on the open industrial chain. Because Huawei's next-generation home network solutions are based on open architectures, Huawei can provide home networks that support wide coverage, multiple connections, various protocols, and low delays, achieving in-depth synergy among devices, channels, and clouds.
Each Huawei smart gateway can be connected to more than 200 home devices to achieve full home network coverage. On the channel side, open channels will provide superior network bearer for ecosystem partners, so users can enjoy low-delay and fully-connected home networks. On the cloud side, open application platform interfaces (APIs), service orchestration, and data are also available. Therefore, ecosystem partners can share home network access capabilities on the terminal side. By combining these capabilities with the cloud capabilities, ecosystem partners can innovate services and maximize connection values. Through open smart gateways, various smart terminal device manufacturers and technical developers from different industries can now work together to build smart connected homes.

(0) |