LAS VEGAS -- VMware CEO Pat Gelsinger's tattoo was temporary, but the company's commitment to multicloud, networking and telcos is long term.
Gelsinger rolled up his sleeve at the opening keynote to the company's annual customer and partner conference to display a VMware Inc. (NYSE: VMW) tattoo that he said he got at a place just down the road just before the conference. For CEO commitment, that beat Red Hat Inc. (NYSE: RHT) CEO James Whitehurst, who sported red loafers (explaining that he was not wearing a red hat because a Southern gentleman such as himself does not wear a hat indoors) at his company's conference this year. (See Photos: Red Hat Gets Hot & Sweaty.)
Gelsinger's tattoo wasn't the only clever fake at VMworld. SD-WAN vendor Silver Peak had a nifty display on the show floor reproducing an 80s office cubicle, complete with pop culture paraphernalia of the period. More on that momentarily.
Also, though I did not see it myself, one vendor hired actor Hafþór Júlíus Björnsson, better known as the Mountain on HBO's Game of Thrones, to make a personal appearance. I don't know how I missed him; the actor stands 6'9" and weighs 400 pounds. (For our international readers unfamiliar with US-style measurements, that translates to, "Yes, sir, you may cut ahead of me on the Starbucks line.")
And I lost touch with reality myself. Temperatures soared above 100 degrees outside, where I did not step for five days, from leaving my taxi Sunday morning to getting back in to a different taxi Thursday afternoon. And I swear that every time I got out of the elevator in the lobby of my hotel, they moved the elevator to make it difficult for me to find my way back again.
But the conference wasn't all fake. VMware and partners drove hard with their message that networking, multicloud and service providers are strategic to the company's future. Find links to our coverage below the photo of the Incredible Tattooed Gelsinger, and click through for more photos beyond.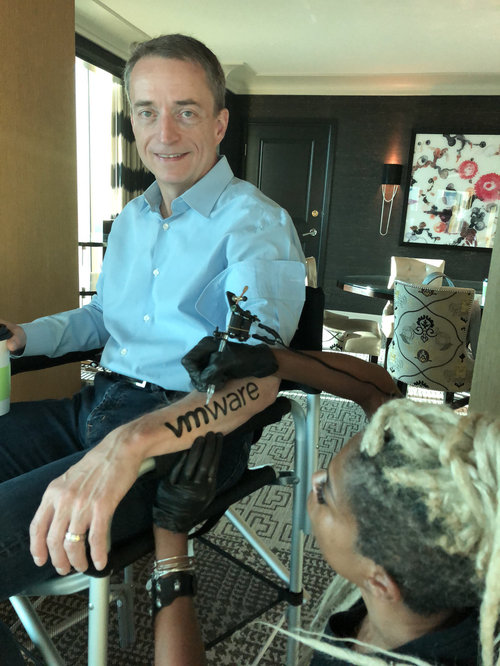 ---
Now entering its fifth year, the 2020 Vision Executive Summit is an exclusive meeting of global CSP executives focused on navigating the disruptive forces at work in telecom today. Join us in Lisbon on December 4-6 to meet with fellow experts as we define the future of next-gen communications and how to make it profitable.
---
Related posts:
— Mitch Wagner




Executive Editor, Light Reading