VMware Slashes Costs for vSphere on AWS

Comment (0)
VMware and Amazon are cutting costs by 50% for enterprises getting started moving vSphere virtualized workloads from on-prem to the AWS public cloud. And the service is learning a few new tricks as well.
VMware Cloud on AWS gives VMware and its users a foothold in the public cloud, while extending AWS on-premises. The service is popular in financial services, healthcare, and oil-and gas industries, Sandy Carter, AWS VP EC2 Windows Enterprise Workloads, told tech journalists on a webinar announcing the AWS updates last week.
A primary use for the hybrid platform is cloud migration: getting applications out of the data center, either whole-hog or specific applications. Another primary use is data center extension, for greater capacity; geographical reach, often to comply with data sovereignty regulations; or to support test and development workloads And a third use is disaster recovery, Carter says.
What's new with VMware Cloud on AWS? Quite a lot, actually. On Sunday, kicking off the VMworld annual US customer and partner conference in sweltering Las Vegas, the two companies are cutting the cost of getting started on VMware for AWS by 50%, as well as cutting the minimum configuration, said Mark Lohmeyer, VMware SVP and GM of the cloud platform business unit.
Previously, the minimum configuration for a production environment was four hosts; now it's three. And enterprises only need to pay for two hosts. This three-for-the-price-of-two offer is valid through Nov. 2, limit one for customer, and is applicable for hourly on-demand and one-year reserved models only. Other conditions apply.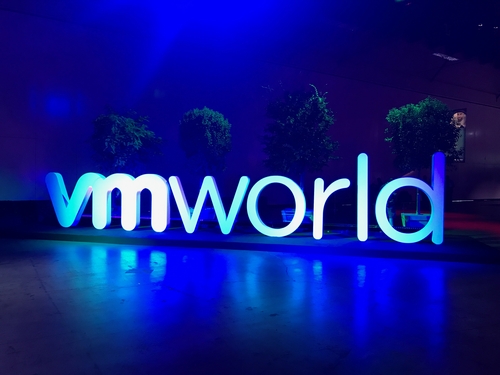 ---
Now entering its fifth year, the 2020 Vision Executive Summit is an exclusive meeting of global CSP executives focused on navigating the disruptive forces at work in telecom today. Join us in Lisbon on December 4-6 to meet with fellow experts as we define the future of next-gen communications and how to make it profitable.
---
For enterprises looking to migrate to public cloud faster, the two companies are launching support for instant, live migration of thousands of virtual machines simultaneously. Previously, users had to schedule migration of VMs from on-premises data center to the AWS cloud; now, users can mirror data between locations, and then when they're ready, just throw a switch and the public cloud application instances go live.
Additionally, the two companies launched several options for connectivity, security, cost control, logging, storage and geographic expansions, to improve the breadth and depth of their partnered offerings.
VMware and AWS now support full connectivity over AWS Direct Connect (DX), supporting VMware's NSX networking over AWS DX, to provide private and consistent connectivity between VMware workloads running on-premises and on AWS.
For security, the VMware and AWS provide new application-level security with micro-segmentation for granular control over traffic between applications running in the cloud. And the two companies now support at-rest encryption for vSAN volumes and new key management options. (See How VMware Plans to Put the Screws on Cisco.)
New controls enable users to manage licensing costs for enterprise applications such as Oracle and Microsoft. Users can specific the number of CPU cores a workload can run on, to only pay for cores actually being used. Also, the new VMware Host Affinity capability allows users to pin a workload to a specific host, in cases where that is required by application licensing terms, Lohmeyer said.
Additional logging capabilities improve monitoring and troubleshooting: VMware Log Intelligence supports realtime alerts on anomalies, custom dashboards to visualize trends, and other capabilities.
VMware and AWS are adding a new, high-capacity storage option based on Amazon Elastic Block Store (EBS), to run VMware vSAN storage on EBS volumes. This provides a cost-efficient option for enterprises looking to scale storage independent of compute, for applications requiring large amounts of storage, more than is available in standard AWS configurations. Available storage options are 15-35 TB per host, in increments of 5 TB.
And the two companies are extending VMware Cloud on AWS to the Asia Pacific region with a new presence in Sydney, Australia, and Tokyo presence planned. VMware on AWS is already available in the US and Europe.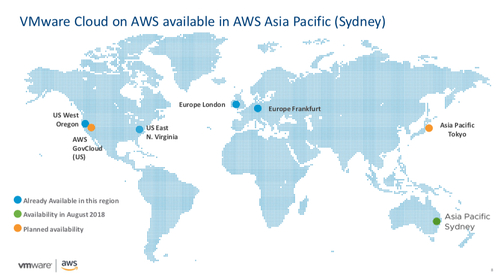 VMware launched its VMware Cloud on AWS partnership with AWS last year, after a 2016 announcement, and it's become a cornerstone of VMware's cloud strategy, providing enterprises with a platform to move to the public cloud while continuing to run their vSphere virtualization instances. The partnership was an about-face for VMware, which previously identified Amazon as a mortal enemy. (See VMware Launches Amazon Cloud Support and Enemies No More: Amazon & VMware Partner on Cloud.)
VMware's about-face toward Amazon makes sense for VMware; as enterprises move to public cloud, enterprise companies like VMware risk getting left behind unless they have strong public cloud partners, and AWS is the strongest. VMware's direct and indirect competitors such as Cisco Systems Inc. (Nasdaq: CSCO) and Hewlett Packard Enterprise are all pursuing a multicloud strategy, and making partnerships with public cloud providers. VMware, with its partnership with the biggest public cloud provider of all, is in pretty good shape.
But VMware isn't bulletproof against long-term change in enterprise architecture. If the Amazon partnership sours, VMware's public cloud strategy takes a bad hit. Moreover, over the long term, workloads are moving from virtualized to containerized, and while VMware supports containerized applications, it's not dominant there. VMware dominates application virtualization, but with containers, it's one vendor among many. (See VMware Launches Kubernetes-as-a-Service.)
— Mitch Wagner




Executive Editor, Light Reading