As Tom Murphy sees it, the University of Pennsylvania central IT department needs to get good at cloud computing -- now.
With more than $150 million in technology projects currently underway at the 277-year-old Ivy League university, Murphy and his team of 275 IT pros have no less a task than a complete overhaul of the infrastructure, which will mostly move the cloud.
"We have a cloud-first program. One of my points of emphasis is that the cloud is here and we've got to get good at the cloud and it is part of our digitalization plans," said Murphy, who was appointed as UPenn's first ever school-wide CIO about five years ago. He moved into academia after working in the hospitality, travel and pharmaceutical industries.
"Cloud has come and resistance is futile," Murphy told Enterprise Cloud News recently. "In the future, as the cloud becomes a norm, and as IT becomes a service, why do they need us for central IT if IT is a service, and they can pay for it as they need it? This is why we are going to be the first movers. The internal IT organization at Penn is going to become the experts at cloud."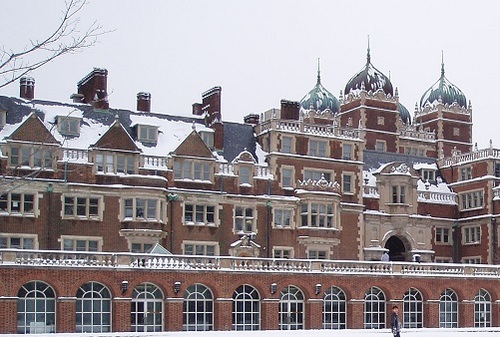 Murphy's experience with digitally transforming businesses stretches back to his days attending a management training program at Marriot. At the time, the chain was looking to automate the front desk -- rooms keys still hung behind the clerks -- and he was asked to be in charge of that system.

It was there Murphy first figured out he liked technology and could manage people.

"My talents are people and project management, so I grew up on that side of IT -- you wouldn't want me configuring your servers," Murphy noted.

Changing UPenn
Those people skills are what eventually brought Murphy to UPenn, which had an antiquated and federated IT system.

Even though he took over the central IT facility -- called Information Systems and Computing or ISC -- most of the 900 IT administrators on campus report into the leaders of the individual schools or centers. The university itself is made up of 12 schools, including The Wharton School and the Annenberg School for Communication, which includes about 25,000 full- and part-time students and more than 4,700 faculty members.

There are also enormous research facilities on campus, and UPenn is involved in nearly $1 billion worth of federal grants to fund those programs.

"The only way to get things done is through collaboration and relationships, and you have to have credibility. It's about getting people to follow you because they want to, not because they have to," Murphy said.

Then there was the technology Murphy and his team had to sort through.

UPenn had its own data center, but also relied on a mainframe. There were some 14 email systems that were not integrated. Some of the university's major research still relied on paper, with information and data stored in old-fashioned filing cabinets. On the security front, UPenn lacked basics, such as a firewall.

Embracing the cloud
However, Murphy had the support of UPenn's provost, executive vice president and president to make changes.

The first of these was a plan Murphy called Cloud First. It called for a significant cloud investment, especially in a multicloud strategy which included Amazon Web Services Inc. and Microsoft Corp. (Nasdaq: MSFT) Azure. The university is also investing in Google (Nasdaq: GOOG) Cloud Platform, but not as heavily. (See Multicloud Can Lead to Management Nightmare – Survey.)

"About 12 to 18 months ago, we started a program called Cloud First. I took 15 of some of the strongest platform, infrastructure, and app dev folks I have and put them on a team and told them 'take us to the cloud, learn everything there is to know,'" Murphy said.

Those lessons were put to the test when Murphy and his team decided it was time to standardize the university's email system. Instead of 14 disparate systems, Murphy presented an choice between Microsoft Office 365, along with Azure for support, and Google's G Suite, which included Gmail.

Murphy's approach was to pull all the stakeholders together and present the various pros and cons of the two email platforms. He hired a project manager to facilitate the conversation and brought in consultants. He explained:
They got a vote. That's the only way to do this, a collaborative decision. And it kind of changed the way they saw ISC. It wasn't us forcing this down their throats. It was ISC facilitating a conversation about the future. What I used to my advantage was the knowledge that many staff and many faculty -- and remember in Higher Ed, the faculty really runs the place -- couldn't calendar effectively. If I was in the school of engineering, I couldn't email someone in the school of nursing because they were two entirely different email addresses … everyone settled on Office 365 and we moved as a unit.
From there, the Cloud First plan took off. Murphy and his team are now closing down the old data center, which included 10,000 square feet of raised floor, and consolidating it into a much smaller data center, which will mainly support research since that data has to stay local.
Next page: Getting Cloud First right