ExxonMobil Adds Fuel to a Digital Transformation
LAS VEGAS -- How far has technology come?
In the late 1980s, the world's most powerful computer was a Cray high-performance system that cost about $35 million and needed subsidies from the US government to help build. Within 25 years, that supercomputer's processing capacity was surpassed by the Apple iPad 2. In addition, the tablet had a camera, microphone, WiFi capabilities and cellular connectivity -- technologies that the Cray system lacked.
"Not only did the iPad 2 surpass it, but it left it deaf, dumb and blind, and immobile," said Mike Brown, the vice president of IT at gas and oil giant ExxonMobil. The point of the comparison is to show the rapid pace of change within IT and how CIOs and their organization need to embrace that change, especially as technology become more integral to all parts of the business and innovation quickens.
This means that IT can no longer be a back-end support system for the enterprises that it serves. (See Digital Transformation Causing Sleepless Nights for IT – Study.)
"Instead of asking us to fix their computers, they are entrusting us with their valuable data in a constrained environment because they know their investments and their partnership with us will help them compete in the marketplace," Brown added.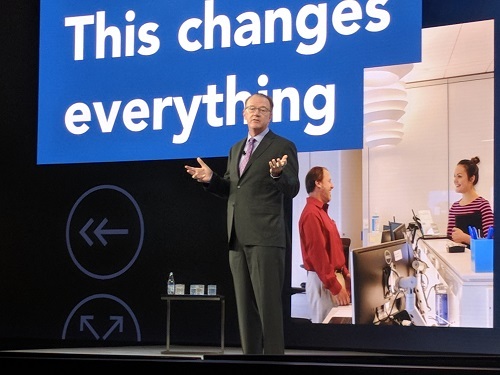 Brown's talk was part of the opening of the Technology Business Management (TBM) Council's 2017 conference here on November 7. Brown is the current chairman of the non-profit, which offers advice, guidelines and best practices for running the IT department as a business.
In Brown's view, IT is more than keeping systems running and maintenance. Instead, IT is an innovation center within the enterprise and its customers are the other lines of business managers who need technology to stay competitive within their marketplaces.
Each year, ExxonMobil's IT department embarks on between 500 and 550 major projects.
A few years ago, Brown estimates that 65% of these projects were maintenance or non-discretionary programs designed to "keep the lights on." Now, only 35% of ExxonMobil IT projects fall into that category.
---
Keep up with the latest enterprise cloud news and insights. Sign up for the weekly Enterprise Cloud News newsletter.
---
Part of this transformation, according to Brown, is applying TBM principles to his IT staff. However, it's also about moving IT out of a silo and working to make the department an equal partner in the business.
"We wanted inspired people who love tech to work with the business to solve problems," Brown said. "They needed to have access to the business that they never had before and that helped drive creativity and innovation."
One of those projects allowed engineers and others within ExxonMobil to access advanced seismic imaging technology, which helps map subsurface geology to help explore for oil and gas deposits, from an array of different devices instead of high-performance computers, which freed employees up and let them work from remote locations.
It's projects like these that Brown says is driving an atmosphere of "digital everything," which ExxonMobil and its IT department are trying to embrace.
"Digital everything is not very far off," Brown said. "The ability to relate seemingly unrelated data and draw new insights and to answer questions previously unasked is what will drive value."
Related posts:
— Scott Ferguson, Editor, Enterprise Cloud News. Follow him on Twitter @sferguson_LR.