Cisco Shows Open Networking Intent

Comment (1)
ORLANDO, Fla. -- Cisco Live -- Cisco is taking a big step in its transformation from equipment vendor to software and service provider, launching APIs to allow third parties to program its campus and wide-area networks (WAN), for improved integration with third-party equipment and IT processes, the company announced Tuesday.
The change extends the programmability for data center networks Cisco launched with its Application Centric Infrastructure several years ago, and brings it to campus networks and WANs. It's also an extension of the company's intent-based networking strategy, launched at Cisco Live a year ago, Sachin Gupta, Cisco senior vice president product management, said at a briefing for journalists and analysts Monday morning. (See Cisco Declares a New Era of Intent-Based Networking.)
"I have customers telling me that modern networks are oxygen for digital business. It's how they survive and how they will thrive," Gupta said.
Intent-based networking allows enterprises to program networks at the speed required by present-day business, Gupta said. "Intent-based networking says instead of going box by box, I can express intent at the top level," Gupta said. Instead of programming each device manually, through clumsy command line interfaces and configuring ports and feeds, network managers express intent for the entire network -- prioritizing applications, granting network access for devices and configuring security policies -- and the network configures devices to meet those needs automatically.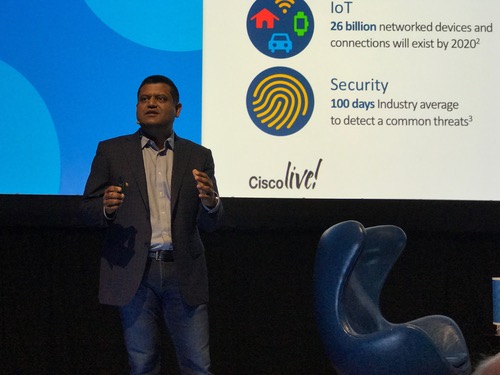 ---
Now entering its fifth year, the 2020 Vision Executive Summit is an exclusive meeting of global CSP executives focused on navigating the disruptive forces at work in telecom today. Join us in Lisbon on December 4-6 to meet with fellow experts as we define the future of next-gen communications and how to make it profitable.
---
Cisco delivers intent-based networking through its Catalyst 9000 switches, as well as the DNA Center software controller. Now, Cisco is opening APIs for its DNA Center, to allow third-party developers to program campus and WAN networks. (See Cisco Revs Up Network Automation )
The APIs will allow network operators to manage third-party devices through DNA Center, which would effectively act as a centralized network controller. That's important from Cisco's perspective, as it would allow Cisco to retain the customer relationship even as the network operator brings in equipment from Cisco's partners -- and even competitors.
In addition, the move will enable closer integration between network operations and the IT and business operations teams.
Previously, the IT department, which runs data center operations and end-user devices, and the networking department were separate entities. Increasingly, enterprises are combining those specialties, and the ability to integrate networks with IT operations facilitates that transition.
Cisco introduced 15 partnerships for the APIs, including IBM, Dimension Data, Accenture, ServiceNow, MicroFocus, World Wide Technology, Tableau, Infoblox and HCL. For example, World Wide Technology is extending DNA Center Controller to all mobile devices; HCL is automating third-party device provisioning for network infrastructure; ServiceNow is integrating DNA Center Controller with its customer service tracking software; and InfoBlox is integrating DNA Center Controller with its tools for managing IP addresses.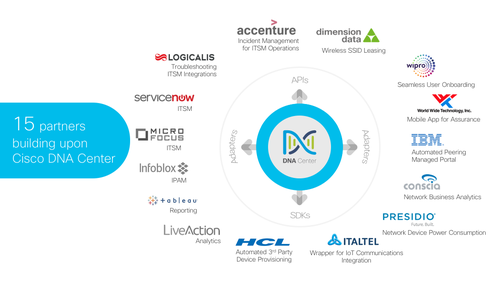 Also at Cisco Live, Cisco is touting its DevNet outreach program for network software developers. DevNet announced Monday that it hit 500,000 developers, in addition to more than 3 million Cisco Certified Engineers and 62,000 partners.
Also on Monday, Cisco launched DevNet Ecosystem Exchange for sharing applications for Cisco platforms, which now contains more than 1,300 applications. And the DevNet Code Exchange on GitHub gives developers a place to share software to build applications and workflow integrations. "That's assuming Microsoft keeps GitHub open -- which we expect they will," Susy Wee, Cisco DevNet senior vice president and chief technology officer, joked Monday. Microsoft announced an agreement to acquire GitHub last week. (See GitHub: Microsoft's $7.5B Cloud Super-Weapon.)
Cisco has been in a multi-year transition from selling networking equipment for one-time revenue hits to recurring revenue based on packaging its equipment with software and services. It's been a slow transition; in its last fiscal quarter, reported last month, recurring revenue comprised 32% of total, up two points year-over-year. Overall revenue was $12.5 billion, up 4% year-over-year, its second consecutive quarter of revenue growth after a two-year slump of consecutive quarters of declining revenue. (See Cisco: Revenue Slump? What Revenue Slump?.)
Cisco's news is similar to a VMware announcement last month unifying its network architecture spanning the on-premises data center, enterprise branches, Internet of Things, as well as public and private clouds. (See VMware Takes On Cisco & Juniper With Network Vision.)
Related posts:
— Mitch Wagner




Executive Editor, Light Reading