Has Intent-Based Networking Moved Beyond Marketing Buzzword Purgatory?
AUSTIN, Texas -- Big Communications Event -- Intent-based networking re-emerged at the forefront of the telecom lexicon last year as a way to automate data center networking operations but the technology has been plagued by murmurs that it's just a marketing buzzword.
As the term has been referenced in discussions around automating the WAN, for example, the waters have muddied over whether IBN is just marketing lingo or if there are legitimate use cases in applying the technology to the data center, WAN, enterprise networks and more. (See Intent-Based Networking: Marketing Hype or a Magic Bullet for Automation? and Intent-Based Marketing or Intent-Based Networking?)
At Light Reading's Big Communications Event last week, panelists from Apstra , Verizon Communications Inc. (NYSE: VZ) and CableLabs examined the hype and reality behind IBN.
Heavy Reading Senior Analyst James Crawshaw defines intent-based networking as a "northbound interface between an infrastructure controller and higher-level business system. In some respects, there are parallels here with the layering concept in MANO that we use in the NFV architecture. At the top layer of this abstraction we have very generic instructions, as you go down the layers it becomes more granular and device specific... Intent at the higher levels isn't concerned with these lower level APIs, it's concerned with high level business needs."
Randy Levensalor, leading member of the network virtualization team for CableLabs, said IBN is a "marketing buzzword but will turn into a segment, there's rough consensus around it." While he said IBN is still in the early stages of development, there are intriguing future use cases for it, such as having voice traffic managed by intent.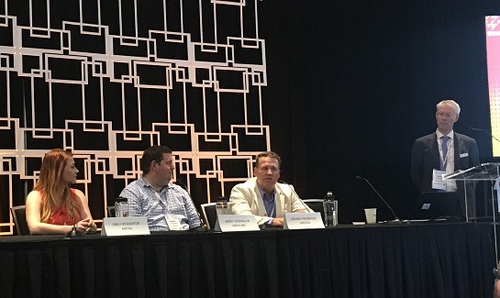 Crawshaw explained that intent-based networking differs from other abstraction concepts in software is the use of a declarative language. The panelists agreed that the benefit of IBN is expressing the what not the how -- Stoughton compares it to taking an Uber where the rider expresses a need to move from point A to point B, but the driver is responsible for determining the optimal route to reach the destination.
"Intent is understanding the what and not the how and validating that with the actual operating state," said Carly Stoughton, senior technical marketing engineer for Apstra. "The value of looking at intent is what does the system look like now, am I hearing about any deviation from intent of the system, am I notified about that in real time? That's where we get the real value from intent."
Start-up Apstra launched its AOS in 2016 -- a vendor-agnostic management platform that enables automation of operations across underlay and overlay networks in data centers. Since it's AOS 2.0 release last fall, Apstra's Carly Stoughton, Senior Technical Marketing Engineer, told Light Reading in an interview that the company has added intent-based analytics and additional telemetry.(See Apstra's Intent-Based Networking Adds SDN Overlays.)
Larger vendors joining in the intent-based networking arena include Juniper Networks Inc. (NYSE: JNPR) with its AppFormix acquisition and Cisco Systems Inc. (Nasdaq: CSCO) with its DNA Center. However, Stoughton claimed Apstra coined the term intent-based networking in 2014 and Cisco's recent entry into this arena last fall is what turned IBN into marketing hype.
"Sometimes it's good for a small company when a huge vendor uses our terminology, but they tarnished it a little and made it seem like a marketing term ..." Stoughton told Light Reading. "It seems like they're fitting a product to a term as an afterthought rather than creating something novel like we're doing. If it was just marketing hype, we wouldn't have any customers."
Stoughton adds that while there are some areas that Apstra competes with Cisco, "they're also one of our biggest partners. We can automate Cisco gear, run on Cisco gear, enable customers to have a multi-vendor environment that includes Cisco. There is some overlap but we're not going head-to-head to them, we're agnostic to the hardware and software vendors."
Next page: Applying IBN Beyond the Data Center
UPCOMING LIVE EVENTS
June 6-8, 2023, Digital Symposium
June 21, 2023, Digital Symposium
December 6-7, 2023, New York City
All Upcoming Live Events
PARTNER PERSPECTIVES
- content from our sponsors