Participation in standards development organizations (SDOs) is becoming more important as telecom operators try to automate hybrid cloud connections to make them simpler for business customers, says CenturyLink's CTO.
Aamir Hussain joined the MEF Board of Directors in February and says, in an interview this week, that CenturyLink Inc. (NYSE: CTL) is looking to MEF and other groups such as TM Forum to define the interfaces that drive interconnections but also help extract complexity from service delivery processes.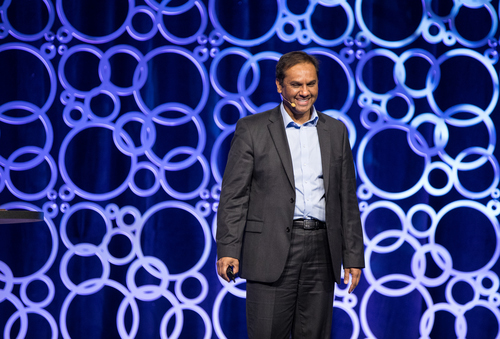 Enterprise customers -- who now represent 75% of CenturyLink's revenue stream -- want seamless connections across the infrastructure, including physical network functions, virtual network functions and clouds, and that's also how the network operator wants to handle its orchestration, Hussain says. That requires the appropriate framework of application programming interfaces (APIs), which is what CenturyLink is looking to MEF to provide via its Lifecycle Services Orchestration (LSO).
"As we connect our ecosystem with other providers and as we add more workflow functions and expand our SD-WAN services throughout the world, it was important for us to be part of that play and drive standardization at that point," Hussain says. His teams are already active participants in the LSO process, and that will only become more important as CenturyLink leverages the fiber connections it added with the Level 3 acquisition.
"With the Level 3 and CenturyLink combination, our scale has really changed," he comments. "Having almost 700-plus thousand miles of fiber and with the number of buildings we connect at 100,000, it becomes extremely important for us to provide connectivity across different types of networks within our services framework in a fully automated fashion, and that's another reason I want to be a part of MEF."
One key aspect of MEF's agenda for Hussain is the organization's extension of its Ethernet work into other areas -- namely, wavelengths, security and SD-WAN-as-a-service.
"We are active on all those fronts and it will help us drive standardization across that," he says. "Once that is done, it is a matter of onboarding more and more services, doing it in an automated fashion, through an interface that connects automatically to our network."
CenturyLink has been building its own RESTful APIs, but now wants to us the UI framework MEF has defined and build on that to connect legacy and newer services, Hussain says. The network operator has developed its own master orchestrator to drive interfaces to its cloud framework, software-defined networking framework and fixed physical network function framework, and uses TM Forum specifications in that effort. The fact that MEF and TM Forum work together cooperatively benefits that effort.
"Now we are going to use APIs to talk to our northbound interfaces -- APIs which are generated by and through the MEF work stream -- so having those two connected at the back end through a standards body is going to help us," he says. "Now that we are trying to do things on both the northbound and southbound interfaces in an automated fashion through RESTful APIs, whether it be MANO or us trying to drive Yang modeling, as long as it's standard, it will help us on our own delivery time."
CenturyLink is engaging with open source efforts as well -- it has contributed to ONAP, though not as a member -- and is looking carefully at where greater participation there might make sense. The company launched its virtualization efforts in 2012 on a VMware platform, but has already upgraded its Programable Services Backbone (PSB) to be open source. (See CenturyLink's ABN Buy Is Software Harbinger and CenturyLink to Open Source NFVi Orchestrator.)
"I have great respect for what ONAP is doing and I have great respect as well for what Facebook [through the Telecom Infra Project] is doing," Hussain says. "We are looking at all of that. We haven't decided one versus another. ONAP is something we are close to."
---
Want to learn more about the impact of intent-based networking on NFV orchestration? Join us in Austin at the fifth-annual Big Communications Event May 14-16. Learn from hundreds of speakers and network with thousands of industry thought leaders. There's still time to register and communications service providers get in free!
---
Differentiating in the business space is happening on two fronts for CenturyLink, according to its CTO. Having a more ubiquitous network, which it acquired in Level 3, is one major advantage, but being able to deliver more services more easily on that network is another. CenturyLink is leveraging another acquisition -- Elastic Box -- to let enterprises manage workloads more efficiently across the cloud landscape. (See CenturyLink Ready to Roll on New Services.)
"We have added that additional functionality such as account management and managed services anywhere and now we are adding networking and other things to that and that is a very simple way for our customers to buy networking from us ... [where they are] able to move their workloads seamlessly and connect to whatever they need to do, without having to pay the penalty on latency, jitter and delay and ... [where they are] really controlling their workloads autonomously in an automated fashion," he says.
— Carol Wilson, Editor-at-Large, Light Reading