ATLANTA -- Supercomm 2003 -- UTStarcom Inc. (Nasdaq: UTSI), primarily known for its access and wireless equipment, has grown into other areas of late. Its most recent foray -- into optical transport -- was on show (sort of) in the vendor's booth here at Supercomm 2003.

UTStarcom has released three new optical transport products for the Asian and European markets. Light Reading also confirmed (by eavesdropping on booth chatter) that UTStarcom is private-labeling two of Turin Networks Inc.'s Traverse switches with the intent to sell these to U.S. carriers.

The news adds a bit to UTStarcom's intrigue as a significant player in the China market that's looking to make inroads in the U.S. and elsewhere. The relative strength of the vendor's financial position has drawn attention, and its attempts at new segments are apt to draw further interest (see UTStarcom Is Booming).

Oddly, UTStarcom hasn't "officially" announced its new transport trio, and it's cagey on technical details. Here are the basics: The smallest is the NetRing 600, a Sonet transport box that can handle up to four STM-1/OC3 connections, two STM-4/OC12 connections, and four 10/100 Mbit/s Ethernet interfaces in one rack unit (RU). The 600 is designed to be a customer premise box used in fiber-to-the-building deployments.

Next in size is the NetRing 2500, which is four RU high and could either be deployed at central offices, wireless cell sites, or around an STM16/OC48 ring. The last of the bunch is the NetRing 10000, a half-rack system that's meant to handle transport around an STM64/OC192 Sonet ring.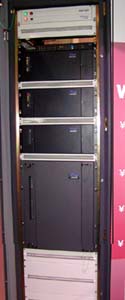 UTStarcom has started selling the smallest two of its three new optical transport systems to some of its customers in China, according to a product line manager Mark Yin. The largest system of the three, though finished, is pending regulatory approval in various countries.

UTStarcom's entrance into optical transport is somewhat of a surprise. Up to now, it's been most known for its wireless PAS phones and networks as well as its IP-based DSLAMs (see UTStarcom Is #2 in DSLAMs). Its recent acquisition of 3Com Corp.'s Commworks unit gave it a plethora of installed products, including Code Division Multiple Access (CDMA) packet nodes, softswitches, media gateways, and remote access servers (see 3Com Completes CommWorks Sale).

Big questions surround how UTStarcom will use this gear in its strategy regarding U.S. carriers. Sure, it has the CommWorks products, and now that it is selling Turin's gear, it has a multiservice switch offering, to boot. It's hard to say, though, what other UTStarcom products will make inroads in the U.S. "We're going to go to markets that we can get to the quickest," says Mike Sophie, UTStarcom's chief financial officer.

Partnerships could be key. After all, UTStarcom's quest for low-hanging fruit has already meant one acquisition and one deal with another equipment supplier. "We'll continue to partner with companies," says Sophie. "But our overall focus is profitable growth."

With or without partners, getting transport contracts with U.S. carriers could be a challenge, given the current capex downturn and pricing concessions liable to come from established players. At least one major competitor, Fujitsu Network Communications Inc. (FNC), isn't shaking in its boots just yet.

"We're not seeing them in any customers," says Fujitsu spokesman John Stewart. "I did see their waterfalls, though."

Stewart's reference is to UTStarcom's booth, a kind of lounge with the feel of an Asian-inspired Starbuck's, complete with water cascading down plexiglass walls.

(Make my latte a double!)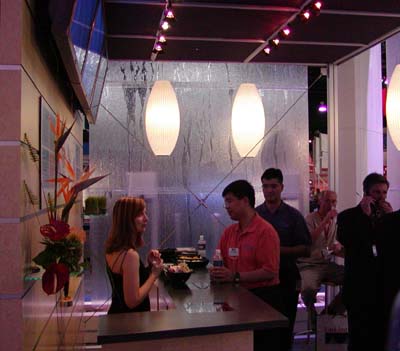 — Phil Harvey, Senior Editor, Light Reading