 LAS VEGAS -- VMworld -- VMware sees an "enormous" opportunity both selling to, and partnering with, communications service providers: In addition to connecting with telcos as customers, VMware is also teaming with them to sell products and services to enterprise customers.
"Telco is an enormous opportunity for us," VMware Inc. (NYSE: VMW) CEO Pat Gelsinger said at the VMworld customer and partner conference keynote Monday. "Data centers and cloud today are over 80% virtualized. The telco network is 1% virtualized." The telco industry is almost as big as enterprise IT, which VMware dominates, and that industry is "almost entirely un-virtualized," Gelsinger said. Just virtualizing existing networks will grow VMware's business significantly, and the migration towards 5G, which will require extensive virtualization for the next-generation network technology's potential to be fully realized, will vastly expand the market even further.
"What an opportunity for us, a virgin market right next to us," Gelsinger said.
And the telco opportunity doesn't end with sales. "We're starting to see telcos not just as consumers of our technologies but as a channel, amplifying our technology for enterprise customers," said Gabriele Di Piazza, VMware VP products and solutions, Telco NFV, in a one-on-one interview with Light Reading.
Figure 1: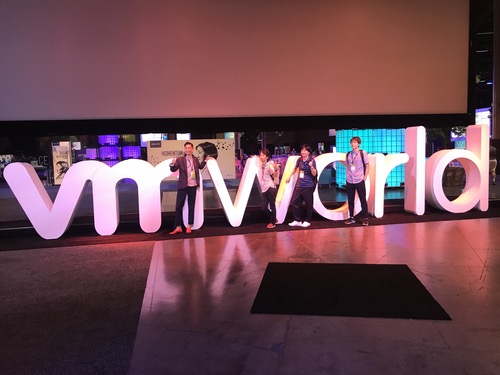 Now entering its fifth year, the 2020 Vision Executive Summit is an exclusive meeting of global CSP executives focused on navigating the disruptive forces at work in telecom today. Join us in Lisbon on December 4-6 to meet with fellow experts as we define the future of next-gen communications and how to make it profitable.
"Carriers have an opportunity in front of them to take a different role in delivering services to consumers and enterprises," Di Piazza said. Instead of just delivering communications, service providers can deliver low latency applications, machine-to-machine connectivity, and IoT capabilities, all of which require virtualizing the network, di Piazza said.
SD-WAN is key
SD-WAN is core to VMware's service provider strategy, following the acquisition of VeloCloud in November. (See VeloCloud 'Pours Gas' on VMware's Carrier Ambitions.)
Velocloud is "the hottest product in our portfolio today," Gelsinger said later Monday at a Q&A with journalists and analysts. Enterprises find the SD-WAN value proposition irresistible: reducing communications cost by a factor of ten while increasing agility and driving transformation.
Every multi-location business -- which is to say, every business with more than 1,000 people -- needs SD-WAN, said Michael Dell, chairman and CEO of Dell Technologies, which owns 80% of VMware. Dell participated in the Q&A alongside Gelsinger.
Gelsinger singled out AT&T Inc. (NYSE: T) as a strong partner bringing SD-WAN to the enterprise.
AT&T sees opportunities offering broader services to enterprise customers, Mo Katibeh, AT&T chief marketing officer, said at a presentation later Monday. "We're telling our customers that we're ready to serve them beyond core connectivity."
Bank on it
As more and more enterprise business runs on cloud applications, those enterprises have greater need to dynamically manage network traffic, Katibeh says. And SD-WAN provides those capabilities.
For example, a bank might transform a thousand branch locations across the US. Each branch has front office WiFi, and a back office. Each teller has a mobile device for servicing customers. Digital signage has ads and services updated by time of day.
The bank can use SD-WAN to prioritize back-office applications at a higher level over the front office to make sure tellers and other employees always have network access. At peak times, when customers come in, the bank can dynamically allocate traffic to ensure that each customer has a "fantastic experience," Katibeh said. And if links go down, the bank can dynamically shift applications to give preferential service to back office applications, to keep the business running.
Following the recent Velocloud acquisition, SD-WAN has proven to be an unexpected success for VMware, Sanjay Poonen, VMware COO, customer operations, said in a Q&A with journalists and analysts Tuesday. "I would say that SD-WAN as an acquisition has surprised us," he said. "It's outperforming all our metrics internally."
The reason SD-WAN has proven so popular is because organizations are looking to modernize their networks, Poonen said. Networks were previously defined by hardware, which comprised 30-35% of spending, with software only accounting for 5%, while the bulk of spending went on labor.
Changing the dynamics
"We're changing the economics of that equation fundamentally," Poonen said. Hardware spending reduces, sometimes significantly (by up to half), software spending increases and labor costs plummet.
Service providers are one of VMware's top three vertical industry customers, and the company expects to see sales to service providers increase with the emergence of virtualization and the modernization of the network stack, particularly as the migration to 5G progresses, Poonen said.
In addition to SD-WAN, service providers can partner with VMware to offer mobility management to enterprises through VMware's AirWatch and Workspace One services, Poonen said.
And the network edge is an emerging opportunity for both VMware and service providers, with 5G providing enabling technology, Gelsinger said. The edge and 5G will drive demand for network functions virtualization (NFV), which is a VMware core focus, Gelsinger said. Six out of the ten largest telcos in Europe are now deploying VMware-based NFV, he said.
Edge and IoT networks are now "absolutely chaos," with the technology model being "formative" and "fluid," Gelsinger said.
As service providers look to virtualize their own networks, VMware sees opportunities providing its own mature virtualization products to those companies, Gelsinger said. These include vSphere, NSX and VSAN. Telcos prioritize uptime and operational issues on their networks. "We solved those," Gelsinger said.
OpenStack is another service provider opportunity for VMware. "Largely, the [enterprise] industry has moved on" from OpenStack, Gelsinger said. Telcos, on the other hand, still use OpenStack.
OpenStack can be difficult to operate. "OpenStack is like apple pie and motherhood -- you can't say it's bad," Gelsinger said. "But open source is like a free puppy. There ain't nothing free about it. And telcos are even more concerned about operations and robustness than enterprises. VMware sees opportunity in providing OpenStack APIs on top of its own software. (See Open Source Is Like a Puppy, Says Platform9 CEO.)
Related posts:
— Mitch Wagner




Executive Editor, Light Reading
Subscribe and receive the latest news from the industry.
Join 62,000+ members. Yes it's completely free.
You May Also Like
---