Cloud Collaboration: 4 Ways to Make it Work
Cloud Collaboration: 4 Ways to Make it Work
As with infrastructure and applications, enterprises are eager to move their collaboration and UC tools to the cloud. Before starting, here are four factors to consider. Enterprise collaboration -- in its most basic form -- includes voice, video, messaging, file sharing and virtual meetings.
At one time, this meant managing a complex web of servers -- many of which were incompatible with one another. From an end-user perspective, they were provided with a confusing mess of tools that had little cohesion.
Seeking to leave these on-premises collaboration tools in the past, enterprise IT departments are increasingly focusing on cloud collaboration platforms to right those previous wrongs.
Collaboration industry veterans and startup companies are breathing fresh air into unified cloud collaboration platforms that are easy to manage and provide exactly what enterprise end users are demanding.
For those of us involved in enterprise IT, it's no surprise that a new report from Synergy Research Group shows that cloud collaboration spending is higher than any other infrastructure spending segment over the past year. Because trust in the cloud has grown significantly, applications and services that have continued to be forced into on-premises deployments due to latency and redundancy concerns are now beginning to pour into the cloud.
Figure 1: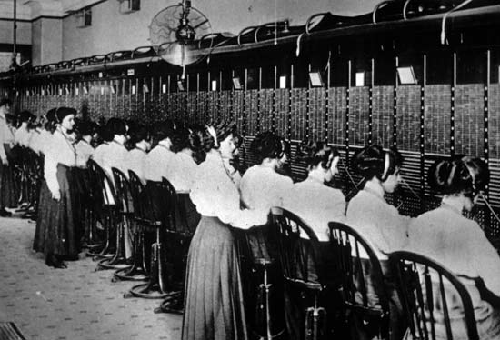 Out with the old
(Source: Britannica)
Before you jump onto the cloud collaboration bandwagon, however, there are a few things to consider. Specifically, there are four factors that can help make your collaboration transition to the cloud a great deal smoother.
Who are the users?
While voice, video and messaging services certainly are standard, not all cloud collaboration platforms are equal. That's why it's so important to understand the needs of your end users prior to deciding on a unified collaboration platform.
Other than directly asking users for their input on what collaboration tools they demand most, one must only look so far as to see what shadow IT applications are prevalent in their organization today.
Unauthorized applications such as Skype, Slack and WebEx will point to the tools that your employees need -- yet aren't necessarily getting from current on-premises solutions. Follow the shadow IT apps and provide a comparable, IT-supported tool and it will go a long way to collaboration unity throughout your entire organization. (See Slack Makes Big Enterprise Push.)
Pump up the bandwidth
Next, be prepared for a significant increase in Internet bandwidth both into and out to public cloud collaboration services.
This is especially true if employees heavily use bandwidth-intensive services such as HD-voice, video and other tools such as real-time screen sharing. It's important to understand your bandwidth needs and use frequency as it relates these types of collaboration tools. The potential to underestimate transmit and receive traffic is significant and can put a black eye on an otherwise sound cloud migration plan.
Collaboration
Another tip is to understand your end users' changing needs when it comes to collaboration.
Years ago, it made complete sense to provide a desk phone for every employee in your company. After all, the phone was easily the most important communication tool available. Yet today, the desk phone is far less important to many.
For one, employees are far more mobile today than they ever were. Thus, the inclusion of a voice/video app as part of a cloud collaboration platform can be incredibly useful for those on the go. Another aspect is that the number of ways to communicate effectively has increased over the past few decades. Communication is often better achieved with email, chat or some other form of non-verbal tool as opposed to standard voice/video methods.
Having the right tools
One final consideration that some businesses need to make is their needs when it comes to contact center tools. Even if your organization has no need for a full-blown call center, you'd be surprised at the number of enterprises that use contact center tools for internal and customer-facing purposes.
Up until recently, cloud contact center platforms were few and far between. But as standard unified communications platforms begin migrating to cloud providers, it begins to make complete sense to migrate contact center services to the cloud as well.
A perfect example to prove the anticipated growth in cloud contact center services can be seen with the recent Cisco Systems Inc. (Nasdaq: CSCO) acquisition of BroadSoft Inc. in late 2017. Cisco, being one of the biggest unified communications and contact center vendors in the world, had a gap in their cloud collaboration platform. (See Cisco Targets Cloud-Based UC With $1.9B BroadSoft Deal.)
So, instead of creating one from the ground-up, Cisco simply acquired Broadsoft, which already had a popular cloud-based solution. (See Cisco Beefs Up Security, Management for Spark Collaboration.)
If you're looking to upgrade your collaboration or contact center platforms starting in 2018 and beyond, more than likely, it's going to come in the form of a cloud service. The days of having to manage your own UC servers and telco services are beginning to sunset in the world of enterprise IT.
And believe me, this is a very good thing.
Related posts:
— Andrew Froehlich is the President and Lead Network Architect of West Gate Networks. Follow him on Twitter @afroehlich.
Subscribe and receive the latest news from the industry.
Join 62,000+ members. Yes it's completely free.
You May Also Like
---