Cisco improved the security and manageability of its Spark cloud collaboration suite Monday, adding end-to-end encryption, analytics to make the user experience better and built-in mobile device management.
For improved security, Spark's end-to-end encryption obscures messages in the app, and doesn't decrypt data in the cloud. Enterprises will gain the option to store encryption keys on premises, which Cisco claims is an industry first.
End-to-end encryption combined with on-premises hosting of encryption keys combines the security of on-premises collaboration software with the convenience of cloud services, Jens Meggers, senior vice president and general manager for the Cisco Cloud Technology Group, tells Enterprise Cloud News. (See Cisco's Meggers Talks Secure Cloud Collaboration.)
"You have the equivalent of on-prem security but you don't have the complexities," Meggers says.
New analytics capabilities allow enterprises to measure adoption, usage, service quality by region and by location. IT can track quality of service in real time, including packet rates, degradation, network activity, whether all meeting attendees were able to successfully join and whether anyone was disconnected. "When meetings, especially high-level meetings, aren't going well, IT is the first to get in trouble," Meggers says. "Trust me -- I've been there many times."
Cisco calls these capabilities "fluid analytics" and is building them into both Cisco Spark and WebEx.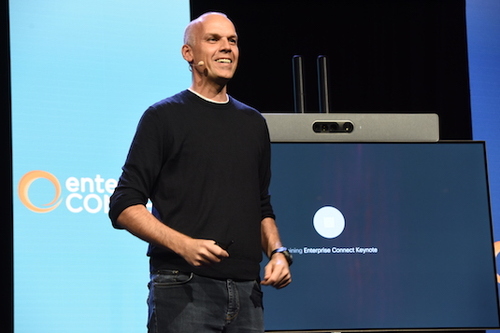 ---
Keep up with the latest enterprise cloud news and insights. Sign up for the weekly Enterprise Cloud News newsletter.
---
And Spark gains mobile security for enterprises with bring-your-own-device (BYOD) policies that allow employees to use their own mobile devices for enterprise connectivity. Enterprises can enforce PIN locking on devices and timeouts that log out the user when a device is running outside the company network; as well as Enterprise Certificate Pinning, to protect users from malicious hotspot providers and access networks without requiring using a VPN client. IT will also gain the ability to wipe devices remotely. Previously, enterprises had to rely on mobile device management software to provide those capabilities; now they'll be built into Spark.
Cisco is facing seven consecutive quarters of revenue decline, as its traditional business, selling products, particularly switches and routers, is declining. The company is transitioning to recurring revenue, particularly cloud and services, and Spark is a big part of that. (See Cisco Revenue Decline Continues Into Q4.)
Cisco was the market leader in collaboration at the close of 2016, passing 15% in the fourth quarter, with Microsoft in second place. However, Microsoft led in the cloud, while Cisco led in on-premises collaboration, according to a report from Synergy Research.
Also on Monday, Cisco extended its Application Centric Infrastructure (ACI) software-defined networking to public clouds, with support for Amazon Web Services, Microsoft Azure and Google Cloud Platform. (See Cisco Takes Networking Fight to Amazon, Microsoft & Google.)
Related posts:
— Mitch Wagner
Editor, Enterprise Cloud News
---
CALLING ALL CLOUD, NFV AND SDN COMPANIES: Make sure your company and services are listed free of charge at Virtuapedia, the comprehensive set of searchable databases covering the companies, products, industry organizations and people that are directly involved in defining and shaping the virtualization industry.
---