BOSTON -- Now that AdvancedTCA (ATCA) is getting established, components companies and systems integrators face an interesting challenge: getting equipment vendors to buy from them instead of building everything themselves.

Put another way: ATCA was supposed to open up a universe where network equipment could be built from ready-made products, and assembled and tested by an integrator if desired. That's starting to happen. But some large equipment vendors -- such as Alcatel-Lucent (NYSE: ALU) and particularly Huawei Technologies Co. Ltd. -- are taking advantage of ATCA standards by building those pieces themselves.

In fact, while the ATCA market is likely to grow to $6.7 billion in 2012, about half of that will consist of commercial, off-the-shelf (COTS) deployments, said Simon Stanley, Heavy Reading analyst-at-large. The other half would be gear developed in-house.

"We're seeing a strong movement toward ATCA, but a lot of network equipment providers are actually building their own ATCA components rather than buying off the shelf," Stanley said during his morning keynote here at Light Reading's xTCA Ecosystems Conference today.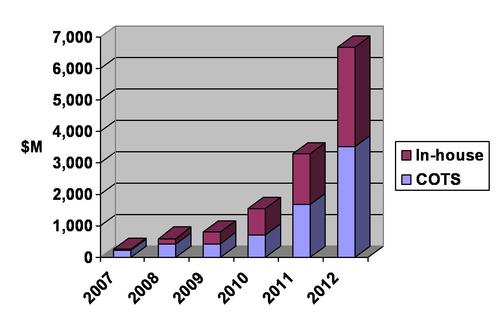 The numbers will be detailed in the upcoming Heavy Reading report, "ATCA, AMC & MicroTCA Market Forecast 2009."

ATCA has found its footing in few areas of telecom: wireless gear, Internet Multimedia Subsystem (IMS) equipment, and -- to some extent -- video and IPTV, Stanley said. It's also winding its way into the data center world, to more directly compete with off-the-shelf blade systems from HP Inc. (NYSE: HPQ) and IBM Corp. (NYSE: IBM). (See ATCA Attacks the Data Center.)

Suppliers of ATCA systems or pieces have certainly been active. Stanley's upcoming report lists 500 products, 250 of which are new or updated since last year's report.

Large equipment providers have embraced ATCA, some examples being Motorola Inc. (NYSE: MOT), Nokia Networks , and the aforementioned AlcaLu and Huawei. The question now is how to translate more of that interest into business for the vendors dealing in ATCA hardware, off-the-shelf software, and systems integration.

Part of what makes it difficult is that many systems providers still decry the cost of switching from their proprietary architectures to ATCA.

"It's the biggest hurdle," said Mike Christofferson, director of product management for software vendor Enea AB , during a late-morning panel session.

Still, there's some heartening news for anyone trying to make money in ATCA. First, the decisions over whether to build equipment in-house or not are always in flux, Stanley said.

And once ATCA gets into a company's brain, it's got an almost viral quality, he noted. (Actually, he used a domino metaphor, but "brain virus" brings to mind cooler pictures.)

Anyway, the domino/virus effect refers to the reusability of ATCA pieces -- which also explains why a company like Huawei would adopt ATCA even if it's still designing all the components in-house. Over time, an ATCA-heavy company can get faster at churning out new systems or board variants.

"Once someone's successfully put together one ATCA system, ATCA almost becomes the default," Stanley said. "There are some major network equipment providers who've got 10, 15, or 20 different products in development for ATCA, and that's going to have a major impact on the market for ATCA."

— Craig Matsumoto, West Coast Editor, Light Reading