Shaw Communications Inc. is among the first MSOs to buy and test out Verivue Inc. 's Flash-centric video switch, an indication that the Canadian MSO may be getting ready to ramp up its own TV Everywhere-esque service offering, Cable Digital News has learned.

Multiple cable industry sources say Shaw is using Verivue's technology as an add-on to its legacy video-on-demand (VoD) platform, which is powered by Arris Group Inc. (Nasdaq: ARRS)'s servers and backoffice system. Verivue and Arris, which happens to be reselling the Verivue platform under the MDX label umbrella, both declined comment. Shaw has yet to respond to calls for comment. (See Arris Pumps Up Video With Dolce's Verivue .)

Shaw marks the first known customer for Verivue's Flash-based technology, which is also trying to make its way into a content delivery network (CDN) project underway at Comcast Corp. (Nasdaq: CMCSA, CMCSK). But that window of opportunity won't remain open in perpetuity. Comcast Interactive Capital , the venture capital arm of Comcast, is one of Verivue's financial backers, but Verivue competitor SeaChange International Inc. (Nasdaq: SEAC) disclosed in its third-quarter earnings that it's already starting to benefit from Comcast's next-gen VoD architecture rollout. (See Verivue Surfaces With Comcast Backing and SeaChange Reports Q3.)

Verivue, a Westford, Mass.-based startup that's raised more than $85 million so far and is helmed by former Juniper Networks Inc. (NYSE: JNPR) exec Jim Dolce, is pinning its hopes on the MDX 9000 Series Media Distribution Switch, a network-centric platform that's designed to pipe video in formats for viewing on TVs, PCs, and mobile devices. Its target customers range from cable operators and telcos to over-the-top video companies and CDNs. (See Verivue's Coffers Swell by $20M .)

But it's those cross-platform capabilities that may have piqued Shaw's interest in Verivue's technology, though the value of the new server deal is not yet known.

Unlike MSOs such as Rogers Communications Inc. (Toronto: RCI) and Comcast Corp. (Nasdaq: CMCSA, CMCSK), Shaw has yet to announce a TV Everywhere service of its own. However, Shaw is far ahead of the game in terms of bridging components of its cable VoD platform to the Web. (See Rogers Unboxes 'TV Everywhere', Comcast's 'Xfinity' to Go Mobile in 2010 , and Comcast's 'Xfinity' Goes Live .)

Shaw's customers can, like most other cable subscribers around the world, order and control on-demand content using their digital set-tops. However, the Canadian MSO has also integrated several of those VoD elements, including title search and the ability to purchase, play, and control VoD streams, into a more flexible Web-based interface.

According to the FAQ of the Web-based approach, subs are required to login with their email addresses and passwords before they can start looking around.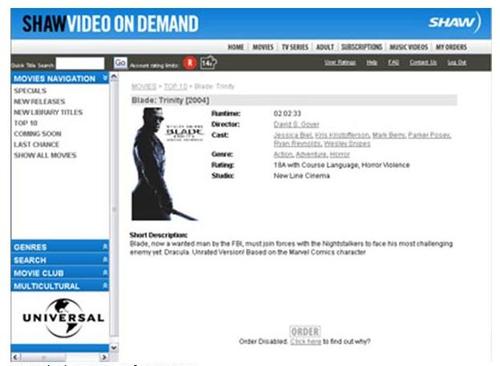 Once in, customers can browse for movie and TV titles or search based on title, actors, and even the price of the movie, and gather other data about a specific title. Subs can also purchase a movie directly from the Web, though they must tell the system which set-top to stream it to. From there, customers can control playback of the movie from the Web or the on-screen/set-top VoD application.

Calgary-based Shaw ended its fiscal fourth quarter with 2.28 million basic cable subscribers and 1.29 million digital customers. — Jeff Baumgartner, Site Editor, Cable Digital News