Jim Dolce's new startup has an urge to converge.

That company, Verivue Inc. , came out of hiding Monday with its first product -- a cross-platform video and media switch -- and a second round of funding led by Comcast Interactive Capital .

Verivue (see our profile) expects to introduce its network-centric, Flash-based video platform, dubbed the MDX 9000 Series Media Distribution Switch, in the second quarter of 2009. Its target market includes cable operators, telecom operators, Web TV players, content distribution networks (CDNs), and any other sector focused on "managed video." (See Verivue Flips New Media Switch .)

On the funding front, Verivue scored $40 million in a second round led by Comcast's venture arm, with participation from Matrix Partners (an earlier Verivue investor), North Bridge Venture Partners , and Accel Partners . Arris Group Inc. (Nasdaq: ARRS) is also on board as a "corporate investor," according to Dolce, Verivue's CEO.

As first reported by Cable Digital News in mid-January, Arris is to resell Verivue's MDX 9000 to MSOs. (See Arris Pumps Up Video With Dolce's Verivue .)

Verivue raised $25 million in a first round led by Matrix and Spark Capital Partners LLC , so the Westford, Mass.-based startup now has about $65 million in the bank.

That money will be spent on Verivue's go-to-market strategy, which comprises direct sales and partnerships and continued development of its media switch portfolio.

With a second round secured, Verivue has enough cash to take it "well into the next three years," Dolce says.

Verivue flips flashy media switch
Verivue, founded in November 2006, is starting off with the MDX 9000, a switching/storage combo that looks to fill the gap as MSOs and telcos engage in a content arms race and expand their on-demand offerings to thousands of titles. On top of that, many of them are also seeking ways to feed all of that standard- and high-def video to traditional TV screens, as well as PCs and mobile devices.

Verivue is breaking out as MSOs like Comcast Corp. (Nasdaq: CMCSA, CMCSK) and Time Warner Cable Inc. (NYSE: TWC) attempt to complement their traditional video subscription models with a rich menu of content flowing in from the Web. (See Cable-Led Web TV Deals Still Forming, Cable Web TV: Results May Vary , Comcast Launches 'Project Infinity', and Comcast Fires Up Fancast.)

"These worlds are coming together," Dolce says. "The boundaries between TV and the Internet are being erased."

Dolce's company hopes to do this with a network-centric approach that incorporates Carrier Ethernet technology. It has also gone with a solid state storage/caching system completely based on Flash, which costs less than $1 per gigabyte and requires less power than other options because Flash doesn't require spinning disks and motors, Dolce says. (See A Flashy Approach to VOD.)

Based on the modular, blade concept, the MDX 9000 chassis can operate in the range of 20 Gbit/s to 200 Gbit/s, and provide between 2 terabytes and 24 terabytes of storage.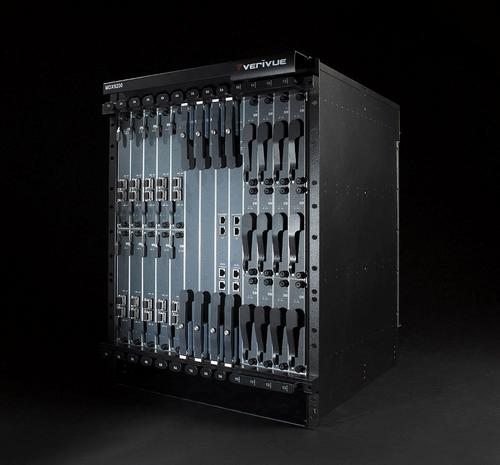 To Page 2