Tellabs Inc. (Nasdaq: TLAB; Frankfurt: BTLA) reported revenue growth and progress in several areas, but execs stopped short of optimism in today's earnings report.

"We are reasonably pleased... We are seeing some revenue stability and some growth opportunity," said CEO Michael J. Birck on a conference call with analysts this morning, warning, however, that there remains "a classic oversupply/underdemand situation."

Birck and other execs credited Tellabs' ongoing efforts to reduce expenses, plus a slight uptick in sales, for the firm's results: Revenues were $245 million, up 5 percent sequentially (see Tellabs: Life in the Flatlands). Net loss was $64.8 million ($0.16 per share), compared to a net loss of $111 million ($0.27 per share) last quarter.

Birck said Tellabs is seeing traction from sales of its 5500 crossconnects to wireless carriers for backhaul, as well as to carriers seeking grooming and management of T1 circuits as part of a growing focus on access and edge networking. The company also is seeing traction with its 8800 multiservice switch/routers, the gear it got from Vivace. Trials are underway at MCI (Nasdaq: WCOEQ, MCWEQ) and NTT Communications Corp. among other carriers, and revenues for the year to date are about $12 million.

Tellabs also is working to complete development of its 8600 IP/MPLS edge router announced in September (see Tellabs Unveils Vivace Sibling). At some point, Birck indicated, development of the 8800 and 8600 should merge into some type of common solution. (Spokespeople aren't specific about how or when this might come about.)

Overall, however, revenues are still down, when the first nine months of 2003 are compared with the same period last year. Revenues overall this year total $701.1 million so far; by this time in 2002, they were $1 billion.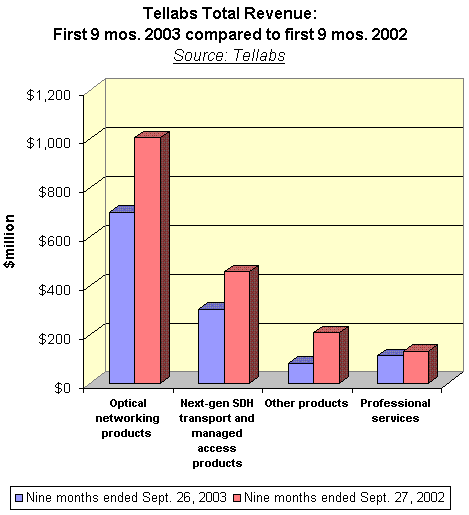 To get to profitability by 2004, which Birck says is hoped for but would be a most impressive achievement, Tellabs needs to keep cutting costs. Headcount will continue to dwindle from the present level of 4,073 to 3,400 by mid-2004. That's when the company expects to have closed a facility in Bolingbrook, Ill., and an R&D facility in Montreal. Also, the company is on track to outsource North American manufacturing to Sanmina-SCI Corp. (Nasdaq: SANM), which will further cut costs (see Tellabs Outsources to Sanmina).

These efforts, plus the slight uptick in carrier spending, have at least one analyst optimistic on Tellabs. In a note to clients last week, Steven Levy of Lehman Brothers raised the firm's rating on Tellabs' stock from Neutral to Positive, citing "our view that the shares are less fully valued than our previous conclusion." And despite the reticence of Tellabs management to give any revenue outlook, Levy does not "dismiss the possiblity" that revenue growth in the fourth quarter could hit the high single digits.

At press time, Tellabs shares were trading at $7.70, down $0.08 (1.03%).

— Mary Jander, Senior Editor, Light Reading