Startups Pray for M&A
Optical networking startups are looking to merge as a means of survival, and financial backers see a lucrative future in matchmaking them with appropriate partners.
So say representatives of the latest MoneyTree survey, which was recently published by
PricewaterhouseCoopers
,
National Venture Capital Association
, and
Venture Economics
and first described in
Light Reading
last month (see
VC Activity Continues to Crawl
).
"Consolidation presents more possibilities for startups," says David H. Jacobson, director of technology finance and investment banking at PricewaterhouseCoopers. "Companies might consolidate to get another round of funding where technology and business plans lend themselves to it."
Indeed, PWC, which often acts as a facilitator for financing arrangements between backers and startups, is studying likely pairings of new companies as a regular feature of its work with VCs, Jacobson says. Earlier this year, the firm helped a joint venture pick up the pieces of a failed Ottawa startup (see
Zenastra Reborn?
).
Jacobson says such instances of startups joining forces to get traction are likely to get more commonplace as the market evolves. What's more, traditional buyouts of startups by big players will gain momentum.
The numbers gathered by the MoneyTree survey seem to bear this out. As the telecom bubble burst last year, mergers and acquisitions became more popular than ever as a way of bringing startups to the next level: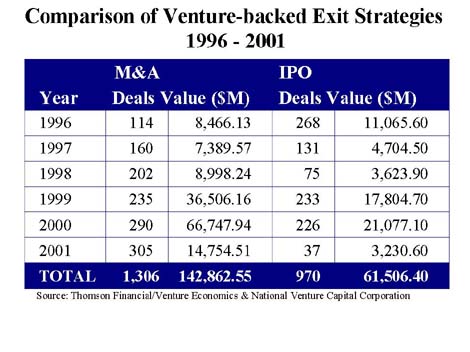 As Jacobson notes, a major feature encouraging all kinds of M&A is the difficulty today's startups have in getting new funding, which is forcing them to look harder at partnerships of all kinds.
Of the 2,900-odd companies started with VC funds in the "boom" period between July 1, 1999, and the end of 2000, 2,594 survived through 2001. Of those, more than 1,400 failed to attract new venture capital.
Additionally, more than 60 percent of the $6.288 billion the MoneyTree survey estimates VCs shelled out during the first quarter of 2002 went into expanding later-stage startups. That means lots of early-stagers will likely be reaching out to others to survive.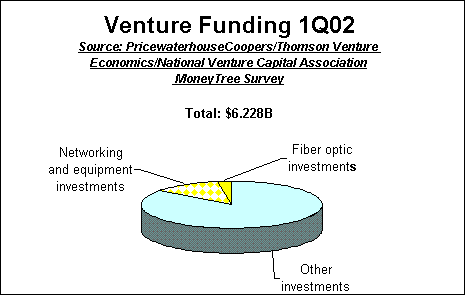 The M&A tack will likely look even more attractive to photonics firms, considering the paucity of funding in the sector: According to Jacobson and colleagues, venture investment in fiber optic networking technologies accounted about for about $173.4 million in venture capital funding during the first quarter. That figure represents 19 percent of the total networking and equipment investment by VCs, but just 2 percent of total venture investments for the quarter.
— Mary Jander, Senior Editor,
Light Reading
http://www.lightreading.com
PARTNER PERSPECTIVES
- content from our sponsors