Market research figures due out next month from several firms will show ongoing reductions in the size of the long-haul DWDM market worldwide. But in spite of the negative forecasts, a core of well-funded startups insist the future is theirs.

Updated forecasts from IDC, Infonetics Research Inc., and KMI Corp., due out in early August, will show an ongoing downward trend. And some say the end isn't yet in sight.

"We haven't seen the bottom. The drop in sales in 2002 will exceed the reduction in 2001," says Sterling Perrin, senior research analyst at IDC. That reduction was 34 percent, Perrin says, and in the first quarter of this year, sales were down another 30 percent from that. Indeed, Perrin thinks that if total capital spending by carriers drops as he expects by 40 percent this year, the first quarter of 2002 could be "the strongest" quarter of the year!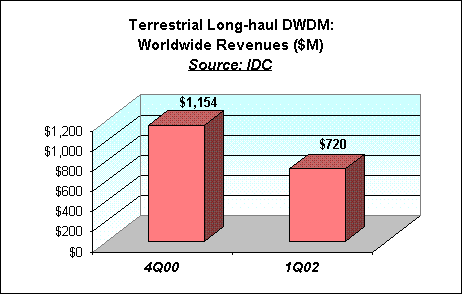 Other studies seem to endorse this view. KMI says worldwide sales of long-haul DWDM gear in the first half of 2002 were down 35 percent. While metro sales have dropped as well, they haven't dropped as dramatically, the firm says. And recovery prospects are bleak: "We don't expect more than a modest, single-digit increase in 2003, less than 10 percent," says Neil Dunay, KMI senior analyst.

Infonetics is a bit more upbeat. It says first-quarter sales of long-haul equipment (including DWDM and Sonet/SDH gear, which Infonetics says together comprise roughly 50 percent of the optical market) were down 28 percent from the fourth quarter of last year, and upcoming figures will be worse. But in 2003, the firm believes carriers will be eyeing new core DWDM gear with longer reach as a way of reducing operating expenses associated with older equipment.

"There's certainly enough fiber. But traffic does keep increasing. And at some point, carriers are going to find it more cost-effective to spend the money needed to reduce their operating costs," says Infonetics principal analyst Michael Howard.

It's a prognosis the core believers subscribe to (see Vendors Aim to Cut Costs in Core). And even though long-haul DWDM is suffering the back-burner fate of other technologies in the carrier network core, such as optical crossconnects and switches (see Core Optical Startups Chill Out ), startups are tenaciously hanging in there.

Last week, Ceyba Inc. (formerly Solinet Systems), one of the sector's best-funded startups (see Solinet Systems Scores $93 Million), laid off roughly 50 support people out of its 250-person workforce, in what CEO Scott Marshall says was a measure to ensure the startup's survival.

But he remains upbeat on the segment his firm has targeted: "We certainly haven't given up on the core optical space." Carriers are still buying cards to upgrade their existing DWDM gear, and in 2004 they'll be looking at next-generation replacements. And Marshall's confident Ceyba can hold out at least that long with its present funding.

Marshall admits, though, that he's open to looking at new applications for Ceyba's technology -- perhaps in the metro core, where things are slated to improve sooner than they are in the long-haul arena.

Another well-funded long-haul startup won't change at all, though. Innovance Networks says it's picked the right space, despite the present bad news.

"I'm personally convinced that the business case for next-generation equipment is very sound," says CEO Peter Allen. "The breadth and depth of the account engagements we're looking at encourage us to stay the course." Besides, he says, it's tough to make a metro product out of a long-haul one. "When you've optimized a technology solution for long haul, it won't necessarily port to metro applications easily."

Innovance had a layoff at the start of this year (see Innovance CEO: Layoff Was a Tuneup). But that hasn't dimmed the vision of the founders, Allen says. If Innovance sees the need to change its strategy, it will, he says. But it hasn't seen the need as yet.

— Mary Jander, Senior Editor, Light Reading
http://www.lightreading.com Want to know more? The big cheeses of the optical networking industry will be discussing this very topic at Opticon 2002, Light Reading's annual conference, being held in San Jose, California, August 19-22. Check it out at Opticon 2002.

Register now and save $500 off the registration fee. Just use the VIP Code C2PT1LHT on your registration form, and deduct $500 from the published conference fee. It's that simple!