T-SDN Integrated Development Environment: The Next Step in Transport Service Innovation

6/27/2016

Comment (0)

1 Rise of SDN in Transport Networks
With the boom in Internet of Things (IoT), cloud technology, Internet+, 4K video, and virtual reality (VR) technology, connectivity has become a basic societal demand in many countries, alongside millennia-old mainstays such as food and water. We're seeing explosive growth in service applications, but these bring with them huge requirements on network bandwidth. Over the past few years, carriers have learned from their experiences with the Internet and creative innovation, and come to the realization that their wide network coverage is their greatest competitive advantage, and the source of competitiveness in the Internet market.
The decline of traditional voice services and the rise of a wide range of new services has resulted in an urgent need for carriers to accelerate their transition to ICT, and achieve traffic and bandwidth management through service innovation. In the past, the time to market (TTM) of carriers' service innovation projects could stretch to several months, which resulted in lost market opportunities as projects hit the market too late. Therefore, carriers were faced with the problem of how to reduce TTM while maintaining independence and quality in their innovation projects.
This leads to the emergence of software-defined networking (SDN) technology, with Transport-SDN (T-SDN) continuing to evolve in the direction of building the next generation of transport networks, which will be designed to meet carriers' urgent demand for smart O&M and open innovation. Future T-SDN will move towards truly programmable SDN IT and CT convergence technology, to provide an open service innovation platform for carriers, enabling them to help customers quickly, innovate independently, and keep up with the rapid pace of innovation in the ICT era.
2 TSAP Solutions Building a T-SDN Service Innovation Platform
T-SDN controllers present physical transport devices as abstracted models, dividing them into the device model, network model, and service model. In addition, T-SDN controllers use standard northbound API network interfaces to guarantee an open network. Carriers or third parties can, based on the northbound API series and their own service requirements, customize and develop various service applications.
Currently, the number of northbound APIs that support T-SDN is gradually increasing, in order to support various control operations for bottom layer devices. In addition, it can be a big waste of time and manpower for customers to have to extract information from product documentation such as interface descriptions and terms of use, and then use this information in programming and development; at the same time, interface-oriented programming requires professionals to be involved, specifically O&M personnel for customers, resulting in higher demand for research and development skills.
To meet the requirements of rapid service innovation, Huawei launched innovative Transport Service Application Platform (TSAP) solutions designed to accelerate transport service innovation through the use of a service-oriented graphical programming environment, while reducing service programming thresholds, cutting the service development cycle from several months down to hours or even minutes. At June's WDM & Next Generation Optical Networking conference held in Nice, France, Huawei demonstrated this innovative product to the industry, and drew crowds of customers to its booth, where lively discussion ensued.
We can make an analogy between T-SDN transport networks and sophisticated IT systems. As illustrated in the following figure, the bottom layer of the transport network can correspond to the computer hardware of IT systems. The T-SDN controller is then the equivalent of the general-purpose operating system like Windows or Linux, because the T-SDN controller provides standard northbound interfaces (NBIs), which can be likened to how operating systems provide various types of application layer interfaces. In the IT system, based on the application layer interface provided by the operating system, there emerged a number of classic integrated development environments (IDEs). In these IDE, developers can efficiently complete the entire development process. With regards to traditional closed transport networks, Huawei TSAP provides us with a new solution for using open interfaces to conduct rapid innovation.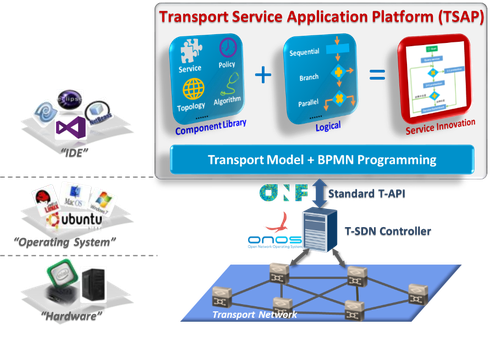 TSAP is a new kind of service innovation platform, built on a T-SDN controller. It uses the design ideas of modularity and visualization to provide a new integrated development environment for transport services. TSAP enables carriers to autonomously and quickly design, develop, deploy, and maintain custom innovative transport services. The TSAP platform includes a transport service module library, logical transport module library, graphical programming, and several major transport service engine modules. These include:
The transport service module library contains various types of basic transport equipment and service sub-operations such as service creation and deletion operations.
The logical transport module library contains a complete visual representation of the logical connections and relationships between service modules. Through reasonable combinations of logical modules and service modules, it becomes possible to flexibly perform a variety of operations on transport resources and services.
Graphical programming enables carriers to more intuitively and easily carry out service innovation. It also greatly reduces the programming threshold for O&M personnel. For example, through the use of the TSAP platform's graphical module selection and configuration parameters, you can easily design transport services.
TSAP refers to several industry Business Process Model and Notation (BPMN) business model design criteria, that design and integrate powerful transport service engines. Users can use the graphical visualization technology to design custom transport services, as well as direct logic and functionally compiling verification. This ensures that user-designed services and service logic functions properly. The TSAP transport service engine provides real-time compiling processes in both design mode, and operating mode. Users can complete all kinds of complex calibration and generate executable service logic code for their designed services. For instance, real-time compiling in design mode enables users to check the legality of parameters and logic of service process modules. Real-time compiling in operation mode requires the transport service engine to check real-time network traffic information to determine whether current service processes have been deployed successfully.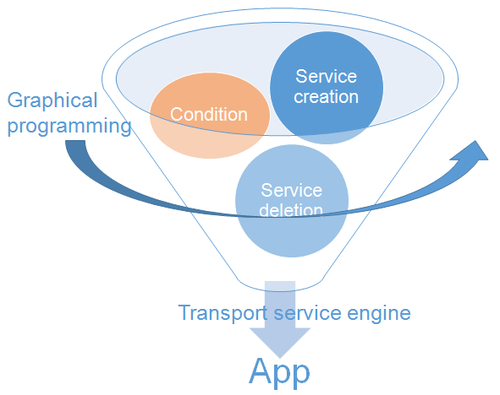 In addition, TSAP also supports the editing, importing, and exporting of service templates. A complete service template is similar to a complete TSAP "App". TSAP can directly import a complete business template, and then enter the specific parameters to deploy and run the program. This streamlined process will help to further reduce the development cycle, in keeping with the concept of "write once, operate freely".
In all, the TSAP platform combines several SDN functions (such as program design, compilation, and deployment) in one, and through visualized transport service modules and logic, as well as a powerful service engine, achieves a true development hub for service design, rapid development, and quick deployment. Through the combination of modular programs on the graphical interface, developers need only to focus on achieving service requirements, and the service innovation cycle is effectively reduced from several months (as was previously required) to a matter of hours or even minutes.
3 TSAP Innovation Platform, Creating a Prosperous Transport Network Ecosystem
When SDN technology first emerged, debates raged about whether controller interfaces should be north- or south-bound. But today, an industry consensus has been reached – and so the T-SDN controller uses an open NBI. However, this is only the first step towards a truly open transport network ecosystem.
We believe that in the near future, using controllers' open NBIs for quick and convenient service innovation will be the deciding factor in creation of a prosperous transport network ecosystem. Because transport technology has a high level of technical complexity, employees are required to have a high level of technical and operation expertise, and service innovation also requires high level software programming skills. This has resulted in transport service innovation having a very high employee expertise threshold for a number of years. Providing an intuitive and accessible transport service development environment is key to lowering this threshold.
The TSAP platform, through low-level interfaces and basic programming design suite, enables the controller's NBI to achieve the integration of ICT programming ability and modular visualization. This greatly reduces the threshold for programming innovation, and supports service innovation by either carriers or third-parties. In addition, as an open platform for innovation, TSAP can help carriers to quickly respond to service requirements; achieve flexibility, innovation, and autonomous programming; better manage their increasingly complex transport networks; and calmly deal with newly arising challenges. The TSAP is aimed at encouraging the industry towards co-innovation, and creating a mutually prosperous transport network ecology.

(0) |