Huawei and Utrecht University Publish 1st Industry SDN Open Ecosystem Theory at Huawei Connect Europe 2016

11/24/2016

Comment (0)

Huawei Connect Europe 2016 took place in Paris, France from October 20th to 21st. In attendance were over 100 partners and more than 1200 attendees. Huawei, in collaboration with Utrecht University, in the Netherlands, published the industry's first SDN open ecosystem theory. Professor Slinger Jansen from Utrecht University presented this ecosystem theory in three aspects: a SDN solution composer framework, a SDN business model design method, as well as a complete open ecosystem maturity evaluation model. Huawei believes that our customers will be benefit from more valuable and innovative joint solutions with industry partners. Backed by academic research, Huawei and Utrecht University promoted the SDN ecosystem in order to provide Business Consulting (BC) and Network Consulting (NC) abilities towards the Network 2020 transformation, enhancing the time to market and power of innovation that will benefit all parties.
The SDN ecosystem is faced three challenges in technical, business and socio-technical domains. First, in the technical domain, SDN solutions are configurable component compositions, and companies must collaborate at all stages of a product's life cycle. The second challenge is the search for profitable business models for SDN companies, especially with such composable solution landscapes and highly innovative fields. Thirdly, in the socio-technical domain, key actors in ecosystems need to orchestrate business and technical teams across all disciplines in an organization in order to make sure that they are 'ecosystem-ready'. These challenges are causing friction within organizations. For instance, how to deal with aspects of release coordination with partners, open collaboration, intellectual property rights, and smart extensible software architectures? The open SDN ecosystem model will be the best actor to tackle these challenges.
Open Ecosystem Model Accelerate the Innovation and Business Growth
The researchers at Utrecht University have devised a three part theory: a framework, a method, and a maturity model to help organizations develop platform ecosystems, for each of the challenging domains. First, on the technical domain, a framework for solution composition has been developed that can be used to rapidly compose and configure domain specific customer solutions. Secondly, on the business domain, a business modelling method has been developed particularly for SDN to identify best of breed business models for partners and customers. Thirdly, on the socio-technical domain, a maturity model for software ecosystem management has been created that combines more than 140 practices, which are then used as guidelines for organizations to create ecosystems.
Part 1: Composers for Rapid Development of SDN Solutions
Customers in the SDN ecosystem procure composable solutions which require significant configuration. As there is continuous pressure to shorten time to market, we introduce the Solution Composer Framework (Figure 1), which aims to enable any organization to rapidly create SDN compositions for end customers.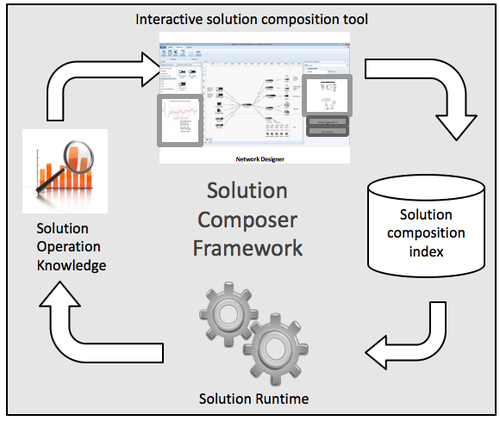 The solution composer framework consists of four main parts: First, an interactive solution composer tool is used by consultants to create draft solutions for customers. Secondly, solution compositions are stored in the solution composition index which can be reused at a later time for other customers. Thirdly, solutions are deployed in runtime through a configuration manager. Fourthly, these solutions collect operation knowledge in the field for benchmarking and monitoring purposes.
The solution composer framework will increase the speed of development significantly, because consultants create 90% of the solution, while developers only need to write the last 10% integration code, if any at all. The integration code then becomes part of the solution composer integration base, enabling rapid future deployment for similar solutions. The solution composer framework features have already been identified in eight different organizations, and can rapidly be copied by Huawei partners and customers for joint ecosystems.
Part 2: Identifying Business Models in the Innovative SDN Domain
One of the big challenges for partners and customers has been to identify what the most profitable business models are, based on their current state of the practice. Huawei and Utrecht University have created a business modelling method that enables customers and Huawei partners to identify new and profitable opportunities in the SDN domain or other domains using SDN technologies. This is based on the business model canvas. With these models, Huawei can help its customers and partners innovate, saving them valuable research and development time.
Part 3: A Maturity Model for SDN Ecosystems
Companies use three strategies to strengthen their ecosystem position. Firstly, companies take part in open consortia to make sure that their technologies are adopted and compatible with the reigning technologies such as OpenStack. Secondly, companies collaborate with technology providers, through acquisitions, alliances, certifications, and advanced partnerships. We acknowledge the positions of companies such as VAS Vendors, who deliver technology to the larger players in the ecosystem. Finally, larger players choose to develop their own ecosystems. The larger players are trying to gather communities around their technologies and hope to provide platforms for these technology providers to bind them to their platform for the future.
In the research, we provide tools and pointers for organizations to build up these ecosystems. If Huawei's customers follow these tools and pointers, they can rapidly grow their ecosystems, and develop new and innovative business models accordingly. The main goal of these undertakings is to connect innovative solutions from small sub-ecosystems and make them available across the complete SDN ecosystem. These initiatives will lead to new business opportunities for partners, customers, and Huawei itself.
The software ecosystem management maturity model has been developed, and is used to rapidly assess whether an actor in a software ecosystem is managing its ecosystem deliberately. We find that with the software ecosystem management maturity model we can benchmark organizations and teach them about ecosystem management practices in a structured way.
The model that evaluates ecosystem management practices has been applied to 20 organizations and is used to rapidly depict practices for ecosystem management in partners and customers. The model ranks the software ecosystem management practices from extendible software product (level 1) to ecosystem of ecosystems (level 7). With the model in hand, organizations can express their desire to improve their practices and reach a strategically relevant level. Huawei applies the model with partners and customers to establish the maturity of their ecosystem management practices.
Future Collaboration
Huawei and Utrecht University will continue the collaboration to test the three-part theory for SDN ecosystems. Huawei believes that with the solution composer framework, time to market of highly configurable SDN solutions can be decreased, thus enabling partners and customers to develop their own ecosystems. The main contribution of the framework does not only lie in its capability to rapidly configure and deploy solutions for customers, but also in the fact that practices and benchmarks are collected to deliver innovative solutions quickly to new customers. With the business modelling method Huawei aims to support partners and customers in rapidly developing ecosystem-based business models in SDN. Finally, through maturity evaluations, partners and customers can evaluate their ecosystem management maturity.
Academically validated practices are a cornerstone of Huawei's strategy to support partners and customers in securing their positions in the SDN ecosystem over the next decades. Huawei is highly welcoming more partners to this collaboration and Win-Win together.

(0) |