Nortel Networks Ltd. (NYSE/Toronto: NT) is to cut its workforce by about 3,500, 10 percent of its staff, by the end of the year in an effort to cut costs.

Those losses are lower than the 5,000 that some industry watchers had predicted, but come in addition to the transfer of 2,500 staff to outsourcing manufacturer Flextronics Corp. (Nasdaq: FLEX) announced earlier this year (see Nortel Sells Plants, Supplies Update).

Combined, these two moves will take Nortel's headcount down from the current 36,000 to about 30,000, less than a third of the 97,000 employees it had in 2000.

Nortel estimates these latest job cuts will cost the company between $300 million and $400 million, but save it between $450 million and $500 million a year.

In a conference call today, CEO Bill Owens tried to soften the blow for those facing the sack by saying the staff are "truly the great treasure of Nortel," and that the redundancies would be handled as "compassionately and effectively" as possible. That'll no doubt be a great comfort to the 3,500 that will clear their desks within the next four months.

The CEO added that the losses would affect North America the most, and that there would be an emphasis on management positions. Without being any more specific, Owens also stated that the wireless and enterprise businesses would be the least affected, and that R&D in "legacy systems" and "long-distance optical systems" would be reduced.

He also said that as a result of the ongoing internal review into the company's books, a further seven executives had been sacked in addition to the three already given their marching orders (see Nortel Fires CEO). He also reiterated that Nortel would be looking for all 10 sacked executives to repay their bonuses, which in total amount to about $10 million (see Nortel Wants Its Bonuses Back).

But that wasn't the end of the jobs news. Owens the said Nortel plans to hire several dozen new sales and marketing staff to "enhance the company's customer-facing focus," and that a Chief Marketing Officer would be appointed. "We have great products and need to do a better job at marketing them. That's been something of a weakness for us," said the CEO.

The announcements came as part of the vendor's latest business update, which includes unaudited financial estimates for the first two quarters of this year (see Nortel Provides Q1, Q2 Estimates).

Those estimates put revenues at $5.1 billion for the first half of the year, with $2.5 billion in the first quarter and $2.6 billion in the second quarter (see table below). About half (51 percent) of those revenues were generated by the wireless networks unit.

Table 1: How Nortel's Revenue Estimates Compare With 2003

Q2 2004 est.
Q1 2004 est.
Q2 2003*
Q1 2003*
Revenues
$2.6 billion
$2.5 billion
$2.34 billion
$2.4 billion
EPS
$0.00 to $0.01
$0.00 to $0.01
$0.00
$0.01
* Subject to restatement




Net income was 0 to 1 cents per share for each of the two quarters, lower than the 2 cents per share in each quarter that analysts had been expecting, according to a survey by Thomson First Call.

Gross margins for the six months are estimated at $2.2 billion, or 43 percent of revenues. Together, selling, general, and administrative expenses (SG&A) and R&D expenses are estimated to be about $2.1 billion for the first half of the year.

Neither Owens or CFO Bill Kerr were prepared to comment on the current third quarter or the current lawsuits facing the company.

The CEO said further details of the job cuts would be released in the coming weeks, and also that Nortel expects to complete its independent review and its financial restatements by the end of September.

The news sent Nortel's share price up by 29 cents, about 8 percent, to $3.89, a welcome movement following the decline of the past five months (see chart below), during which bad news has been heaped on more bad news for the vendor (see chart below (see Problems Mount-y Up for Nortel, Nortel Tries On a New Suit, Nortel: Material Margin Madness, and Nortel Rattles Nerves for just a taste).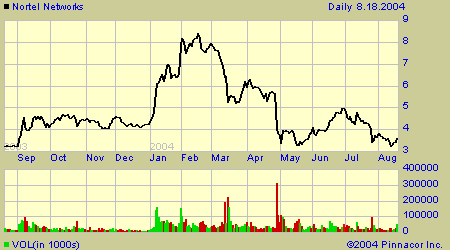 And initial analyst reaction seemed favorable. Steve Levy at Lehman Brothers had been concerned that Nortel might not be clear enough about how it would tackle its cost base, but today commended Nortel's management on its "decisive restructuring move."

Now Owens is talking up the future for the company, though without getting into many specifics. He says that under the new management, and with new internal systems in place, the company aims to be "the most credible and honest company in the marketplace." Best of luck there.

As part of the move to streamline the firm, get gross margins into the 40 percent to 44 percent range in 2005, and reduce operational expenditures to below 35 percent next year (and below 30 percent in the future) from the current 42 percent to 44 percent, Nortel is being reorganized into two units -- carrier networks, and enterprise networks -- from the current four (wireless, wireline, optical, and enterprise).

This will bring greater benefits to Nortel in terms of costs, and make it simpler for customers, especially carriers, believes the CEO.

He also announced a greater focus on providing services to customers in addition to products, and said his team was currently "trying to understand what our services capability is inside Nortel." He noted that Nortel was already bidding to run telecom systems on behalf of carriers, and that while this was a lower margin business -- typically providing around 20 per cent to 25 per cent gross margins -- it was a great cash generator.

— Ray Le Maistre, International News Editor, Light Reading