If you got a weird vibe attending NFOEC this year, you weren't alone. There's bound to be some uneasiness when a timid and shell-shocked industry holds a trade show in a state that's all about heat, swagger, and sidearms.

But, peculiar as it was, NFOEC held forth in Texas this week, and Light Reading was there to point a camera at it. On the show floor, exhibiting companies put their best foot forward, though you just know that behind the scenes they were squeezing every dollar until George Washington turned blue.

At The Green Room in Deep Ellum, Light Reading turned telecom industry lemons into hard lemonade, beer, wine, and other assorted libations while noshing on chicken skewers, quesadillas, and portabella bruschetta. Sadly, several partygoers turned down free Crown Royal shots, so the chances of someone wandering off to get an embarrassing tattoo (or of a VC agreeing to fund another telecom equipment startup) were greatly diminished.

Okay, enough yammering. Here are the pictures: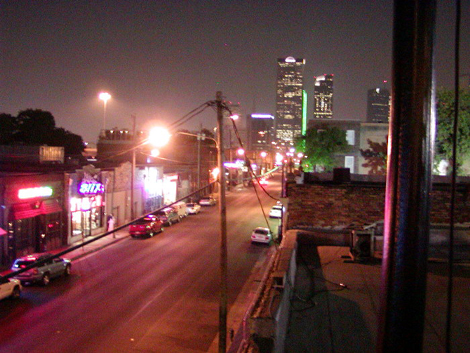 On a Monday night, Elm Street is as empty as a banker's heart.