ETSI's Zero Touch Group Gains Support, Kickstarts Its Automation Engine
ETSI's Zero Touch Group Gains Support, Kickstarts Its Automation Engine
The industry body's new automation group has more big-name members from the operator and vendor communities and, following its inaugural meeting, an early plan of action. ETSI's new automation group, the snappily titled Zero touch network and Service Management Industry Specification Group (ZSM ISG), has attracted a broad range of new members during its first few weeks of operations and now has an initial plan of action following a "kick-off meeting" held last week.
The group, which aims to define working practices and systems that will enable "agile, efficient and qualitative management and automation of emerging and future networks and services," gained official status in mid-December following a few months of preparation and launched with a white paper and 16 members and participants, including many major industry names. (See ETSI's 'Zero Touch' Group Issues Telco Automation White Paper.)
Now the group has 34 identified members and participants listed on the group's ETSI portal page (with further names to be added soon -- ETSI says the total number now exceeds 40), with companies such as Amdocs, Hewlett Packard Enterprise, IBM, Red Hat, Telecom Italia and Telstra joining as members and the likes of CenturyLink, Ciena, Comarch and EXFO joining as participants. In addition, industry group CableLabs has joined as a member.
The driving force behind the group, Deutsche Telekom AG (NYSE: DT) Senior Program Manager Klaus Martiny, was elected as the group's chair during the inaugural meeting at ETSI's headquarters in Sophia Antipolis, France, held January 12-14.
In addition, Nurit Sprecher of Nokia (a former chair of ETSI's multi-access edge computing group) and Christian Toche of Huawei were elected as vice chairs. Ashiq Khan of NTT DoCoMo was elected chair of the Network Operators Council (NOC) advisory group, while Serge Manning of Sprint was named vice chair.
Figure 1: Set to Autosmile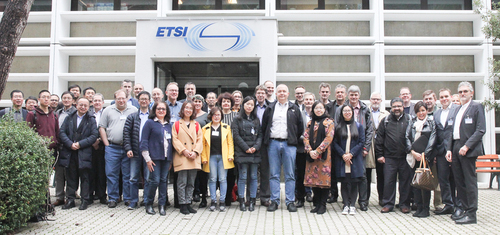 The Zero touch network and Service Management Industry Specification Group (ZSM ISG) kick-off meeting attendees at ETSI's HQ, with DT's Klaus Martiny on the far right.
Five working topics were agreed for the group, including "the development of use cases, requirements, and reference architecture with an end-to-end view of a zero touch systems, as well [as] analysis into areas such as automation techniques and the management of network slices," noted ETSI in a press statement.
"While 5G and its building blocks are being developed, it's time to offer an end-to-end view focusing on automated end-to-end network and service management," noted Martiny in a prepared statement. "We want to offer the market open and simple solutions. A continuous feedback from all stakeholders will lead to the first implementations of the specifications which will be tested through Proofs of Concepts, the outcome being fed back to improve existing specifications. A strong collaboration and cooperation with others standards bodies and Open Source projects is important for the ISG."
Martiny has stressed collaboration with other industry groups as vital since he first outlined plans for the group in October last year. (See Automation Gets Its Own ETSI Group.)
Subscribe and receive the latest news from the industry.
Join 62,000+ members. Yes it's completely free.
You May Also Like
---