Automation Opportunities a 'Top 5' Topic for BT, Says Tech Chief
The opportunities enabled by automation are among the top five areas of focus for BT management as the company examines its potential to become more efficient, flexible and reactive in everyday operations, according to the lead technology executive at the UK operator.
Howard Watson, who as the CEO of BT's Technology, Service and Operations division is, effectively, the operator's integrated CTO/CIO, believes there is much to gain from automation, but that it needs to be introduced in a steady and streamlined way so as not to cause more problems than it solves.
During a recent conversation with Light Reading, Watson noted that automation has long been on BT's agenda and that the operator is currently learning a great deal from the existing implementation of robotic process automation (RPA) capabilities in its enterprise functions; functions that include finance and human resources, and BT's ERP (enterprise resource planning) system. Blue Prism is a key partner here.
"Through our experiences in those enterprise functions, we are learning some key aspects of how to apply automation to a process. The key thing we have learned is that you have to apply it to a process that you know already works well and which is well documented, manually intensive and has low error fallout. It's absolutely vital to ensure that the process is a good one before you automate it. Where these conditions exist, automation can be applied and it's possible to cut operating costs by a fifth, even by a third," noted Watson.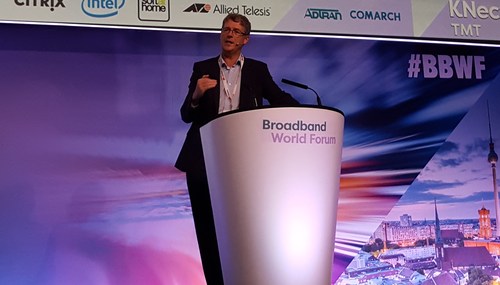 Hammering home the point, Watson noted it would be very unwise to apply automation "as an attempt to fix a bad process. If the fallout is high, automation just doesn't help. It needs to be applied to stable processes, not ones where the actual process needs to be changed all of the time. We have a center of excellence to figure out how to apply automation to our processes and we are rolling out capabilities on a needs basis," he added.
Network health checks
Initial steps into the world of automated telecom operations have come in network monitoring, where data from network alarms is gathered and faults are identified without human intervention. However, once the fault is identified, an engineer has to be assigned to fix it.
"The next step is auto-healing," notes Watson but that would require "real-time telemetry, decision engines and intervention tools -- we see that as a two- to three-year journey. We have started to move to part-streamed telemetry but we're not there yet."
To get there, Watson is seeking help from the industry. "We need vendors to build the next-gen telemetry systems. The problem currently is that [network operators] are having to poll devices, and at best that process is polling the devices every 15 seconds, but if something goes wrong… that process is telling you too late."
So what BT needs are tools that push data from the network and other systems into analytics platforms, that can sort and interrogate the data in real time rather than the data having to be pulled. Challenge issued, right?
The next big opportunity for automation
So what about the world of network planning and building and provisioning -- is automation having an impact there yet?
"In terms of provisioning, we are quite well automated for 'happy path' provisioning, for simple upgrades. For a service such as connecting a customer to a fiber broadband line, that is about 80% automated. But when there is something more complex, like a customer moving to a new address or transferring to or from another operator then, well… we automate what we can," says the BT man.
"Planning and building is very manual. There's a large number of planners and it is manually intensive. [Network planning and building] is the next big opportunity for automation. Openreach is looking at this for fiber to the home rollouts where the fiber overlays the existing network topology. In the radio network, working with MBNL [a mobile network sharing joint venture with 3 UK], we are looking at how we can get more automated with spectrum planning," but the timescale for that process is unknown, says Watson.
Where there is more visibility for automation is in service delivery he notes, particularly with services such as bandwidth on demand and SD-WAN.
The headcount impact
So what impact will automation have on BT's workforce? "It is changing the roles… of the people we have -- it's more than just achieving headcount reduction. There will be some of that, yes, but there will also be some skills changes. It enables time efficiency, a speedier time to market and the ability to do multiple jobs in parallel. It could have a significant impact with respect to FTTH planning," he notes.
And if the opportunity enabled by automation is one of the top five topics under the spotlight at BT right now, what are the other four? "I'm not telling you," laughs Watson.
— Ray Le Maistre, International Group Editor, Light Reading
PARTNER PERSPECTIVES
- content from our sponsors