Senate Vote Says Net Neutrality Can Stay Around a Little Longer
Senate Democrats and three Republicans -- Susan Collins of Maine, John Kennedy of Louisiana and Lisa Murkowski of Alaska -- voted today to restore net neutrality regulations, a move they hope will contribute to the reversal of a recent ruling by the FCC to overturn the 2015 Open Internet Order.
The success is almost certainly short-lived, however. While Senators were able to secure a majority win, the issue will now move on to the House of Representatives where supporters are lacking the necessary votes for bicameral passage. Even if the House were to move the bill forward, it would then land on Donald Trump's desk and be subject to likely presidential veto. (See FCC Nixes Net Neutrality Rules on June 11.)
There is still a point to the Senate vote. Net neutrality advocates want to put legislators on the record regarding their Internet views. Since net neutrality is a popular issue with the public, the hope is that the public will punish lawmakers during midterm elections if they oppose it. The strategy assumes that net neutrality can top or at least compete with other hot-button issues including jobs, trade and immigration. Given recent voting trends, that's a tall order.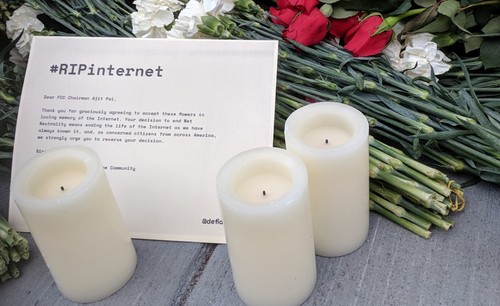 Senators were able to force a vote on net neutrality today through the Congressional Review Act (CRA). The CRA allows lawmakers to repeal a regulatory ruling within 60 legislative days of its passing. In this case, that ruling was the Restoring Internet Freedom Order, which was introduced by Federal Communications Commission (FCC) Chairman Ajit Pai, and carried through by a Republican majority in the Commission. (See FCC Ends Net Neutrality.)
There are two major elements of the Restoring Internet Freedom Order. First, it reverses the categorization of ISPs as Title II common carriers, whereby, in theory, the government can regulate broadband prices. (Note that when the FCC instated Title II classification for ISPs in 2015, it said it would forbear from rate regulation.)
This move was expected and is generally far removed from the public debate on net neutrality.
Secondly, however, the Restoring Internet Freedom Order removes so-called bright line rules, which mandate no blocking, no throttling and no paid prioritization on the Internet. It's this provision that is broadly controversial and has driven public protest and legislative angst.
Assuming a Congressional overhaul of the Order is unsuccessful, the FCC will officially roll back net neutrality rules on June 11.
— Mari Silbey, Senior Editor, Light Reading
UPCOMING LIVE EVENTS
June 6-8, 2023, Digital Symposium
June 21, 2023, Digital Symposium
December 6-7, 2023, New York City
All Upcoming Live Events
PARTNER PERSPECTIVES
- content from our sponsors