Apple has always been a favorite of enterprise users, despite Apple's history of neglecting them. But Apple's attitude is changing, as it bragged outright about enterprise partnerships on its quarterly earnings call with financial analysts Tuesday.
On the call, Apple touted its enterprise cloud relationships in retail, pro sports and end-user deployments.
Overall, revenue for the third quarter ending June 30 was $53.3 billion, up 17% year-over-year, with quarterly earnings per diluted share at $2.34, up 40%. International sales comprised 60% of revenue. (See Apple Reports $53.3B 3Q Revenue, Up 17%.)
It was Apple's best June quarter ever and fourth consecutive quarter of double-digit revenue growth, Apple CEO Tim Cook said in a statement. "Our Q3 results were driven by continued strong sales of iPhone, Services and Wearables, and we are very excited about the products and services in our pipeline," Cook said. Apple will likely introduce new iPhones in late September, along with iOS 12, an upgrade to its mobile operating system, and Mojave, an upgrade to its desktop OS. Also, Apple will likely release new iPads in the fall.
On the enterprise side, Apple touted strengths in financial services, railways and automotive companies, as well as popularity with enterprise employees.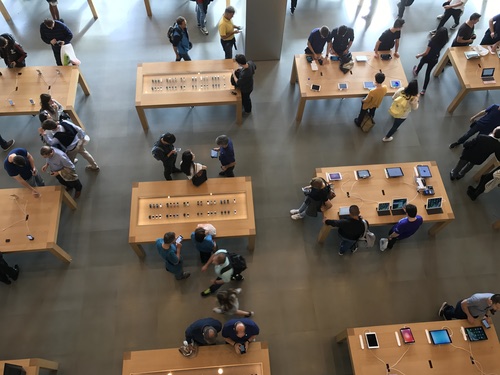 ---
Now entering its fifth year, the 2020 Vision Executive Summit is an exclusive meeting of global CSP executives focused on navigating the disruptive forces at work in telecom today. Join us in Lisbon on December 4-6 to meet with fellow experts as we define the future of next-gen communications and how to make it profitable.
---
Financial services are using the iPad for digital signatures for customer consent, compliance, new account openings and services transactions, Luca Maestri, Apple senior vice president and chief financial officer, said on the company's earnings call. Railways are using iPhones and iPads to support operations, training, passenger engagement and maintenance. And "leading global automative companies" are deploying iPads in dealerships for sales enablement and end-to-end customer services management, he said.
Companies are giving employees a choice of equipment, and these companies, including Salesforce and Capital One, are deploying Macs based on employee preference, Maestri said. At Salesforce, the majority of its 35,000 employees are using Macs. "Companies tell us that the Mac has been instrumental in helping them attract and retain talent, while providing strong security, streamlined deployment workflow and significantly lower total cost of ownership," Maestri said.
Apple is seeing strong interest from enterprises in Business Chat, its cloud service that lets consumers interact with companies directly from the iPhone and iPad, and continue on the Mac and Apple Watch. (See Inside Apple's New 'Business Chat'.)
Dish Network LLC (Nasdaq: DISH) deployed Business Chat across its pay-TV business to allow consumers to reach a live agent with questions, account changes and scheduling appointment or order pay-per-view movies and sporting events. Citizens Bank Park, home of the Philadelphia Phillies, is testing Business Chat to let fans order drinks during games. The trial is using the iPhone to scan QR codes on seat backs, which launches Business Chat in messages, and order drinks, pay and get them delivered "without missing a moment of game play," Maestri said.
For Apple Pay, the company saw "well over" 1 billion transactions in the last quarter, triple the amount from a year ago, with growth accelerating into the spring. Apple had more total transactions "than great companies like Square," Cook said, and more mobile transactions than PayPal. Apple Pay is live in 24 markets worldwide, with more than 4,900 bank partners, and Germany coming on board this year. eBay is beginning to enable sellers to accept Apple Pay in the US, and CVS pharmacy and 7-Eleven will roll out support in locations worldwide this fall. Public transit systems in 12 metropolitan areas support Apple Pay for passenger payment, Cook said.
Next Page: Let's Not Talk About Mac Sales