Microsoft Azure provides more predictable network performance than Google Cloud and Amazon Web Services, according to research released Thursday by network monitoring company ThousandEyes.
Google Cloud and Amazon Web Services Inc. fluctuate more unpredictably than Microsoft Azure in terms of latency, packet loss and jitter, according to the study.
That means developers deploying software on Azure can more reliably predict application performance, Archana Kesavan, ThousandEyes senior product marketing manager and report author, tells Light Reading.
The reason for Microsoft's predictability: Microsoft uses its own backbone to move data between users and services. "Their network is fast and highly reliable," Kesavan says.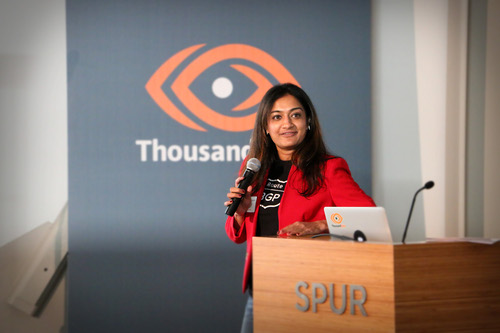 ---
Now entering its fifth year, the 2020 Vision Executive Summit is an exclusive meeting of global CSP executives focused on navigating the disruptive forces at work in telecom today. Join us in Lisbon on December 4-6 to meet with fellow experts as we define the future of next-gen communications and how to make it profitable.
---
AWS moves data on the public Internet, which is unregulated, vulnerable to attacks, and built from a constellation of service providers. "Operationally, doing business on the Internet has an element of risk associated with it," Kesavan says.
Google uses both models -- a premium tier where traffic moves over its own backbone, and a standard tier, which uses the public Internet to connect services to users, Kesavan notes. (See Google Launches Dedicated Connectivity for Hybrid Cloud and Google Offering Tiered Networking for Cloud Customers.)
For telcos and other communications service providers, cloud providers relying on their own backbones is bad news, because it means less business for them, Kesavan notes.
The ThousandEyes Public Cloud Performance and Benchmark report, released Thursday, compares performance of the three major public cloud providers. It's designed to help guide enterprise IT business leaders' multicloud decision making.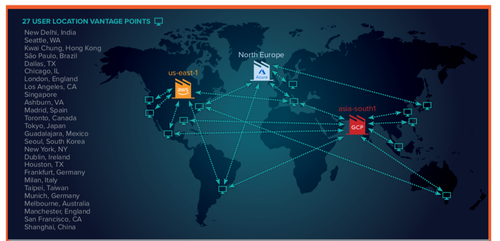 Although the three cloud platforms are competitors, they peer directly with one another, eliminating dependence on third-party ISPs, ThousandEyes said in a statement. Also, traffic almost never leaves provider backbone networks for cloud-to-cloud communications, which minimizes loss and jitter in end-to-end communications. Traffic only leaves the backbone when in transit to and from the user. "Decision-makers need not worry about performance in multicloud architectures," the company said.
ThousandEyes found regional differences in cloud performance: Google had three times the network latency of AWS and Microsoft between Europe and India.
Reliability and predictability of network performance varied by region: Google and Azure had more network performance stability than AWS in Asia, ThousandEyes said. AWS had 35% the network performance stability of Google and 56% less than Azure.
And connecting Europe to Singapore, Azure was 1.5 times faster than AWS and Google.
The full report is available here: ThousandEyes Public Cloud Performance and Benchmark
Related posts:
— Mitch Wagner




Executive Editor, Light Reading