ThousandEyes is extending its mission of optimizing network performance for cloud applications, adding agents to measure the health of end-user devices.
New Device Layer capabilities introduced Wednesday, combined with previously available service provider and enterprise network monitoring, gives ThousandEyes Path Visualization the ability to provide end-to-end performance monitoring, Nick Kephart, ThousandEyes' senior director of product management, tells Enterprise Cloud News.
"ThousandEyes has traditionally helped people understand their ISP and service provider networks. In this case, we're extending to better understand portions of their own network -- the WAN and LAN. You can piece together both perspectives and not have to move between products and between tools to get the full context," Kephart says.
ThousandEyes previously collected application and data performance on Layer 7, including web- and browser-based applications, as well as Layer 3 and Layer 4 for TCP/IP and UDP performance. The addition of device layer performance monitoring extends visibility from Layer 2 to Layer 7. The service also auto-discovers Layer 2 and Layer 3 topology, provides device diagnostics and monitoring, and deploys easily using SNMP, ThousandEyes says.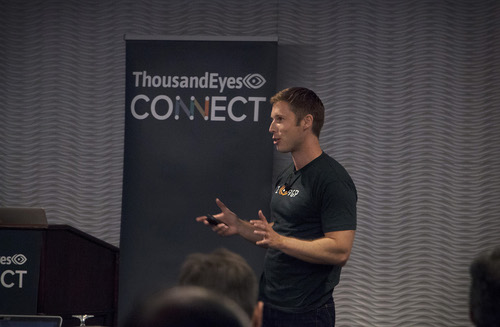 ---
Keep up with the latest enterprise cloud news and insights. Sign up for the weekly Enterprise Cloud News newsletter.
---
ThousandEyes enters a competitive market segment, going up against incumbent heavyweights such as Cisco (Cisco's 'Network Intuitive': A Risky Transition) and Juniper (Juniper Pushes Network Virtualization), established monitoring vendors such as SolarWinds, and an array of startups and open source products, such as Forward (Forward Launches Freemium Service for Network Visibility) and Nyansa (Nyansa Helps IT Fight Complaints).
ThousandEyes distinguishes itself by providing easy-to-use network topology visualization; putting information in the context of an application and how that application is interacting with individual devices; and by providing a cloud-based deployment model, Kephart says.
ThousandEyes was founded in 2010, and shipped its first product in 2013, with offices in the US and Europe. It's customer base is the global 2000, running large networks and critical services, such as healthcare, financial services, large technology companies and global retailers. Total funding is $60.6 million in three rounds from Sequoia Capital, Salesforce Ventures, Sutter Hill Ventures, Tenaya Capital and GV (formerly Google Ventures). The company has about 200 employees.
Related posts:
— Mitch Wagner




Editor, Enterprise Cloud News