Google Offering Tiered Networking for Cloud Customers
Google is planning to offer its cloud customers two different tiers of networking services: a standard option that utilizes ISPs, and a premier level that take advantage of the company's own global infrastructure.
On Wednesday, Google is announcing what the company calls Network Service Tiers Alpha for the search giant's public cloud platform. The company did not detail when the full service would be available, but it's offering customers a chance to try both during the alpha testing.
In the blog post, Prajakta Joshi, a product manager for Cloud Networking at Google, notes that cloud customers want different choices when it comes to running their applications, and many look for different ways to control costs.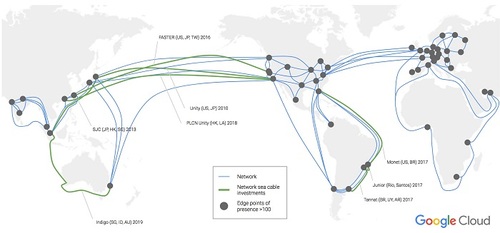 "We know that one size does not fit all and your applications in Google Cloud will often have differing availability, performance, footprint and cost requirements," Joshi wrote in the August 23 post. "That's why we provide you the flexibility of configuring the Network Tier per workload (IP address, VM instance, instance template, or Load Balancer VIP i.e., forwarding rule-level), or at the overarching project-level (coming soon) when you want to apply the tier to all applications in that project."
The premier tier that Google is offering is the same one that supports the company's core applications: Google Search, Gmail and YouTube. Google Cloud Platform customers are using this same network right now, Joshi writes.
This is a fiber network that has more than 100 points of presence, or POPs, spread throughout the world. This allows cloud users to connect to their customers at the closest point and allows for data to flow from one to the other with low latency, making for a faster transfer of that data.
"There are at least three independent paths (N+2 redundancy) between any two locations on the Google network, ensuring that traffic continues to flow between these two locations even in the event of a disruption," Joshi wrote.
Now, Google is adding a standard option for its cloud customers that does not utilize the company's own network, but transfers data across local ISPs.
---
Keep up with the latest enterprise cloud news and insights. Sign up for the weekly Enterprise Cloud News newsletter.
---
In this tier, data traffic from users to the Google Cloud Platform (GCP) can still travel on the company's network as long as it's within the same GCP region. If that data and traffic starts in another region, it will be offloaded to the local ISP. Joshi notes that there could be some latency and other issues with this tier.
"Since we deliver your outbound and inbound traffic on Google's network only on the short hop between GCP and the POP closest to it, the performance, availability and redundancy characteristics of Standard Tier depend on the transit provider(s) carrying your traffic for rest of the route," Joshi wrote.
However, the company notes that standard tier users will save about 24 to 33% compared to the premier level.
Google also printed a new pricing scheme on Wednesday as part of the announcement.
"Inbound traffic remains free both for Premium and Standard Tiers. We will also change our current destination-based pricing for Premium Tier to be based on both source and destination of traffic," Joshi noted.
Related posts:
— Scott Ferguson, Editor, Enterprise Cloud News. Follow him on Twitter @sferguson_LR.