Lucent Technologies Inc. (NYSE: LU) reported its first profitable quarter since March 2000 in its year-end fiscal report this morning (see Lucent Posts Q4 Profit). And while execs weren't promising anything, they waxed upbeat on the company's future.

Net income was $99 million, or 2 cents per share for the fourth quarter, compared to a net loss of $254 million, or 7 cents per share, last quarter. Revenues of $2.03 billion were up 3 percent sequentially. And even though overall revenues were down about 11 percent year-over-year, gross margins were up dramatically: In the fourth quarter of 2002, gross margins were a negative 14.3 percent of revenues; this quarter they were 43 percent, driven by cost reductions, a better mix of products and services, some favorable one-time items, and improved volume.

Operating expenses were down 38 percent sequentially, to $524 million, thanks to ongoing restructuring and some items that included employee expense "adjustments" and credits from customers and suppliers.

Execs aren't offering guidance figures for next quarter. But CFO Frank D'Amelio said he expects gross margins to hover in the range of 35 percent, while the company heads toward "sustainable" profitability, breaking even on about $2.2 billion in quarterly revenues.

While acknowledging that it's too soon to call a bottom to the telecom downturn, Lucent CEO Patricia Russo came close to actual optimism in her conference call to analysts this morning: "The worst does absolutely seem to be behind us," she said.

Russo said Lucent is done with the main thrust of its restructuring. With headcount at 34,500 as of September 30, down 7,500 for the year 2003, the company is now focused on trimming jobs as needed, but adding them here and there as well.

Lucent reported a complicated series of one-time items both favorable and unfavorable, including new valuations on warrants set to be issued as part of the company's pending settlement of multiple lawsuits with shareholders and others (see Lucent Settlement Gets Preliminary Nod). It also took a hit on asset impairment related to development of universal mobile telecommunication system (UMTS) software.

The company expects ups and downs going forward, Russo said, but on the whole it finds itself in a stable place. Further, there are "pockets of opportunity" in the telecom market, despite ongoing capex cuts. Metro optical, 3G mobility, broadband access, services, and voice over IP (VOIP) are all areas in which Lucent sees growth.

Indeed, optical networking revenues grew 30 percent to $215 million this quarter, with lifted by strong sales of the LambdaUnite multiservice switch as well as of Metropolis and other metro optical gear. Also up significantly was data and network management -- including broadband access, multiservice WAN switches, and network operations software -- which grew 22 percent to $301 million this quarter.

In response to analyst questions about packet voice, Russo insisted Lucent hasn't given up on softswitching, promising that the company plans a major VOIP platform rollout "in the not-too-distant future."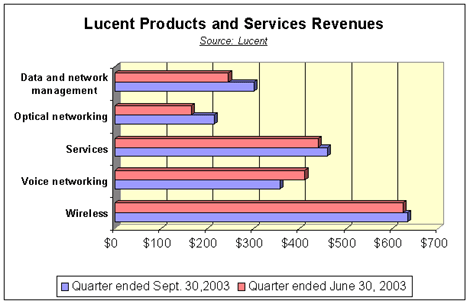 Noticeably absent from today's Wall Street session was the back-slapping "congratulations on the quarter" from listening analysts that sometimes accompanies good reports. Instead, most seemed focused on whether Lucent can sustain its momentum, or if it will continue to struggle for sustainable profitability. "Lucent continues to be faced with a volatile revenue base due to spending fluctuations by large customers," writes Bill Lesieur, director of Technology Business Research Inc. (TBR), in a note this morning. He's also concerned that Lucent's focus on expanding its services and partnerships could hamper technological innovation.

This concern is shared by analysts in our Heavy Reading research division, which concluded in a recent report: "Lucent is abandoning its own convergence products in favor of reinventing itself as a service organization. It will fail." (See Lucent: The Truth Hurts.)

There have been signs, though, that Lucent's not alone in thinking it's made it out of the woods: Analyst Steve Levy of Lehman Brothers used Lucent's expected revenues as support for raising his view on the entire telecom sector last month (see Lehman: Telecom Downturn Is Over).

At press time, Lucent shares were trading at $2.55, up $0.10 (4.08%).

— Mary Jander, Senior Editor, Light Reading