Get a Job
2:00 PM -- It's hard to believe the government, but according to the most recent seasonally adjusted employment numbers from the
U.S. Bureau of Labor Statistics
(BLS), the telecom job market may have bottomed in October 2004.
The latest numbers from the BLS, released last Friday, showed 6,700 telecom jobs being created in April 2005. That's the most that have been created since the telecom market apparently swung from losing jobs to gaining jobs last November, according to the BLS.
The BLS says there were a total of 1,038,000 telecom jobs in April 2005. That's still down from 1,050,900 in April 2004, but up from the low point of 1,024,800 jobs in October 2004.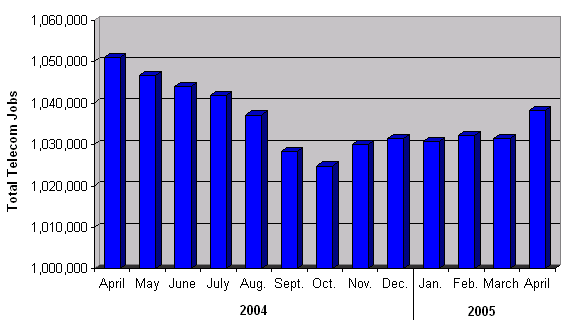 But are things really so rosy? In the most recent
Work Poll
, our readers tell a different story. Fifty-three percent of the respondents, of which 93 percent said they work in North America, consider the job growth "stable," while 33 percent said it's "waning." Only 14 percent considered the climate to be "growing."
Personally, I am skeptical of government data. You must take into account that the BLS takes a subjective approach in calculating these numbers, including the use of the so-called birth/death model. The birth/death model, rather than using actual data on employees themselves, attempts to estimate how many new jobs are being added or subtracted by new companies that are being created or put out of business.
The federal government numbers, after all, come from the same bureaucracy that tells us there is little inflation, even though the
price of milk
has doubled in the last two 2 years and gasoline is over $2.00 per gallon.
Our readers tend to have a pretty realistic insight into the telecom job market. I'd be interested in hearing more opinions on what's going on with employment. Go ahead and post a message below, or vote in the most recent
Work Poll
.
— R. Scott Raynovich, US Editor,
Light Reading