Most European companies will deploy 802.11 equipment as part of their local area networks, but less than a third plan to use Bluetooth for short-range wireless connectivity, according to Frost & Sullivan (see Enterprises Wary of Wireless).

Researchers questioned 101 IT directors (five from companies with less than 100 staff, 15 with 100 to 500 employees, 16 with 500 to 1,000, and 65 with more than 1,000) across 13 European countries for the firm's "European Enterprise Wireless Survey 2003." In line with the findings of other recent studies (see Europe Set for WLAN Boom and WLAN's a Hit -- Privately), 57 percent of respondents said they were either using, or planned to implement, 802.11 technology within their enterprises: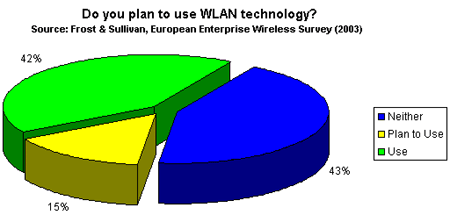 According to Michael Wall, industry research analyst and author of the report, it is unlikely the technology will be implemented throughout entire organizations, but will instead be targeted at specific types of employees who would benefit from mobility.

But despite the positive demand, security concerns are still holding the industry back. "Most enterprises within Europe are using virtual private networks as a way of ensuring secure wireless LAN access, but a uniform standard is what we really need," Wall tells Unstrung. He cites the recent move by the Wi-Fi Alliance to promote a preliminary solution (see 802.11 Security Issues Sorted?) as a positive move that will help overcome security issues.

Wall also believes the emerging 802.11 switch vendors such as Aruba Networks Inc., Trapeze Networks Inc., and Vivato Inc. could generate some interest in Europe (see WLAN Switch Shakeout Looms?). He expects some of the region's larger enterprises to deploy such equipment.

Frost & Sullivan's findings are gloomier for another short-range, high-speed wireless technology: Bluetooth. A hefty 69 percent of respondents said they have no intention of deploying the technology within their companies, confirming belief that the technology could be just a bit-part player in the wireless networking market (see What's Hot in Wireless?). For the minority that do foresee a use, most believe the key application will be to connect a notebook PC to a mobile phone for access to a mobile data network.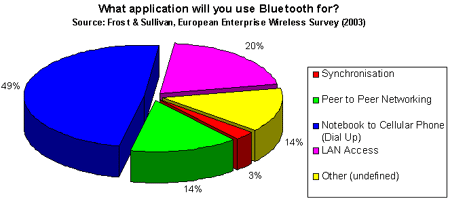 "Enterprises are unlikely to have a strategy for Bluetooth in the same way they will for wireless LAN," notes Wall. "Demand for Bluetooth-enabled products within the enterprise is still fairly low, and concerns over cost and useful applications have proved to be a big problem."

— Justin Springham, Senior Editor, Europe, Unstrung