AWS Debuts Networking Services – Should Telcos Be Scared?
Is Amazon Web Services going into competition with telcos? AWS stepped up its networking game Monday evening, launching faster and more reliable global connectivity for applications running on the public cloud. The new services raise the specter of AWS competing in global networking, a core business of telcos and other communications service providers.
Amazon Web Services Inc. introduced the Global Accelerator networking service Monday, improving the performance and availability of applications running across AWS regions by bypassing the public Internet and instead transporting application data on the AWS Global Network, Peter DeSantis, AWS vice president of global infrastructure, said at a Monday night keynote at the AWS re:Invent 2018 customer and partner conference in Las Vegas.
The public Internet works "surprisingly well," DeSantis said. "For a massively distributed system with no central authority, made up of a large number of cooperative but competing participants, the Internet is a great success," he said. But as providers hand off packets without visibility into each others' network health, delays of minutes and network congestion can result. "People often colloquially refer to this as 'Internet weather,' DeSantis said. That's fine for most applications, but it's a problem for voice, video, highly interactive games and some international applications.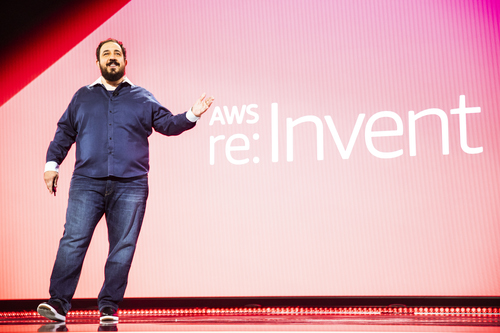 ---
Now entering its fifth year, the 2020 Vision Executive Summit is an exclusive meeting of global CSP executives focused on navigating the disruptive forces at work in telecom today. Join us in Lisbon on December 4-6 to meet with fellow experts as we define the future of next-gen communications and how to make it profitable.
---
Unlike the public Internet, AWS has complete visibility into its own network, DeSantis notes. "This visibility assures us we always have the capacity we need anywhere in the network," he said. "Unlike the decentralized approach of the Internet, this allows us to handle failures in a way that's almost imperceptible to applications."
AWS Global Accelerator routes traffic from the end user to the closest AWS edge location, and from there to the AWS Global Network. AWS users can control traffic routing to regional endpoints, with forwarding policies to take into account network health, latency and geographic location, to make it easy to route traffic across multiple regions for high performance and extreme high availability, DeSantis said.
AWS also introduced the AWS Transit Gateway, providing centralized management between thousands of Amazon Virtual Private Clouds (VPCs) and AWS accounts on the global network, using native AWS services such as CloudWatch and VPC Flow Log for security and monitoring. Users can implement and maintain compliance and security policies, and provide improved scalability between on-premises computing and the AWS cloud.
Additionally, AWS upgraded its high-speed data center networking, launching C5n instances providing up to 100 Gbit/s network bandwidth, accelerating data transfer to and from Amazon S3 storage, useful for applications including analytics, machine learning, big data and data lakes.
And Amazon introduced the Elastic Fabric Adapter, a network adapter for Amazon EC2 instances providing high performance and scalability to thousands or tens of thousands of computing cores, for high-performance computing (HPC) applications.
The new capabilities give AWS networking global reach, and potentially puts AWS in competition with telcos and other communications service providers.
That competition has been coming for a while; AWS and its hypercloud competitors have provided networking for some time. AWS launched PrivateLink last year, a service designed to allow software-as-a-service developers to provide private endpoints to users. (See Amazon Launches AWS PrivateLink for Private Cloud Connections.)
Also last year, Google (Nasdaq: GOOG) launched connectivity between enterprise private cloud networks and the Google Cloud, and tiered networking to allow cloud customers to choose between connectivity through telcos or Google's own global infrastructure. (See Google Hybrid Cloud Networking Gets Production-Ready and Google Offering Tiered Networking for Cloud Customers.)
Additionally, hypercloud providers have invested heavily in undersea cables -- DeSantis discussed AWS's investments Monday, including an undersea cable spanning Australia to the US, now in production; Jupiter cable connecting Japan to the US, to launch in 2020; and the Bay to Bay Express Cable System, connecting Hong Kong, Singapore and the US, coming online in 2021. (See Jupiter Cable Looks to Bolster Cloud Services With Help From Amazon, Facebook and NEC to Build Bay to Bay Express Subsea Network.)
Google and other hypercloud providers have submarine cables as well. (See Google Launches 3 Submarine Cables, Google Spins Subsea Cable Web to Australia & Southeast Asia and The OTT Firms Rule Under the Waves.)
And public cloud providers pioneered software-defined networking.
But AWS's new network offerings seem to enter new business areas, connecting global applications and apparently bypassing telco networks.
Is this the telco apocalypse? Too early to tell. Telcos partner with AWS providing AWS services to business customers. Moreover, telcos offer a variety of services not available from AWS, connecting on-premises data centers, and workloads running on Microsoft Azure, Google, Alibaba and other cloud providers. Telcos offer SD-WAN, MPLS, security, and other services that AWS isn't touching. Moreover, emerging Internet of Things, artificial intelligence and 5G applications may provide telcos with future advantages.
But still, AWS's announcement puts the public cloud provider closer to telco core business. And, for telcos, that's a worrisome place.
— Mitch Wagner




Executive Editor, Light Reading
PARTNER PERSPECTIVES
- content from our sponsors