Jupiter, a newly proposed undersea cable that will connect the US with Japan and the Philippines, is the project to attract some of the biggest names in tech in an effort to bolster cloud and other services across the Pacific region.
The Jupiter project is being spearheaded by NTT Communications, a subsidiary of Japan's Nippon Telegraph and Telephone Corporation, one of the largest telecoms in the country. The consortium that is helping to build to cable includes some of the biggest players in cloud and other tech including Amazon, Facebook, Softbank, PLDT and PCCW Global.
When complete in 2020, the Jupiter cable will stretch some 14,000km (8,700 miles) and have a capacity of 60 terabits per second (Tbit/s). 1 Tbit/s is equal to 1,000 gigabits per second.
The undersea cable will stretch across the Pacific Ocean, connecting Japan, the Philippines and the US. There are two landing station in Japan -- the Shima Landing Station in Mie Prefecture and the Maruyama Landing Station in Chiba Prefecture -- as well as one in Los Angeles and the Daet Cable Landing Station in the Philippines.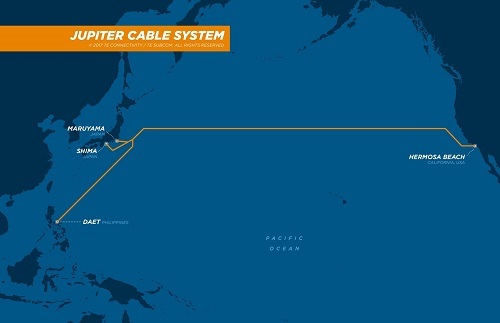 At the heart of this massive project is the ability to deliver cloud and other services across Asia at a much faster rate. NTT Com noted in an October 30 statement:
To meet the growing demands for traffic, including internet, cloud services and coming 5G wireless communications, NTT Com is steadily expanding its cable capacity in Asia and the Trans-Pacific, including by connecting multiple cable systems to its own data centers and enhancing cable redundancy, to offer highly reliable global network services. At the same time, NTT Com will further support the business-expansion initiatives of customers by merging its data center, cloud and network services.
The Jupiter project is not the only undersea cable that is looking to bolster cloud and other communications services between the US and Asia.
Google, another major cloud player looking to expand, is partnering with several companies to build its own network called Faster, which also has a 60Tbit/s capacity.
---
Keep up with the latest enterprise cloud news and insights. Sign up for the weekly Enterprise Cloud News newsletter.
---
On the other side of the globe, Microsoft, Facebook and others are building a subsea cable between the US and Europe.
The goal of all these system is deliver uninterrupted cloud and other services to customers in faraway regions. Specifically, these cables are less susceptible to weather conditions, such as hurricanes, and can continue to deliver services. At the same time, Microsoft, Google and Amazon -- three of the biggest names in public cloud -- are looking to expand their capabilities outside of their core home in the US. (See Microsoft Growing Explosively, but Amazon Retains Huge Cloud Lead.)
When Jupiter comes online in 2020, it will have an initial capacity of 60 Tbit/s, but NTT Com notes that could expand to more over the coming years.
When it opens in three years, the cable will have a 400Gbit/s wavelength-division multiplex (WDM) transmission system, which will use some of the newest fiber and design technologies available. The company notes that at that speed, Jupiter can transmit a six-hour HD video -- or three regular movies -- in about a second.
NTT also noted that Jupiter will have additional security capabilities to protect data.
Related posts:
— Scott Ferguson, Editor, Enterprise Cloud News. Follow him on Twitter @sferguson_LR.