Salesforce is opening sourcing TransmogrifAI, key software behind Einstein, the AI that's strategic to the company's future in sales, customer services and more.
TransmogrifAI helps build machine learning systems at enterprise scale. While consumer AI generally learns from a small number of well-understood use cases and datasets, enterprise scale AI requires a broad diversity of data and use cases, which makes building enterprise AI systems harder, according to a post Thursday on the Salesforce Engineering blog by Shubha Nabar, senior director of data science at Salesforce Einstein. A broad range of data is required to predict enterprise events such as customer churn, sales forecasts and lead conversions.
Enterprises also need to protect data, and not share it with other organizations or competitors, she says.
TransmoigrifAI helps automate the process of parsing through that ocean of data to generate machine learning models while also protecting the data confidentiality, Nabar says.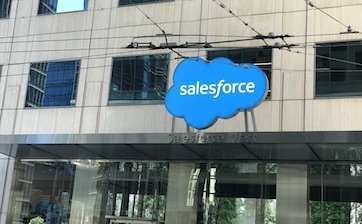 ---
Now entering its fifth year, the 2020 Vision Executive Summit is an exclusive meeting of global CSP executives focused on navigating the disruptive forces at work in telecom today. Join us in Lisbon on December 4-6 to meet with fellow experts as we define the future of next-gen communications and how to make it profitable.
---
"The dictionary defines Transmogrification as the process of transforming, often in a surprising or magical manner, which is what TransmogrifAI does for Salesforce  --  enabling data science teams to transform customer data into meaningful, actionable predictions," she writes. (She does not mention that the comic Calvin & Hobbes made the transmogrifier famous.)
Earlier today, Google (Nasdaq: GOOG) introduced its own tools to simplify building AI at enterprise scale. In Google's case, it's giving developers a head start in deploying AI for specific uses, starting with recruitment, contact center and recommendations. (See Google Applies AI to Recruitment, Call Centers & Recommendations .)
And yesterday, Salesforce rival Oracle Corp. (Nasdaq: ORCL) open sourced one of its own machine learning tools, GraphPipe, which concentrates on deployment, performance and delivering standardized APIs. (See Oracle Open Sources GraphPipe for 'Dead Simple' Machine Learning Deployment.)
Related posts:
— Mitch Wagner




Executive Editor, Light Reading