Your customer service stinks. Most everybody's does; that's why companies with good customer service get rave reviews. For everybody else, customer service is a grind.
Even customer service reps hate customer service; who wants to do a job all day where you're frustrating the desires of people who are already dissatisfied before they even contact you?
Salesforce.com Inc. is looking to change that with an update to Service Cloud Einstein, incorporating the Einstein AI service (with the adorable mascot -- he's the guy on the left in the photo below) to apply artificial intelligence to customer service. (See Salesforce Updates Sales Cloud Einstein With Additional AI Features and Salesforce Brings Einstein AI to Field Service Lightning.)
The update starts with a chatbot, Einstein Bots for Service, available now, to automate customer interactions. If the chatbot runs into a situation it can't handle -– or if a customer prefers to deal with a live person -- the bot can hand off to a human, passing along the previous interactions so the customer doesn't have to start again from zero.
"We see Einstein Bots as being a customer service agent's new favorite co-worker, because they're going to take a lot of this load off the agent, so they can focus more on those complex issues or issues that require emotional intelligence," Bobby Amezaga, senior director, Salesforce Service Cloud Product Marketing, tells Light Reading. (It takes more than that to be a favorite co-worker around here. You have to bring pastries too.)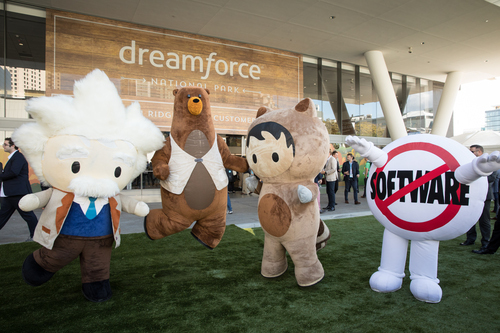 ---
Now entering its fifth year, the 2020 Vision Executive Summit is an exclusive meeting of global CSP executives focused on navigating the disruptive forces at work in telecom today. Join us in Lisbon on December 4-6 to meet with fellow experts as we define the future of next-gen communications and how to make it profitable.
---
And Einstein guides the customer service rep through solutions to resolve the customer's request, a process Salesforce calls Lightning Flow for Service, available immediately. Also, Salesforce is piloting Einstein Next Best Action to make customer recommendations and offers through any channel.
Service Cloud Einstein connects with an enterprise's existing back-end systems and data. "We're eliminating the typical swivel chair you see in contact centers, where agents are logging in to literally 20 or 30 systems and alt-tabbing to answer a single question," Amezaga says.
Service Cloud Einstein also connects phone, email, text chat messaging and voice chat to create a consistent, seamless experience as customers move across different channels, Amezaga says.
He compared the experience of using Service Cloud Einstein to using Google Maps or Waze. "It knows where you are, it knows where you're going, and it provides a guided experience for you to get there." Service Cloud Einstein provides similar guidance for the customer experience journey.
Lightning Flow for Service uses a combination of artificial intelligence, natural language recognition and business rules -- developed by the enterprise -- to guide the customer interacting with a bot, or the human service agent, through a conversation and results.
"Artificial intelligence" has reached peak buzzword. It started out nebulous enough, essentially meaning anything a computer can do that you thought it would take a person to do. Now, AI has become more like mobile -- all the vendors brag about having it; now the question is what can you do with it? In that regard, Salesforce is harnessing AI to solve a real customer problem, of increasing customer satisfaction.
Among other enterprise vendors digging in to AI: Amazon launched Alexa for Business, bringing its popular Alexa virtual assistant into the office to help solve business problems. IBM of course can't stop talking about Watson, and credited AI (which it calls "cognitive computing") with helping drive a recent turnaround after five straight years of consecutive quarterly revenue declines. Google is demonstrating Duplex, an assistant that can handle simple phone transactions well enough that a person speaking with it thinks they're speaking with a human. AI is a focus at Microsoft as well. And Cisco dropped $270 million on an AI firm, Accompany, and named that company's CEO, Amy Chang, as senior vice president in charge of Cisco's collaboration technology group. (See Amazon Launches Alexa for Business, IBM's Bouncing Back – Why the Stock Drop?, Microsoft Crowds the Cloud With AI, Expansion Focus and Cisco Acquires AI Firm for $270M – CEO to Head Collaboration.)
Related posts:
— Mitch Wagner




Executive Editor, Light Reading