Red Hat reported a strong fourth quarter on Monday, and credited OpenStack and telco NFV for helping drive growth.
Red Hat Inc. (NYSE: RHT) reported total revenue $772 million, up 23% year-over-year, for the fourth quarter, driven by focus on cloud and digital transformation, the company said in its earnings press release Monday afternoon. (See Red Hat 4Q Revenue $772M, Up 23% YoY.)
Full year revenue was $2.9 billion, up 21% year-over-year.
The stock price was $160.13, up 4.6% after hours.
OpenStack and telco NFV were a significant part of Red Hat's performance, with support for OpenStack going beyond telcos, Jim Whitehurst, Red Hat president and CEO, said on an earnings call with analysts Monday.
Red Hat scored 50 material NFV wins with telcos -- not pilots, Whitehurst said. These are with telcos putting real workloads into production in anticipation of 5G, he said.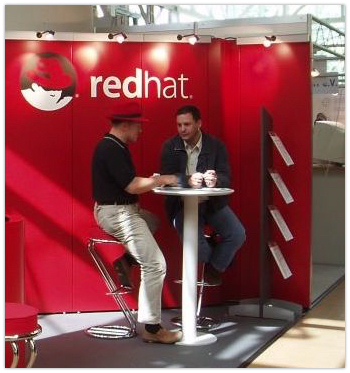 ---
You're invited to attend Light Reading's Big Communications Event  -- the one event that delivers fresh perspective on the rapid transformation of the telecom industry and the road ahead. We'll see you May 14-16 in Austin -- communications service providers get in free!
---
Nine out of Red Hat's top ten OpenStack deals were outside telcos, with strong performance in financial services, Whitehurst said.
Outside of telcos, Red Hat is seeing support for OpenShift, its container management software platform, running on OpenStack on premies, in financial services, with customer running Red Hat Enterprise Linux, putting in new infrastructure on OpenStack.
In addition to financial services and telcos, Red Hat sees OpenStack support from government, technology -- "a whole mix of general purpose workloads," Whitehurst said.
One thing Red Hat isn't seeing: 5G, which is still 18 months to two years out, Whitehurst said. "We're a ways from seeing that in a big way. We frankly have zero wins for 5G in the plan for this year," he said.
Run rate tops $3 billion
Red Hat's annualized revenue run rate topped $3 billion, driven by business focus "enabling initiatives focused on digital transformation and cloud computing," Whitehurst said in Red Hat's earnings statement. Red Hat saw a 50% year-over-year increase in the number of deals over $1 million during the fourth quarter, Whiteurst said.
Non-GAAP net income for the quarter was $167 million, or $0.91 diluted EPS, compared with $110 million, or $0.61 diluted EPS in the year-ago quarter. For the full fiscal year, non-GAAP net income was $540 million, or $2.98 diluted EPS, compared with $414 million, or $2.27 diluted EPS in the prior fiscal year.
For the upcoming year, Red Hat expects revenue of $3.425 billion to $3.460 billion, with diluted non-GAAP EPS of $3.38 to $3.41. For the first quarter, the company expects revenue $800 million to $810 million, with diluted non-GAAP EPS expected approximately $0.68.
Other remarks from Monday's earnings call:
An analyst asked about Pivotal , which held its IPO Friday, and how that compares with Red Hat's OpenShift, which are both container management platforms. Whitehurst said Red Hat has more than 650 customers on OpenShift, and grew by several hundred this year, while Pivotal added only 44. "We are growing faster than they are -- obviously off a smaller base," Whitehurst said. Pivotal does "top down traditional sales," Whitehurst notes, with $1.5 million average sales size, but emerging technology sales "bubbles up" from the bottom. (See Pivotal & Dropbox: A Tale of 2 Cloud IPOs.)
"I think OpenShift compares very favorably," Whitehurst said.
Whitehurst said Google and Red Hat are the #1 and #2 Kubernetes providers. In open source, he said, there are only two successful business models: Using open source to build a cloud service, like Amazon Web Services does, or providing software subscriptions and professional services, like Red Hat. In Kubernetes, Google leads on the former, public cloud model, and Red Hat leads on the latter, private cloud on-premises model, Whitehurst said. "There is such a huge gap between our contribution and #3," he said.
(Editor's Note: Whitehurst seemed to be trying really, really hard to trash-talk his competitors, but it does not seem to be in his nature. Perhaps Larry Ellison can give some lessons?)
Public cloud is a fast growing part of Red Hat's portfolio, hitting $200 million in the second quarter, and growing twice as fast as the company overall. People building private cloud platforms are basing that on Linux-based workloads, and the move to hybrid cloud is good for Red Hat's core Linux business.

Subscriptions are winners
Subscription revenue made up the lion's share of overall revenue -- $683 million in the fourth quarter, up 22% year-over-year; full-year subscription revenue was $2.6 billion, up 21% year-over-year.
Breaking out subscription revenue, application development and emerging technologies saw the strongest growth. Subscription revenue from application development and other emerging technology for the quarter was $173 million, up 39% year-over-year, in the fourth quarter. And for the full year, application development and other emerging technology revenue was $624 million, up 32%.
Infrastructure subscription revenue for the fourth quarter was $510 million, up 17% year-over-year, and for the full fiscal year, subscription revenue from infrastructure was $2 billion, up 15% year-over-year.
Related posts:
— Mitch Wagner




Editor, Enterprise Cloud, Light Reading