Pivotal & Dropbox: A Tale of 2 Cloud IPOs
Pivotal and Dropbox are two cloud IPOs linked together in time, but that's about all they have in common.
Pivotal which filed for its IPO on Friday, is, technically speaking, a startup, founded in 2013. But it's owned and controlled by one of the most venerable names in information technology, Dell Technologies (Nasdaq: DELL).
Pivotal is a key component of Dell's strategy to survive and remain vibrant, as the cloud threatens its traditional business model of delivering on-premises hardware. For that model of computing to remain relevant, it needs to transform.
Pivotal has a fresh business model, providing software and services based on the open source Cloud Foundry, a middleware platform for building cloud applications that are portable between public, private and hybrid clouds. Cloud Foundry automates infrastructure, to enhance developer productivity by letting developers focus on what applications do and not worry about how the applications allocate compute, storage and networking resources.
On the other hand, Dropbox, which held its IPO on Friday, is old by the standards of the cloud, founded in 2007. And it uses an old -- but still relevant -- cloud business model, software-as-a-service (SaaS). Dropbox provides cloud-based document sharing, and is mostly subscribed to by individuals rather than businesses, but those individuals use the service for work. Users are loyal, revenue is growing, losses are narrowing and Dropbox is extending into enterprise services.
Pivotal is pivotal to Dell's future Dell sees Pivotal as important -- you might say it's pivotal -- to its strategy of moving enterprise infrastructure into the cloud era. Dell believes that strategic enterprise applications belong on premises, in private clouds, where they can be run more efficiently and at less cost than the public cloud. The public cloud still plays a vital role, for running non-strategic but important applications, such as email, as well as extending private cloud applications to the public cloud to reach new geographic regions or meet peak demand.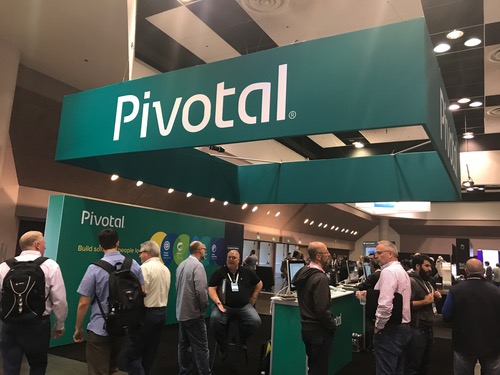 ---
You're invited to attend Light Reading's Big Communications Event -- the one event that delivers fresh perspective on the rapid transformation of the telecom industry and the road ahead. We'll see you May 14-16 in Austin -- communications service providers get in free!
---
Dell EMC CTO John Roese laid out that strategy in an interview with Light Reading a few weeks ago. (See Dell CTO: Public Cloud Is 'Way More Expensive Than Buying From Us' and Dell CTO Expounds 'Insane' Theory About Enterprise Complexity.)
Pivotal Cloud Foundry (PCF) plays a couple of key roles in this strategy. In addition to providing application portability, Pivotal provides a layer that allows legacy applications, including mainframe software, to connect with the cloud.
Pivotal focuses on subscription sales of its platform, to 319 subscribers as of the end of fiscal 2018, February 2. Subscription revenue was $259 million in fiscal 2018, $150 million in fiscal 2017, and $95 million in fiscal 2016, according to the company's S-1, filed with the US Securities and Exchange Commission on Friday.
Total revenue was $509.4 million, $416.3 million and $280.9 million in fiscal 2018, 2017 and 2016 respectively, with year-over-year growth of 48% and 22% for its two most recent fiscal years.
"Fiscal 2018 was the first year in which subscription revenue exceeded our services revenue, and we expect that over time subscription revenue will become a larger percentage of our total revenue as customers continue to adopt PCF and as our [system integrator] partner ecosystem ramps to directly deliver strategic services to our customers," Pivotal says in its S-1.
Net loss was $163.5 million, $232.9 million and $282.7 million for fiscal 2018, 2017 and 2016.
Pivotal was founded in April 2013, a combination of teams and contributed assets and technology from EMC and VMware Inc. (NYSE: VMW), which was at that time, majority-owned by EMC. Dell acquired EMC in 2016, and Dell now owns 80% of VMWare as well as a majority and controlling stake in Pivotal. (See Dell Buys EMC for $67B in Biggest Tech Deal Ever.)
Now, Dell is contemplating a reverse merger with VMware, to put Dell back on the public markets. (See Dell Confirms Possible IPO or VMware Merger.)
Pivotal's competition includes legacy application infrastructure from vendors such as IBM and Oracle, open source software from vendors such as Red Hat, alternative Cloud Foundry software from IBM Cloud and SAP Cloud Platform, and Amazon Web Services, Google Cloud Platform and Microsoft Azure, according to Pivotal's S-1.
Next page: Dropbox's challenging future
UPCOMING LIVE EVENTS
June 6-8, 2023, Digital Symposium
June 21, 2023, Digital Symposium
December 6-7, 2023, New York City
All Upcoming Live Events
PARTNER PERSPECTIVES
- content from our sponsors