Red Hat is shelling out $250 million to buy container management pioneer CoreOS, broadening Red Hat's Kubernetes support.
Red Hat Inc. (NYSE: RHT) is looking to use CoreOS's resources to broaden its open source toolkit to allow enterprises to deploy applications anywhere in a public, private or hybrid cloud environment, according to a statement from Red Hat announcing the acquisition Tuesday afternoon. (See Red Hat to Acquire CoreOS, Expanding Kubernetes & Containers Support.)
CoreOS launched in 2013 with a mission of providing organizations of all sizes with webscale infrastructure for updating and patching servers and reducing downtime and security vulnerabilities.
Red Hat sees CoreOS as bringing several complementary capabilities to OpenShift, Red Hat's own Kubernetes platform, Joe Fernandes, Red Hat senior director of product management for OpenShift, tells Enterprise Cloud News. (See Red Hat's OpenShift Online Revamped for Containers.)
CoreOS provides Tectonic, which automates Kubernetes management and operations, and will enhance those capabilities for OpenShift, Fernandes says.
CoreOS will provide Red Hat with considerable Linux expertise, Fernandes says; CoreOS's first product was CoreOS Container Linux, which competed with Red Hat Enterprise Linux.
And CoreOS also provides Quay, an enterprise-ready container registry.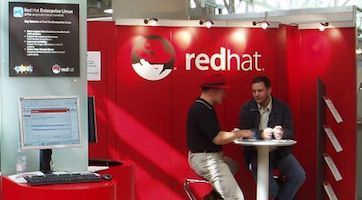 ---
Keep up with the latest enterprise cloud news and insights. Sign up for the weekly Enterprise Cloud News newsletter.
---
But the acquisition isn't really about containers; containers are just the enabling technology, Fernandes says. "This is really about enabling hybrid and multicloud solutions," he says. Enterprises now manage traditional and cloud-native apps running on-premises and in public, private and hybrid clouds. "That's what we're trying to enable with OpenShift, our container platform, and that's what this acquisition will help us accelerate."
CoreOS has 130 employees, with a primary office in San Francisco and offices in Berlin and New York, NY, all of which will be coming to Red Hat.
Previous notable Red Hat acquisitions include ManageIQ for orchestration, acquired for $104 million in 2012; FeedHenry, with a mobile application platform, acquired for $82 million in 2014; Ansible, for configuration management and orchestration, in 2015; and 3Scale for API management in 2016. (See Red Hat Buys 3Scale for API Management.)
Red Hat's most recent acquisition was Permabit Technology in August; that company specializes in storage optimization. (See Red Hat Acquires Data DeDup Specialist Permabit.)
Related posts:
— Mitch Wagner




Editor, Enterprise Cloud News