Red Hat Speeds Toward $3B in Revenue Thanks to Cloud

Comment (5)
These are heady times for Red Hat.
On Tuesday, the open source company announced its third-quarter financial results for the period that ended November 30. The numbers are impressive: $748 million in quarterly revenue, a 22% year-over-year increase, along with a GAAP operating income of $118 million, a 47% increase.
In terms of GAAP net income, Red Hat Inc. (NYSE: RHT) posted $101 million or $0.54 per share compared to $68 million or $0.37 per share a year ago.
However, the most important number is contained in Red Hat's full-year outlook. Specifically, the company is expecting revenue of approximately $2.9 billion when it closes the books on its fiscal 2018 year.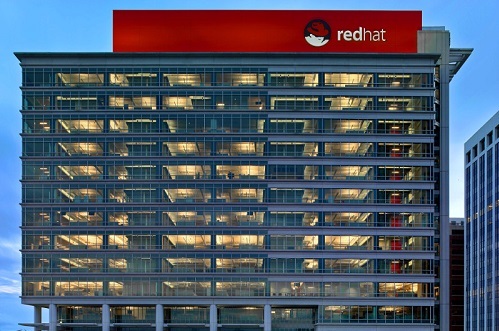 This is putting the company on track to hit the $3 billion mark in revenue during its next fiscal year. This stat is even more impressive considering the company hit the $1 billion mark in 2012, making it the first open source company to ever achieve that lofty goal.
In a call with analysts on December 19, CEO Jim Whitehurst expressed it this way:
As we closed out our fiscal year, we are pleased that our fourth quarter revenue outlook will exceed a $3 billion annual run-rate. In addition, we are confident about our growth prospects based on the substantial markets we are addressing combined with Red Hat's broad product portfolio and strong market position. The execution we are driving today will create additional growth opportunities for our customers and partners in the future.
As Steven J. Vaughan-Nichols writes on ZDNet, Red Hat has become the de facto supplier of enterprise-grade Linux to businesses. However, the company is showing increasing growth around its slate of cloud products.
In his call with analysts, Whitehurst emphasized three key points of the company's cloud strategy. The first is the expanded use of some of Red Hat's primary cloud technologies, including OpenShift, the company's container platform, and Ansible, which is tied to DevOps and cloud-native application development. (See Microsoft, Red Hat Expand Partnership to Include Containers.)
---
Keep up with the latest enterprise cloud news and insights. Sign up for the weekly Enterprise Cloud News newsletter.
---
Red Hat has also embraced Kubernetes, the Google-based container orchestration platform, which is now considered the leading management offering for containers. (See What If Kubernetes Is One Big Google Conspiracy?)
The second point is Red Hat's partnership with public cloud providers, including Alibaba Cloud, which is now part of its Certified Cloud Service Provider program and offers Red Hat Enterprise Linux as a service to customers.
Finally, there's OpenStack, the private cloud platform, and Red Hat has been working to improve that offering as well. Recently, the company unveiled its OpenStack Platform 12, which placed a greater emphasis on containers for the cloud platform. (See Red Hat OpenStack Platform 12 Eyes Greater Container, Security Support.)
Taken together, these developments, as well as others, have Red Hat eyeing greater financial gains next year.
"We have several significant drivers of the business, obviously, [the] move to cloud has allowed RHEL growth to continue at a solid double-digit pace and I think as we look forward, again, not providing guidance at this point, but we see a solid pipeline and ability for RHEL to continue to grow that quickly," Whitehurst said.
Related posts:
— Scott Ferguson, Editor, Enterprise Cloud News. Follow him on Twitter @sferguson_LR.